Research
Introducing the New Faculty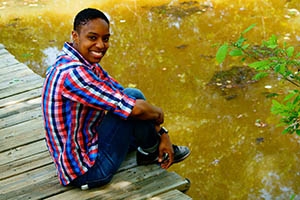 American University has hired 28 new tenure-line (tenure-track or tenured) professors. The new faculty bring not only vast reservoirs of knowledge, but diverse life experiences. What follows is an overview of their research passions and personal stories.
Jessica Young, Health Studies

Jessica Young may be starting a new job, but she's returning to a familiar place. Young, a new assistant professor in the Health Studies Department, is also an AU alum. She initially earned her master's degree from AU in health promotion management, and she was excited by the prospect of teaching here.
AU was "very supportive in developing me as a whole person. So it wasn't just about academics. It was also about career readiness," Young says. "I got connected to so many mentors and people who just wanted to see me succeed. And I wanted to have the opportunity to do that for students, too."
Young's dedication to her work is evident. She went straight through to earn her bachelor's (University of Maryland, Baltimore County), master's (AU), and Ph.D. (Johns Hopkins University) without a break. But along the way, her experience as a personal trainer and weight lifting instructor—which she did at AU—factored into her scholarly pursuits.
"While I was here, working as a trainer, I could see the impact that I was having on people one-by-one. But I started thinking, 'Well, how can I impact more than one person at a time, besides having a group fitness class?' And that's how I got into the policy part," she explains.
Her research focus is health equity. Having recently worked at the Annie E. Casey Foundation, she also studies how philanthropy addresses critical social issues, such as health, child welfare, and juvenile justice.
Young pondered health issues while growing up in Southern Maryland. She was active in soccer, as well as ballet, tap, and jazz dance. In addition, Young's mother worked in the health care industry.
Though she's given up soccer, Young is still a hiker and a gym rat. She's also a video gamer in her spare time.
Yet her most rewarding connections are still in the classroom. "Seeing students get something is like the best feeling in the world. Or, when they ask a brilliant question," she says. "Asking a brilliant question shows that you're listening, that you're thinking critically about the issue, and that you're curious."
Malgorzata Rymsza-Pawlowska, History
For many people, history is something you read about in a book. Or a subject you major in at college. But for Malgorzata Rymsza-Pawlowska, history is so much broader than that. And importantly, she wants to convey that deep, immersive, interdisciplinary approach to her students.
"I am really interested in how we both understand history, and make meaning from it," says Rymsza-Pawlowska. "Outside of formal history, like classes, or even museums, history is all around us. How do we draw meaning from film and television? And, in turn, how does what we learn change within larger cultural contexts?"
Rymsza-Pawlowska is just starting as an assistant professor in the History Department, and she's associate director in the graduate program in public history. Her expansive view of how we interpret history includes documentaries, TV dramas, public art, and living history museums like Colonial Williamsburg.
Her published papers have included analyses of everything from the PBS reality show Frontier House to Roots. The latter was included in a paper she published called "Broadcasting the Past: History Television, 'Nostalgia Culture,' and the Emergence of the Miniseries in the 1970s United States."
"I went and looked at the letters that people were writing to the producers of Roots, and it was all in terms of impact. 'This made me feel this way.' 'This made me understand on the level of feelings and empathy.' And that was all, at that moment in the 1970s, brand new," she says.
Rymsza-Pawlowska will expand on these ideas in her forthcoming book, History Comes Alive. "It will look at what I call the emergence of an immersive or affective relationship with the past," she says. "In the 1970s, Americans are wanting to know how people from the past felt. Rather than thinking about the past as something that's sort of distant."
She'll examine how people grappled with the 1976 Bicentennial Celebration amidst intense national strife following Watergate and the Vietnam War.
She comes to AU after three years in the history department of Eastern Illinois University. It's a homecoming of sorts, as she grew up in the Brookland area of Washington, D.C. Her mother still works as a librarian at Catholic University, and Rymsza-Pawlowska is happy to connect with family, friends, and—of course—plenty of D.C. museums.
"I was looking for a way to get closer to the East Coast. I didn't know I would be able to get this close. But I've long been an admirer of this AU program in particular, because of the way that it combines historical work with public history work," she says. "So it's a good place for me to be."
Siri Terjesen, Management

If AU and Kogod School of Business administrators were looking to bolster their already strong entrepreneurship program, they went to the right place. Siri Terjesen was a professor at Indiana University, widely viewed as one of the top entrepreneurship schools in the world. And Terjesen herself is a frequently cited scholar with an engaging personality.
Terjesen is an associate professor at Kogod, and she's the new research director of the AU Center for Innovation in the Capital.
In an interview, she speaks with enthusiasm about her chosen subject. "I think entrepreneurs are some of the most fascinating people. They get to work on whatever they want to work on, and study after study shows that they're happier," she says. Studies also show that "new, high-potential innovation-focused firms start the greatest number of jobs."
Working with other researchers, Terjesen devised a global data set to compare entrepreneurship across 62 countries. They've already found that young Americans are particularly energized about starting social ventures, not just commercial enterprises. Though there's generally a higher number of male entrepreneurs, female participation increases—and the gender gap decreases—in the area of social entrepreneurship.
Terjesen earned her bachelor's degree from University of Richmond, and as a Fulbright scholar, she got her master's from the Norwegian School of Economics and Business Administration. She completed her Ph.D. at Cranfield University in the United Kingdom.
Hailing from Akron, Ohio, sports run in the family. Her grandfather, Irving Terjesen, played in the National Basketball League (a precursor to the modern NBA), and her father, Barry Terjesen, has been an accomplished golfer who won state tournaments.
As a kid, Siri suffered from scoliosis, but she didn't let it interfere with her own athletic pursuits. "I wore this brace all the time, but my doctor never said, 'Oh, don't do this. You'll hurt yourself.' No one said that."
She became a prolific runner, and while earning her doctorate at Cranfield, she competed for England. Her specialty race was 100 kilometers, which—if you're measuring—surpasses the length of two marathons. Amidst a vigorous doctoral program, what motivates a human being to do this?
"You needed a break because you were so stressed out from the work and reading," she says. "Running was like the release for me. And the more you run, generally the better you get at it."
Continued back problems, and life itself, forced the end of her running career. "With three children, I don't have any time to run. I just run after them," she jokes. Nowadays, she's taking in the new D.C. sites with her family.
A top priority on campus, she says, is enticing all kinds of students to consider the entrepreneurship program.
"It's not just, 'How can Kogod kids start their own business?' It's, 'Oh, I majored in physics, and I've been working on this project, and I think that there's a commercial application,'" she explains. "We want this to be a university-wide center."
Nandini Lahiri, Management

Nandini Lahiri was perfectly happy in her previous position at Temple University. Yet discussions with Kogod School of Business leaders made a job at AU look better and better. Lahiri has specialized in research on semiconductor companies, and the policy and trade groups associated with that industry are located in the nation's capital.
"I think there is going to be an advantage to being located in D.C. Much of my family is in D.C. So I didn't need much convincing," she says.
Lahiri, a new associate professor of management, is also excited about the direction AU is headed. The school's commitment to being a top-flight research institution should comport with her own interests.
Beyond her industry focus, some of her research findings tell a larger story about language and business reasoning. While math is often seen as the one universal language, Lahiri's scholarship paints a mixed picture. In a paper she co-authored, she found that language differences—between, say, a German company and an American company—can fracture R&D alliances working on mathematical problems and engineering designs.
"It's these underlying differences in the structure of native languages that determine how firms make strategic choices, such as choosing alliance partners," she says.
Lahiri was born and raised in Calcutta, India. She earned her undergraduate degree in chemical engineering and later worked for Tata Steel. But she eventually came to the U.S. to get her Ph.D. in corporate strategy and international business from University of Michigan at Ann Arbor.
Before teaching at Temple, Lahiri was an assistant professor at University of North Carolina at Chapel Hill. Fun fact: In one business section at UNC, she taught Tyler Zeller, a first-round NBA draft choice who now plays for the Boston Celtics. "Tyler would play, and would be in class the next morning. The other kids in the class who would watch the game on TV would be too tired to come to class," she jokes.
In her classrooms, Lahiri uses the Socratic method. "As a student growing up in India at that time, the culture was that you rarely asked questions. But that's the exact opposite of what I've adopted in my classes," she says.
While this is not always popular at first, she hopes students appreciate her methods by the end of the semester. "It's a challenging approach that I take, but I think it works."
School of International Service
Audrey Kurth Cronin, International Relations

Audrey Kurth Cronin is a new professor at AU's School of International Service. And if her previous scholarship is any indication, she won't be afraid to challenge conventional wisdom. For instance, she persuasively argued in a 2015 Foreign Affairs essay that ISIS is not a terrorist group, but a larger, pseudo-state.
Yet Cronin doesn't view her work as needlessly polemic. She's just trying to offer solutions.
"I try to find ways to solve problems that are difficult," she says. "I'm driven by the desire to make a difference, and I don't always take the safe road."
She's arrived at some conclusions through her academic and government experience. During the 1990s, Cronin followed Osama Bin Laden's terrorist activities and the Mujahideen in Afghanistan. After the September 11 attacks, she was one of the few Americans with expertise on the subject, and she gave policy advice while working at the Congressional Research Service.
"We went from nothing being related to counterterrorism in the 90s—which was a little frustrating for me—to everything being within the framework of terrorism. And I think that's an enormous problem."
ISIS has morphed into a stronger and altogether different threat, she says. "I'm afraid that if we just keep thinking of everything as being terrorism, we're going to completely miss the best ways to counter ISIS."
A common theme in her research is about how conflicts end, and she explored the demise of terrorist campaigns in a 2011 book.
A Jacksonville, Florida native, Cronin is from a Navy family and moved often. "It's really ironic that I ended up in academics because when I was a kid I hated school. I was always the new kid with the wrong accent, and the wrong clothes," she recalls.
In the 1970s, her father was the Naval attaché at the U.S. Embassy in Moscow. During that time, she had a strange moment that sounds tailor-made for an episode of The Americans. While Cronin was a teenager working in the embassy, a woman in her thirties befriended her. She turned out to be an American spy with the CIA, and she was one day picked up by the KGB.
"I think she was probably hanging out with me as cover. Or maybe keeping an eye on me. I don't know," Cronin says now. This woman, Marty Peterson, was later featured at the International Spy Museum in Washington.
Cronin's time in the Soviet Union heightened her interest in national security. "This was during the Cold War, and I thought, 'Well, I need to contribute to making sure that we don't end up in a nuclear war.' So I ended up going into security studies and international relations," she says.
She completed her undergraduate degree at Princeton, and she later got a Marshall Scholarship to earn her M.Phil and D.Phil at University of Oxford.
Naturally, her international affairs work has enabled extensive traveling to many countries. Now, all of those experiences contribute to her scholarship and teaching at AU.
"I feel very fortunate," she says. "I'm having an extremely interesting life."
Elizabeth Thompson, Mohamed Said Farsi Chair in Islamic Peace

In joining the SIS faculty in D.C., professor Elizabeth Thompson is hoping to engage in the public debate. And with expertise in Syria—one of the world's war-torn hot spots—her voice could add depth to a contentious issue in U.S. foreign policy circles.
Thompson says that to comprehend the present, you need to examine the past. "There's something in the public conversation that we're missing, without a historical perspective," she says.
Some people look at the Middle East and just think "violence," but there's a lot more to the story, she says. Her work is oriented towards Syria's World War I era creation, and she's writing a book called After Lawrence: Woodrow Wilson and the Brief Promise of Arab Liberalism.
Around this time, President Wilson's rhetoric emphasized self-determination and democracy. As Arabs convened in Damascus, they ratified an extremely democratic constitution to show their capacity for independence. "Two weeks after they ratified their constitution, the French tanks rolled in," she says.
"People in the Arab world had thought they were finally going to be included as full humans in humanity," she explains. "It is the experience of having been let in, and then shut out—exclusion—that creates conditions where rejectionism gains traction politically."
Born in New Jersey, Thompson later moved to Michigan. In the post-1967 riots period, she went to a predominately African-American high school in Detroit. "It had an impact on me, in terms of understanding the basic injustices that are embedded not only in our system, but—soon I would discover—in the global system," she says.
After her undergraduate years at Harvard, she got an internship in Cairo. It was a formative experience for her, shattering misconceptions about the region. "The people were so nice. And it just didn't fit well with the image of Arabs on TV, and I think that got me interested."
She later went to grad school, earning a master's and Ph.D. from Columbia University. She was most recently a history professor at University of Virginia.
Nathan Favero, Public Administration and Policy

Like a lot of young students, Nathan Favero's academic path was shaped by a professor. Yet it just so happened that work done by his mentor, Kenneth Meier at Texas A&M University, also appealed to Favero. "I originally gravitated towards the questions that were more applied, and Ken was the one doing those," he recalls.
And so Favero studied government and bureaucracies, with a focus on internal management, performance, and race/ethnicity. He's now an assistant professor at AU's School of Public Affairs. Meier remains at Texas A&M, but he's scheduled to come to AU as a visiting scholar in the spring.
Favero earned his bachelor's degree from Texas A&M, before staying on to finish his doctorate there in 2016. His new position at AU caps an unusual journey.
He was brought up by conservative Christian parents outside of Denver, Colorado. Family practice and religious beliefs led them to homeschool Favero, and all of his friends were homeschooled as well. Though he describes it as somewhat isolating, he made a healthy transition at Texas A&M.
Favero partly chose Texas A&M for its conservative student campus, but he now speaks about his political evolution to more liberal inclinations.
"It was a really gradual thing for me, kind of deconstructing a lot of things that I believed," he says. "I'm still a Christian and go to church and everything like that. But a lot of my worldview has changed."
One research project he's working on examines "performance funding," an increasingly popular idea to reward already high-performing schools. Think tanks, from the conservative American Enterprise Institute to the left-leaning Brookings Institution, have promoted this strategy. But Favero and an academic colleague's early findings indicate that weaker public universities will struggle even more under these policies.
For someone who just finished graduate school, Favero has already published quite a bit of research. But once he started working with Meier, he just kept going. "I'm fascinated by the world," he says. "So whatever I'm around, I kind of get fascinated by."
Carla Flink, Public Administration and Policy

Government budget battles can seem frustrating and impenetrable to the average American. Yet for Carla Flink, the budgeting process became a window into political influence. And the decision-making, she says, is about so much more than simple accounting.
"What I love about budgets is that a lot of people just think they're numbers on a page. But for me, it's not really studies of numbers. It's studies of power. If you can get more money, and you can influence how funds are spent, then that's a major part of controlling the political process," says Flink, a new assistant professor in the School of Public Affairs.
That's not to say that Flink is averse to numbers, as she earned her bachelor's degree in mathematics. But that subject matter was not just a major, but a gateway. "I love math, and a lot of my work is extremely quantitative. But I always wanted to use my math as a tool to become a better researcher and writer," she explains.
Flink eventually earned her Ph.D. in political science from Texas A&M University, and she specializes in public administration, public policy, and public budgeting.
She got an early exposure to politics growing up in San Antonio, Texas. Her father is an elections judge, and she'd help set up signs and join him at polling stations. To her consternation, her parents made her attend Girls State, a mock state government program run for Texas youth. "But I ended up enjoying it, and then wanting to be more involved in learning the political system," she recalls.
Flink was also a bit of a jock, and she went to University of the Incarnate Word on a volleyball scholarship. "I played volleyball all four years, and got the surgeries afterwards," she says.
Most recently, Flink was an assistant professor at University of Texas at San Antonio. In her new job in SPA, she's joined by a good friend and fellow Aggie Nathan Favero (see above). She says AU has been welcoming, and she's already impressed with her students.
"They've been very motivated, and they make intelligent comments in class," she says. And the budgeting process—the complexity, the number of players—is an all-consuming discipline. "The best part of teaching is that I learn so much, too."
Here is a rundown of the other new tenure-line professors.
CAS
Nathalie Japkowicz is a new professor of computer science. Japkowicz's research interests include big data and artificial intelligence.
Michael Alonzo will be an assistant professor of environmental science. He's been a postdoctoral program fellow at NASA.
Braxton Boren will start in the Department of Performing Arts in 2017-18.
Nicole Caporino, an assistant professor of psychology, has done research into child and adolescent anxiety disorders.
Julia Chifman, a new math and statistics professor, earned her Ph.D. from the University of Kentucky.
Elizabeth Cotter, previously a professorial lecturer at AU, is now an assistant professor of health studies.
Andrew Demshuk is an assistant professor of history. His research specialties include Germany and Central Europe.
Molly Dondero, assistant professor of sociology, was a national child health and human development post-doc fellow at Pennsylvania State University's Population Research Institute.
Dustin Friedman, an assistant literature professor, previously taught in Singapore.
Ignacio Gonzalez Garcia, who studies inequality and financial macroeconomics, will join the Economics Department in 2017-18.
Ethan Mereish, an assistant professor of health studies, did a post-doc at the Center for Alcohol and Addiction Studies at Brown University.
Paul Sullivan, new to the Economics Department, has been a research economist at the U.S. Bureau of Labor Statistics.
Perry Zurn is an assistant professor of philosophy. Zurn will start next year, as he's currently doing a post-doc with the Center for Curiosity at University of Pennsylvania.
KSB
Michael Mowchan is a new assistant professor of accounting and taxation. He was previously an instructor at Arizona State University.
SIS
Susanna Campbell will start this spring as an assistant professor at SIS. She's been a post-doc researcher at the Graduate Institute of International and Development Studies in Geneva.
Megan Stewart will come to SIS in 2017-18. She has researched the intersection of civil war and state formation.
Yang Zhang, a new assistant professor, earned a Ph.D. in sociology from University of Chicago.
American University Washington College of Law
Susan Franck is a new professor of law. Her research interests include contracts, international investment, and law and psychology.
Rebecca Hamilton, an assistant professor of law, has been deputy director of a human rights institute at New York University School of Law.
Anita Sinha, also an assistant law professor, was a practitioner-in-residence at AUWCL's Immigrant Justice Clinic.
Editor's note: While most of the new professors started in 2016-17, a few are scheduled to join AU this spring or in the next academic year.
Three New Deans
Camille A. Nelson is the new dean of the Washington College of Law. You can read more about her here.
John T. Delaney is now the dean of the Kogod School of Business. He has a research background in dispute resolution and labor-management relations.
Cheryl Holcomb-McCoy is a professor and the new dean of the School of Education. She was formerly vice provost, faculty affairs at Johns Hopkins University.