Education
Reach Higher: AU Hosts Convening on College and Career Readiness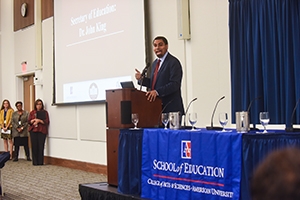 In this economy, earning a college degree has never been more important. Bolstering college readiness and closing the racial and socio-economic gap among college graduates have been key goals of the Obama Administration and the First Lady's office. This past weekend marked the 5th National White House and Reach Higher Convening, and American University hosted the event.
Its official title was "Connecting the Dots: Cultural Competence, Counseling, and College and Career Readiness of Underserved Youth." The convening placed special emphasis on school counselors. The National Consortium for School Counseling and Postsecondary Success—which emerged in response to First Lady Michelle Obama's Reach Higher initiative—helped support the weekend proceedings. The Lumina Foundation, ACT, the Jack Kent Cooke Foundation, and the American Counseling Association provided funding.

AU School of Education Dean Cheryl Holcomb-McCoy and Johns Hopkins University professor Vivian Lee served as event co-chairs. It included several high-profile speakers, including Education Secretary John King.
Son of a Counselor
Kicking off the convening on Friday morning, Secretary King noted that his mother was a school counselor at his elementary school. His mom died when he was eight, but he heard stories about the profound influence she had on her students.
"That has inspired me throughout my life—my mother's example of what it means to be an educator, what it means to go into school every day and try to make a difference in kids' lives," he said.
He called school counselors heroes for helping students navigate everything from socio-emotional obstacles to the college application process. "You're not just school counselors. You are inspiration counselors, who are inspiring students about what is possible in their future," he said.
King outlined the Obama Administration's work on college access, including an increase in the size of Pell grants.
"Those investments in higher ed access are paying dividends. We know, for example, that we have a million more African-American and Latino students going on to college today than when the president began. That's thanks to those investments, and the work that you are doing every day with students," he stated.
King talked about some of the challenges that remain, such as getting more students to complete the Free Application for Federal Student Aid (FAFSA).
He also made a bit of news. The Education Department has teacher and principal ambassador programs, which encourage the exchange of information between those professionals and government officials. "I am pleased to be able to announce today, in this room, that we are expanding that educator-ambassador program, so that school counselors can be a part of the educator-ambassador program," he said to big applause.
King concluded by mentioning that when he was just 12 years old, his father passed away as well. With both of his parents gone, his future was in limbo.
"Folks could have looked at me and said, 'Here's an African-American, Latino male student, New York City public school, family in crisis—what chance does he have?'" he posed. "I am standing here today because New York City public school educators made a different choice. They decided to invest in me."
The Power of Convening
In a recent interview, School of Education Dean Holcomb-McCoy expanded on some of these ideas. She said underserved youth may not have access to knowledge about the college going process.
"Counselors and educators can reach students, and then give them the support that they need to apply to college and be ready for different types of careers," she said. "We also need more guidance around academic rigor and the courses that are needed to be eligible for college."
High-poverty schools also face shortages in resources and technology, she said. "We might have one counselor for like 800 students. And they just can't do it. So there are so many challenges throughout the system."
Holcomb-McCoy, former vice provost at Johns Hopkins University, was invited to partake in Reach Higher discussions in the First Lady's office in 2014. Soon, the larger convenings became a reality.
"One thing that we really get out of these convenings is that state members talk to each other, and they share information. So that's the power of convening. We can't overstate how important that is," she said.
Rising to the Challenge
Having started at AU this year, Holcomb-McCoy feels this is a friendly environment for her message.
"AU's commitment to first generation college students, to re-imagining the student experience on university campuses, is totally aligned with this work," she said.
During Friday welcome remarks, both AU President Neil Kerwin and Provost Scott Bass emphasized the university's record of increasing college access for everybody.
President Kerwin noted that American University Washington College of Law—where the event was held—was founded by two pioneering women. "I believe you're in the right place," he said of AU. "This is an institution that has devoted itself, since its founding, to principles of diversity and inclusion."
Provost Bass noted that AU has increased the percentages of underrepresented minority, first generation, and Pell-eligible students. "This did not occur overnight, and our commitment is not yet finished. But to get there we've employed a number of strategies," he said. "First, and most important, is we linked diversity and excellence."
People at the convening confronted the impediments to improving college and career readiness nationally. Yet there was plenty of optimism, forcefully articulated by event co-chair Lee from Johns Hopkins: "We believe that we can continue that work until underserved students are no longer underserved."