On Campus
Wonk of the Year: Malala Yousafzai is the 2017 Honoree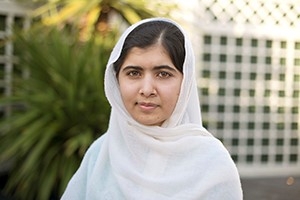 Few speakers at American University have had such a meteoric rise, at such a young age, as Malala Yousafzai. She just turned 20 years old this summer, and she's already an international icon. AU is now recognizing Yousafzai as the 2017 Wonk of the Year, and she'll accept the award in Bender Arena on September 25 at 8:15 p.m.
Yousafzai's activism became global after a brush with death on a school bus when she was shot by Taliban fighters. Since that time, she's gained worldwide renown as a champion of human rights and gender equity.
The Wonk of the Year honors individuals who demonstrate engagement, focus, intelligence, and passion. The student-run AUSG Kennedy Political Union, the university, the AUSG's Women's Initiative, and the Muslim Student Association are co-hosting the event. AU President Sylvia Burwell will moderate a question-and-answer session.