On Campus
10 Memorable Moments from Gabrielle Union's AU Talk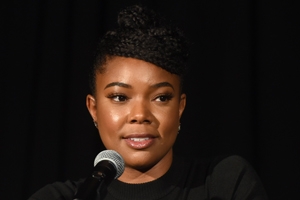 Prior to her talk at American University's Bender Arena, actor Gabrielle Union offered the first 400 guests copies of her recently released memoir, We're Going to Need More Wine. If her book is anything like her AU appearance, it should make for a riveting read. Union's speech was extraordinary, leaving the audience hanging on every word. Tracing her emotional journey from childhood to Hollywood, she talked about withstanding racism, sexism, self-doubt, and struggles with mental health. A rape survivor, Union supports the Rape Treatment Center at UCLA, where she graduated with a degree in sociology. She's also an ambassador for the Susan G. Komen Foundation, which fights breast cancer.

On the small and big screens, she's starred in the BET series Being Mary Jane and the hit movie Bring It On. She's appeared in many other films, including Think Like a Man, Bad Boys II, Daddy's Little Girls, and 10 Things I Hate About You.
The AUSG Kennedy Political Union-sponsored event was part of All-American Weekend, an AU celebration for alumni and families. Sybil Williams, a professorial lecturer in the Department of Performing Arts, moderated the discussion. Though almost every sentence Union uttered was packed with powerful insight, here are 10 memorable moments from Saturday evening.
1. With #MeToo trending after numerous sexual assault allegations against movie producer Harvey Weinstein, she said "me too" has an even broader message. "When people come up to me and say, 'Girl, me too,' they're talking about overcoming low self-esteem. They're talking about overcoming a sense of worthlessness. They're talking about the desire to somehow disappear. Overcoming the idea that if I just go along, I can get along."

2. She experienced racism as a child, when her family moved from Omaha, Nebraska, to a predominately white town in the Bay Area. "We found ourselves, as this proud black family, having to make excuses for our blackness. Having to try to make ourselves small, so other people could be comfortable in our space."

3. She mentioned seeing a high school crush many years later at a class reunion. "[He said], 'You know, I had the biggest crush on you,'" she recounted. When she asked why he never expressed his feelings to her, he answered, "My parents said I couldn't like a black girl." Union then asked him, at age 40, how many black friends he had. "He was like, 'You were my last black friend.'"
4. Union spoke about feeling the need to conform and remain quiet. "I was the girl so committed to assimilation that I would let racist jokes slide. I would let sexist jokes slide. I would be so terrified of being othered, that I was rendered mute," she recalled, fearful that she'd be labeled an angry black girl. "I had a lot of reasons to be angry."
5. Union framed the discussion around a fan's question of, "Who are you?" "I have to think about all of these different people that I had been at different points in my life. And I have to make peace with all of that. I have to live with that. I'm going to be 45 in two weeks, and I'm just now feeling like my words have value. That my stories have worth," she said.

6. She talked about following your passion. "Recognize what's real, throw away the rest. Figure out what dreams are yours, and figure out what dreams are your parents'. Figure out what your plan is and execute. Some of our biggest haters are in our families," she noted. "Surround yourself with people who are actually applauding when you succeed. It's very telling who's silent when you're shining."

7. In response to a question about media depictions of African-American women, she discussed people's complicated perceptions of her. "Because I was in Bring It On and She's All That and 10 Things I Hate About You, people have decided that I'm 'the right kind of black person,'" she said. "People have decided that they know my path, and rape, divorce, terrible decision making could not have been a part of that. So, I'm accepted in pieces, because someone has decided that I'm much more palatable for white consumption."
8. When Williams asked about her decision to publish a high-risk book exposing her vulnerabilities, Union described it as a healing process. "When I was raped it wasn't the sexual violence that literally ravaged my body-and I was literally unrecognizable from the beating. It was the fear that I would be publicly outed as defective or less than or othered. That was terrifying. So, getting to a place of even thinking I was worthy enough as a writer, as a human being, took 25 years of therapy."
9. Union also talked about dehumanizing Hollywood auditions, including an all-white production team teaching her how to play "a better slave." "Not just in Hollywood, but in every career that you can think of, there's going to be moments when you will be challenged. What you know to be right in your soul will be questioned, and you will be called upon to make a choice. And you have to ask yourself, 'Who am I?'"

10. She concluded by calling on AU audience members to contemplate their own life choices. "That's what you have to decide for yourself: What is going to erode my soul? What is going to feed my soul?" she said. "Does our behavior match our soul? And I hope the answer is yes at the end of that. Because the energy I feel in this room is intense and it's positive. And I feel so much love, and I feel so much respect. And I just hope you offer that to each other."