Alumni
Early Leader: The First Black Student Body President Reflects on AU in the 1960s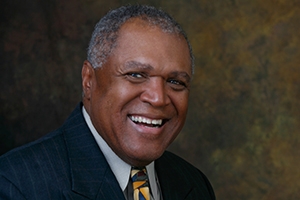 If you want a window into a different time at American University, peruse the Talon yearbook from the mid-1960s. The dress and feel of AU looks markedly different, filled with preppie attire and dark-rimmed glasses. There's also a noticeable dearth of non-white faces.
Norman Early, class of 1967 with a bachelor's degree in government, helped usher in a new era at AU. Early was the first African American elected student government president, according to the University Archives department. That was also just the beginning of Early's barrier-breaking career, as he'd go on to become the first black district attorney of Denver.
Early is now in his 70s with two sons and two grandchildren. He works part-time as special counsel at Rocky Mountain law firm Welborn Sullivan Meck & Tooley. In a recent interview, he spoke about his experiences at AU and beyond. Even better than a yearbook, he provides first-hand insights of a bygone era, while offering lessons for today.
Staying Local
Early grew up in Washington, DC, graduating from Calvin Coolidge Senior High School in Northwest. He got good grades, but there wasn't much money for college. The AU track coach, Jack Linden, recruited him for the team, and Early also worked on the AU buildings and grounds crew to help pay tuition.
"We rode on the trucks, moved furniture, washed desks, that sort of thing. Most of the guys who worked there were athletes, and they were fun," he says now. "And during the course of working on the trucks, friendships were born."
Early says he met students who were members of the Alpha Tau Omega fraternity, and he considered pledging. "They informed me that that would not be possible," he recalls, "because African Americans were not accepted into that fraternity at that time. That was like cold water in your face."
Yet he found another fraternity, Zeta Beta Tau-at the time, all white-that proved a welcoming organization, and he became fast friends with his fraternity brothers.
"The track team and ZBT were tremendous support mechanisms for me while I was at American," he says.
On and Off the Field
Early was on the track team all four years, competing in relays and triple jump. He gives extra plaudits to Linden. He says Linden provided great encouragement to black athletes and fostered a racially integrated team environment. When racism reared its ugly head, Early appreciated Linden's willingness to take a stand.
During a meet at a southern college, the n-word was spoken over the loud speaker. "Jack said, 'OK, let's go.' And he just pulled us all out of the meet, and we all got into his little Chevy Nova, and we headed on back up to DC," he remembers.
Early's athleticism helped with other campus activities. There used to be friendly touch football games between first-year students and sophomores. In one game, the first-years pulled off an upset, with Early scoring two touchdowns. He says the confidence gained from those kinds of experiences led him to become sophomore class president. In 1966, he ran for student body president, and according to AU library archives, he won with 52 percent of the vote.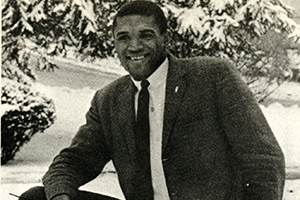 His time at AU coincided with radical social change, though the AU 1967 yearbook looks more 1950s than 1960s. Early saw rumblings of the counterculture-he says his predecessor as student body president was vocally anti-war, but it was tempered by AU's proximity to DC power centers. "There was activism, but there was also a recognition that the parents and friends of some of our classmates were, in fact, in government," he explains.
Going the Distance
After graduating from AU, Early earned his law degree from University of Illinois at Urbana-Champaign. He got a fellowship to assist underprivileged communities, which brought him to Denver. At the 1972 Democratic National Convention, Early was a Colorado delegate for Shirley Chisholm, the first black woman to run for president.
Early spent 10 years as chief deputy district attorney in Denver before being appointed district attorney in 1983. Over the years, Early has been a leading advocate of victims' rights, serving as president of the National Organization for Victim Assistance. He's received a Justice Department award for outstanding service on behalf of victims of crime, a government leadership award presented by the National Commission Against Drunk Driving, and an Ending Violence Effectively award for helping survivors of sexual abuse. Early was founder and first president of the National Black Prosecutors Association.
He notes that working as a prosecutor can be unpopular in black communities, long suspicious of law enforcement. Yet he believed he could aid more people as a prosecutor. "I saw, and still do see, victims as being the underdogs in the criminal justice system. I would have victims come into my office, and most of the victims were minorities," he says.
Early ran for mayor of Denver in 1991. Newspapers considered him the prohibitive favorite, but he lost the race to former ally Wellington Webb. Despite the disappointment, he still talks about it as a learning experience. And as he proudly points out, he got considerable campaign support from his beloved fraternity. To this day, he goes to ZBT functions and sees old friends. "When people say that I 'was' a ZBT, I'd probably say, 'Well, I am a ZBT.'"
This year, Taylor Dumpson also made AU history as the first African-American woman elected AUSG president. To his fellow trailblazer, Early recommends seeking counsel from good friends. "I always had a group of individuals who were close to me," he says. "I think that's something that's very much needed."