Inside AU's Transformational New Five-Year Strategic Plan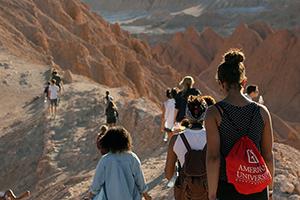 The change from one year to the next always feels like a fresh start, but 2019 brings more than a typical new year for American University. Today, AU unveils a bold strategic plan that will shape the future of the university over the next five years. Changemakers for a Changing World represents AU's commitment to its mission "to advance knowledge, foster intellectual curiosity, build community, and empower lives of purpose, service, and leadership." 
The plan marks a transformational moment for the university as it prepares for the future and remains true to the values that make it a leading student-centered research university.
"In American University's DNA is the importance of making a positive impact in the world," President Sylvia Burwell said. "We are taking that core of who we are and applying it to a world of change, opportunity, and challenge."  
The strategic plan is the culmination of an effort spanning a year-and-a-half that involved teams of faculty, students, staff, alumni, parents, and Board of Trustees members creating a path to guide the university's future. The process began with President Burwell meeting with over 1,000 faculty, students, staff, alumni, and other community members about what distinguishes AU, what AU should consider changing, and what needs to stay the same. As the plan was developed, an appointed Strategic Planning Committee consulted extensively with stakeholders on and off campus throughout the entire process.
"Everyone has their own lens through which they see the university. They see opportunities, they see challenges, they see our identity," said Cheryl Holcomb-McCoy, dean of AU's School of Education and a member of the Strategic Planning Committee. "It was important to have diverse perspectives, for our total community to have a voice and for the strategic plan to touch every corner of the university in a meaningful way."
The resulting document lays out three central themes—scholarship, learning, and community—with nine strategic imperatives to guide AU's progress: 
Scholarship: Over the next five years, the university will develop areas of strategic focus that draw on fields where AU already excels, fields where AU's expertise crosses schools and disciplinary boundaries, and fields that hold promise for the future. In addition, AU will establish centers and pursue endowed chairs to support the work of faculty across a range of disciplines. As part of the effort in this area, the university will invest in areas of strategic focus, such as health, data science, security, and social equity, that enhance understanding and have the power to make an extraordinary impact. The university will also focus on growing sponsored research while expanding faculty-student research collaborations.
Learning: As AU prepares for tomorrow's opportunities, it will continue to embrace the highest-quality teaching while exploring new frontiers of learning and scholarship. Imperatives include providing a first-rate student experience that promotes access, thriving, and higher retention and graduation rates; and focusing on learning that prepares undergraduate, graduate, and professional students to engage in the world.  The university will also excel in providing traditional and emerging forms of education to promote lifelong learning experiences that are flexible, personalized, and accessible.
Community: AU is an institution deeply rooted in community. When the community grows stronger, so does the university. In the next five years, AU will build and strengthen ties with internal and external communities. Imperatives include leading and modeling inclusive excellence. The work in this area will also focus on growing the university's relationships with the Washington, DC, region to impact education, arts and culture, and economics and forming and expanding partnerships to advance our strategic priorities. Additionally, the university will improve how AU works by evaluating existing technology, processes, and structures and making them simpler and more effective.
The plan also includes four outcomes for monitoring success: improving retention and graduation rates, achieving operational excellence, enhancing AU's reputation, and diversifying and growing revenue. 
Total investment in the strategy over the first two years will be approximately $23.5 million and will come from multiple sources, including reserves approved by the Board of Trustees; revenue raised through growth of sponsored research and indirect cost recovery from funds received in support of grants and contracts; and fundraising.
While the themes and imperatives encompass the most important goals, values, and issues facing the university, committee members noted that the plan is intended to be a guide open to discussion, interpretation, and evolution.
"This is a living document—it's not meant to be put on a shelf and observed. It's a starting point for what is inevitably a dynamic process over the years," said Jeff Sine, SIS/BA '76, trustee, committee member, and former chair of the AU Board of Trustees. "I hope the community both embraces it and finds areas where they can improve it and further develop it."
Each of the nine strategic imperatives outlined in the plan includes specific actions to be taken in years one and two, followed by areas for exploration in years three, four, and five.
"Through this strategic planning process, as an institution we have been asking ourselves, 'Who are we? What distinguishes us as a university?' Essentially, we are creating a common language, a common vision for the future," said Holcomb-McCoy. "In many ways, this is a process of becoming. And I believe we're on the right path."
Read more about the plan.