Television & Film
Wading into Wakanda: AU Profs Discuss Black Panther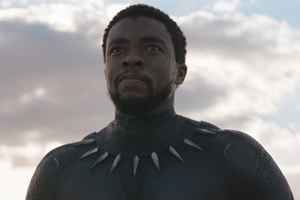 Marvel Studios' new movie, Black Panther, will be released on February 16, and it's poised to make a ton of money. But Avatar made a lot of money. Jumanji: Welcome to the Jungle reigned at the box office for weeks. Black Panther, conversely, could be more than just a blockbuster. With social media memes, record-breaking advanced ticket sales, and numerous Internet think pieces, the release of Black Panther feels like a watershed cultural moment. Is Chadwick Boseman's T'Challa tapping into the zeitgeist of 2018?
To probe the hype around Black Panther, University Communications and Marketing interviewed two American University professors. Sherri Williams is an assistant professor at AU's School of Communication and an expert on racial representation in mass media. Erik Dussere, an associate literature professor in the College of Arts and Sciences, teaches film and has written about the Black Panther comic books.
Believe the Hype
Williams is amazed by the excitement surrounding Black Panther. "The day that the trailer dropped, that's all that people of color, especially black people, were talking about," she says.
And Williams thought the buzz generated on Instagram and Twitter was almost unprecedented. "The Black Panther hashtag had more than a million posts on Instagram already, and that was about a month before the film opened. I don't think I've seen that before," she says.
The movie is becoming a point of pride in the African-American community, she says. After all, Black Panther features a nearly all black cast and is helmed by a skilled young black director, Ryan Coogler.
"For some folks, this movie reflects the beauty, the humanity, the intelligence, and the endurance of people of African descent," Williams explains, noting that positive representations were evident in the short trailer. "With these beautiful and evolved depictions of black people, there's no way that people are going to miss it."
Williams notes how money has been raised in metropolitan areas for young black children to see the movie. Humorous memes are ubiquitous, and there are Wakanda balls being held in Washington, DC, and Oakland, California.
The Power of Positive Representation
Though Black Panther hasn't been released to the wider public, Williams senses it will have positive representations of people of color. In her Identity, Power, and Misrepresentation class, she's taught students a media studies concept called "symbolic annihilation."
"It says that groups that don't have a lot of social power are either invisibilized in media, or when we do see them, it's in a really trivial way."
Negative images of marginalized groups go back centuries, she says. African women were frequently described as scantily clad and hypersexualized, and that was used to justify colonialism and oppression. And she says those socially constructed images still make their way into contemporary media.
"To have people represented in media is important," she adds. "As scholars have shown, being represented in media is a form of power, and being invisibilized is a form of oppression."
Given this history, it's clear why Black Panther is so important. "If we have someone like Ryan Coogler-who is a native-born African American, who has some of that lived experience-able to tell the stories of people like him, and people throughout that African diaspora, then that will hopefully ensure that the story will be more authentic."
In addition, many people are hoping that Black Panther-which includes standout actresses Lupita Nyong'o and Angela Bassett-will feature strong depictions of women.
The Black Panther Comic and the MCU
In discussing Black Panther comics, Dussere identifies certain themes. As Marvel's first black superhero, Panther confronted race in both an American and global context.
"Wakanda has this valuable natural resource called vibranium, and greedy Westerners are always coming in from the outside and trying to make a profit off of it. So it winds up being an allegory for colonialism," he says. "They were really thinking through serious complicated issues, not just of race and colonialism but also of gender, and of changing ideas of marriage and tradition."
Dussere analyzed two Black Panther comics of the 1970s, Panther's Rage and Panther vs. the Klan, which combined pulp silliness with serious social commentary.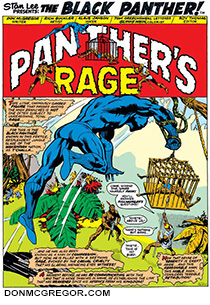 "On the one hand, Black Panther is dealing with changes to his society, and trying to think about whether he himself is authentically black enough and authentically African enough. And on the other hand, he's doing battle with not only enemies with ridiculous names like Erik Killmonger, but also with giant white gorillas and dinosaurs," he says.
With the upcoming movie, he assumes the filmmakers will consciously balance this dynamic: grappling with serious racial issues, but doing so within an entertaining framework.
Dussere notes that people have been waiting for a Black Panther movie for decades. And Marvel has already conquered the box office with the Avengers franchise and related movies. "I think, partly, CGI had a lot to do with that. There is the technology to make a superhero movie in which things actually look convincing," he explains.
He says this probably started in 2000 with X-Men-which deals with prejudice, using fictional "mutant" characters-and then an unrelated Marvel Cinematic Universe took root.
Dussere suspects that the country's "post-Ferguson" period is driving interest in Black Panther, but he cautions against overemphasizing that. "The truly exasperating thing about race in America is that racism is always a relevant topic," he says. "And I don't think the issues are dramatically different than they were in those '70s comic books."
Intergenerational Reach
Williams loved Girls Trip, a movie that featured black women over the age 40. And she believes that Black Panther could appeal to an intergenerational audience. "My Baby Boomer mother, who does not even really go to the movies, texted me and said, 'I am going to the theater to see this. These black people look so beautiful. I cannot wait to see this.' And then I posted a screenshot of her text on Instagram, and it got like 70 likes."
Black Panther is getting rapturous reviews, and its financial success could determine whether movie studios keep investing in diverse filmmaking. Williams certainly sees reasons to celebrate.
"For me, Black Panther has already won. Even before it has met any Hollywood expectations. For the people, and the community, it's already a triumph."