Six Pilot Projects Selected for Inclusive Excellence Mini-Grants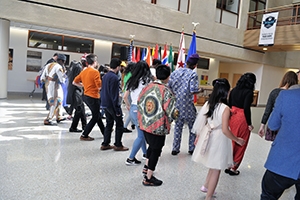 The President's Council on Diversity and Inclusion (PCDI) announced the selection of the first projects to receive Inclusive Excellence Mini-Grants. As part of American University's Plan for Inclusive Excellence, the grants are intended to encourage collaboration across divisions, departments, and student organizations for the purpose of advancing diversity, equity, and inclusion efforts at American University.
The deciding committee, consisting of PCDI members, evaluated all submissions based on a rubric containing seven criteria, such as whether the project maps to at least one of the recommendations in AU's Plan for Inclusive Excellence, whether it encourages collaboration, and whether it supports a sustainable and/or scalable effort that could continue after funds are exhausted.
Six projects received grants totaling $8,450. The funds must be used by June 29, and grant recipients will submit reports detailing the outcomes of their projects and the lessons learned by July 30. This pilot program will help PCDI determine the logistics of an expanded mini-grant program that will roll out in the fall.
Selected Projects
I'm White, Now What?: A Guide to Disrupting the System When Coalitions Stop Being Polite and Start Getting Real
Project Affiliate: University Communications and Marketing
I'm White, Now What? seeks to bring together and organize AU's largest demographic to complement the changes in curriculum currently taking place at the university. We have identified two facilitators who are available and willing to conduct thought-provoking one-day training sessions: Aja Taylor, director of advocacy, Bread for the City; and Nora Rasman, a facilitator who is also skilled in this area. I'm White, Now What? is a project inspired by Jane Elliott, a recognized pioneer in the field of infusing values of diversity and inclusion for white audiences.
Spring Cultural Festival
Project Affiliate: International Student and Scholar Services, AU Student Government, Latinx and American Student Organization, Muslim Student Association, African Students Organization, Caribbean Circle, League of United Latin American Citizens, International Student Association, and International Accelerator
The Spring Cultural festival is the first event affiliated with the #IamTheOther campaign, which will bring together communities across campus for an afternoon of cultural exchange through the enjoyment of foods from around the world and cultural performances throughout the day.
Our AU Story: A Friendship Born in an Unlikely Place
Project Affiliate: AU Alumni Association
Our similarities are what brought us together, but our differences have inspired growth, appreciation, and understanding. By telling our AU story we seek to inspire current AU students of all races to step outside their comfort zones and to actively pursue conversations and friendships with students from different backgrounds. Our Ted-style talk will be a 15-minute presentation communicating our distinct differences (races, cultures, socioeconomic and political backgrounds) followed by our similarities (morals, values, and personal interest), emphasizing to AU students the importance of making the most of their college campus experience.
Courageous Conversations/Ties That Bind
Project Affiliate: Washington College of Law
The Ties That Bind project is focused on building the knowledge of shared experiences and perspectives to foster connectivity and community dialogue and engagement. Participants will come together for a WCL working session that will distinguish our differences while aligning our commonalities. The Courageous Conversations project will be a guided conversation which touch on sometimes difficult discussion topics. (These were two separate mini-grant submissions. The awarded grant is for one project; WCL will select which they wish to proceed with.)
Community Graduations: Third Annual Black Graduation and Second Annual Latinx Graduation
Project Affiliate: Office of Development and Alumni Relations and Office of Campus Life Student Organizations: AU NAACP, ASO, BSU, MSA, Alpha Phi Alpha, Phi Beta Sigma, AUSG, LASO, AU LULAC, Lambda Phi Chi, Voto Latino, and ODELL
A pre-commencement celebration of students from underrepresented communities as they prepare to graduate from American University. Each of these receptions has been designed to represent African-American and Latinx culture and heritage. Keynote speakers Dr. Ibram X. Kendi and Ana Polanco will share their lived experiences and inspire the students. The event will also comprise student speakers, student awards, and a showcase of their diverse talents. The events will culminate with a Kente/Serape Stole Ceremony.
Optical Inclusion
Project Affiliate: AUx2, Center for Diversity and Inclusion, University Communications and Marketing, Center for Diversity and Inclusion, Human Resources
Optical Inclusion is about asking members of the AU community, including students, faculty, and staff, to use their smartphones, digital, or conventional cameras to submit images that show what an inclusive AU looks like to them. Drawing from the AU community, a small panel of nominally compensated judges composed of people from traditionally underrepresented populations, such as people of color, LGBTQ people, veterans, and people with disabilities, would be selected for their knowledge of photography and/or the visual arts. The contest-style format would offer the winners prominent placement for a limited period of time in a gallery-style campus exhibition space to be determined.