Research
In the Rainforest: Grad Student Found Costa Rica and a Passion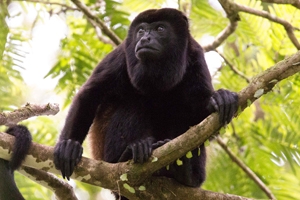 As an American University graduate student, Dorian Russell spends months every year observing animals in the remote tropical rainforests of Costa Rica. Before coming to college-she also earned her bachelor's degree from AU-it all might have seemed a little impractical. A little adventurous. A little too "Indiana Jones," as she jokes. Yet this became her academic passion.
"I had never dreamed that I would be able to work in the rainforest," she says.
Many years ago, Russell's curiosity about animals and rainforests germinated while watching National Geographic shows, and she occasionally thinks about this now.
"It's like watching nature television as a kid, except you're 20 meters away or less," she says. "It's physically hard work, but it's also so thrilling because you think, 'I never realized that this was something you could do as a career.'"
Russell will graduate this month with an MS in environmental science.
Finding the Forest
So, how did all of this happen? During her first year as an AU undergrad, she participated in the Makengue Project, a class that takes students to rainforests in Nicaragua. The group was led by associate biology professor Christopher Tudge, who would also become a mentor and adviser to Russell.
"That was the first time I ever went to the rainforest. I completely fell in love and realized that I wanted to do conservation work. That evolved into a more science-focused career," she recalls, drifting away from her original plans for environmental law. "I started taking environmental science classes for fun. I was thinking I'd minor in it, and then I realized, 'OK, what do you really, really love?'"
She also became a TA and would return to the Nicaraguan rainforests. She earned her bachelor's degree in environmental studies at the College of Arts and Sciences. She was a residence hall assistant, and she worked a variety of internships downtown. A personal favorite was her position as a research and policy intern with the Association for Women in Science.
In many ways, it was the quintessential DC experience, but she appreciates how her professors also encouraged her to look outward. That's how she found Costa Rica, of course, and her research is connected to her love of the wildlife.
"I consider myself a scientist, but I'm also a concerned scientist who wants to be politically engaged as part of that ecosystem," she says.
Habitat and the "Edge Effect"
Russell says only about 24 percent of the rainforests remain intact, and much of the scientific research is geared toward the pristine areas. She wanted to examine "human disturbed" environments.
In Costa Rica, she studies a rainforest "fragment," as the forest is surrounded by agricultural farms that grow bananas and pineapples. Since these rainforests are fragmented by development, she's researching the impact this has on the natural habitat.
To measure this, she observes the behavior of mantled howler monkeys. And she's specifically preoccupied with an "edge effect."
Russell explains, "I was looking to find out if they are feeding and foraging more in the edge of the forest or the core. With the hypothesis that they were feeding and foraging more in the core."
This could signify less habitat for these organisms. "Are they using the entirety of the fragment? Or is there a portion that isn't useable anymore?'" she asks. "If we count the entirety of a rainforest fragment as habitat, but in reality the monkeys are only using the core of it, we're severely overestimating the amount of habitat."
She also analyzed vegetation, looking at canopy plant connectivity-important for monkeys to travel through the forest-and trees' maturity/density at the core and edge.
The vegetation study yielded disconcerting results. "I saw 30 percent more species diversity in the core than the edge. I saw three times the tree density in the core than the edge," she notes. "Why is there so much less diversity in the edge? What does that mean for the different plants and animals that interact in that area?"
Conversely, the mantled howler monkey study actually produced positive news, as they equally used resources in the core and the edge. Yet she says it's a small sample size, and smaller primates might have greater difficulties.
Much More to Learn
Russell is committed to conducting more research, and she's returning to the rainforest about a week after graduation. She plans to apply for PhD programs in the fall and make this her life's work.
She is quick to credit supportive AU professors, such as Tudge, her thesis committee chair, and Catherine Schaeff, who has expertise in animal behavior and conservation. "The environmental science and biology departments have been fantastic. If I go to them and say, 'Hey, can you review this grant proposal, they say, 'Absolutely, when do you need it by?'"
She's also a first-generation college student, and environmental science department chair Stephen MacAvoy answered questions and helped her navigate academic culture.
Hard Work and Bird Watching
A native Oregonian, Russell was born in Portland and attended high school in Hillsboro. Russell's closest adviser, her partner Aspen, was a friend from Hillsboro who started college in Oregon but transferred to AU. They got married in July 2015, and Aspen is currently an AU undergrad computer science major with a women's, gender, and sexuality studies minor. He moonlights as her photographer, and she's benefited from a second set of eyes-and lens-to view organisms in Costa Rica.
Make no mistake, she says, this is physically taxing work: wading through swamps, collecting ticks and mites on her body, hours and hours of hiking. But the natural beauty, bird watching, and species diversity keep her coming back.
"As you go toward the center of the earth, biodiversity increases," she says. "The closer to the equator you go, the more there is to see, and it becomes awe inspiring."