Achievements
Limitless Potential: Shyheim Snead is the President's Award Winner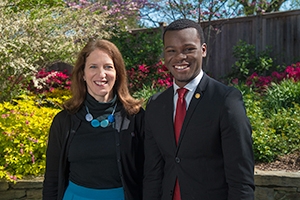 As a Frederick Douglass Distinguished Scholar, Shyheim Snead remembers a mantra from FDDS managing director Larry Thomas: shatter expectations. The sentiment had special meaning for Snead, as he strove to be the first student in his family to graduate college. Yet he's gone far beyond earning a bachelor's degree. Snead has just been granted the President's Award, the highest distinction for a graduating senior at American University. It recognizes an undergraduate whose accomplishments are truly exceptional and represent the highest ideals of AU.
A cursory review of his positions and achievements - Truman scholar, FDDS scholar, student trustee, Kennedy Political Union director, an estimated 3.85 GPA - shows he wasn't just remarkable for a working-class kid from Bridgeport, Connecticut. He shattered expectations set for virtually anyone.
"You want your expectations and your goals to be informed by mentors and friends and family and people close to you. But you also want your expectations to be guided by a limitless potential of yourself," says Snead, a student in AU's School of Public Affairs.
Receiving the President's Award, he says, feels like the culmination of four years of hard work and help from those mentors and friends. "It was a proud moment, but also a humbling moment," he says. Snead is the first awardee in the tenure of AU president Sylvia Mathews Burwell.
Navigating Schools
There were impediments facing many young people growing up in Bridgeport. Gangs, crime, and substance abuse all had a presence in the community, Snead notes. Yet navigating the school system would become his biggest challenge, even though he was supported by his family.
"They understood the value of schools and education," he says, "but they couldn't control what the schools were doing."
His public-school teachers were fully invested, he adds, but they were hampered by limited resources. Snead took a standardized test that put him on an accelerated track, but by 8th grade counselors and teachers told him he should still consider private high school.
"I looked at them like they were crazy. There was no way I could ever imagine financing something like that. However, through scholarship funds, I was able to attend a local private school," he says.
Building Communities at AU
One of Snead's treasured experiences at AU echoed a memory from his childhood. Though New Haven, Connecticut, was only "15 minutes, 25 minutes away in traffic," he'd never been to, nor heard much about, Yale University. But as a middle schooler, Snead got the chance to visit the Yale campus through a federal grant program.
"That was one of the moments that made me know that I wanted to go to college, and that college was possible," he recalls.
While at AU, Snead and other FDDS students sought to give underprivileged kids a taste of college life. They brought 100 students from a local public school to campus, where they took a tour, visited the dining hall, and asked questions.
"We were thinking about where we had come from, and what was most helpful for us growing up," he explains. "I'd been able to come to AU and hold these high-profile roles and work these great internships and get good grades, but I also could find ways to be connected to my roots."
It's unsurprising that this highlight also involved his friends on campus. Snead is magnanimous in discussing his fellow students. When explaining how he balanced his schedule while getting As, he mentions being part of a "Fab Five" of graduating seniors in FDDS: Winter Brooks, Diego Aleman, David Curtiss, and Isobel Araujo.
"It's having people who you can be friends with but also who you can be in the library with until 5:00 a.m.," he says. "I think that if you asked any of us what we attribute our success to, it's our work ethic, but also accountability to one another and pushing each other." He's able to unwind with good friends, doing everything from Saturday brunch to skydiving. Yes, he jumped out of an airplane last year. "It was the most terrifying experience of my life. It was 90 seconds of straight freefall, and then after that, when the parachute was out, it was beautiful."
Adapt Your Thinking
Snead is earning his degree in political science with a minor in education studies. Considering the role schools played in his life trajectory, it's fitting that he chose to study educational policy. He particularly loved two School of Education classes: "Social Justice and Urban Education," with Lauren Wells, and "Schools and Society," taught by Jason Snyder. Snead worked with Wells on an independent study on school accountability in Newark, New Jersey. And Snyder's course convinced him to focus on these issues in greater depth.
"I kind of had my mind made up about how I viewed education and schools. But this class just made me realize that you have to continue to adapt your thinking," he says. After graduation, Snead hopes to do nonprofit work around equity and access for low-income students from marginalized communities. Eventually, he plans to use his Truman scholarship money to return to graduate school.
Sharing with Family
For now, Snead is processing this achievement and sharing it with others. Soon after hearing from President Burwell about the award, he told his mother and grandmother. He'll officially receive his award at commencement, with his family coming to celebrate the occasion.
"And it's on Mother's Day, and there's some really powerful, amazing women in my life who have sacrificed so much for me," he says. "I'm walking across the stage and getting the award, but it's really for them."