Achievements
Inspiring Grad Stories: Lili Zigo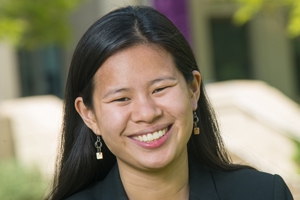 As a former American University student ambassador, Liliana "Lili" Zigo had a favorite line while leading campus tours. "I told people, 'I want to go to a place that in four years, I would be proud of the person who came out,'" she recalls.
Zigo should have reason to be proud now: She just graduated summa cum laude with a double major in public health and psychology and a minor in statistics.
Yet coming into AU? That was its own improbable, inspiring journey. Like any great story, there were key supporting characters with an unpredictable ending. And since Zigo will start a job with the Cancer Support Community in June, this is also a time to begin anew.
'Amazing Parents'
Zigo was born sometime in January 1996 in China. That's really all she knows about her birth. She was left on a park bench in Suzhou, and she was found there on a warm day in February. She went into foster care, briefly lived in an orphanage, and as a 9-month-old baby was adopted by American parents. She came to the US with her new family and grew up in Arlington, Massachusetts, just outside of Boston.
"There are a lot of people who say, 'Oh, you're so lucky.' And I think that is so true. I have amazing parents who have given me all of these amazing opportunities," says Zigo.
She later returned to China with her parents and visited the family who fostered her. In a strange coincidence—or maybe globalization?—Zigo's dad and her foster father were both wearing Harvard University shirts. (Her dad worked at Harvard as a graduate program coordinator, and Zigo believes her foster dad nurtured another child with some sort of connection to Harvard.)
Zigo noticed another important detail on the China trip: people begging on the streets. "I realized how close that was to being my future. But instead I was walking around with parents who really cared about me and were able to support me," she recalls now. "I think one of the reasons that I wanted to go into public health and help others is because I do feel lucky."
Embracing Leadership
As a kid in Massachusetts, she dabbled in ballet, soccer, and piano. She eventually captained her high school varsity cross country team and mock trial team.
Zigo was accepted into AU as part of the Honors program, and she found various channels to engage in campus life. Zigo is in the first graduating cohort of the College of Arts and Sciences Leadership and Ethical Development (LEAD) Program, established by Meg Weekes.
"People typically think of their leaders as the politicians, but this is built on the premise that everybody's a leader in their own field," Zigo explains. "It's based on ethical leadership."
She mentored in other ways, working as a resident assistant for many first-year students. And Zigo notes the AU professors and staffers who have helped her, including Weekes, associate psychology professor Kathleen Gunthert, and Public Health Program director Jolynn Gardner. "Professor Gardner, no matter what's happening in my life, is the type of person where if I'm having a crisis, I can go to her. And she always tells me that it's going to be OK, and it is always OK. So I really appreciate that," she says.
While gearing up for commencement, she took part in another university ceremony: Zigo was a CAS flag bearer at the presidential inauguration of Sylvia Mathews Burwell.
Micro and Macro
During her time at AU, Zigo made use of educational opportunities elsewhere. Through Research Experiences for Undergraduates (REU) at the National Science Foundation, she traveled to Rwanda during the summer of 2017. They interviewed stakeholders, such as NGO and top government officials, to probe the success of Rwanda's family planning program. She also studied at the Summer Institute in Biostatistics at the University of Minnesota and was a Killam fellow through Fulbright Canada at University of Toronto.
As part of her research, she completed a psychology capstone on stress mindsets. For public health, she was involved in a group capstone focused on issues affecting Native American and Alaskan Native populations. Zigo approached her two majors through a similar lens.
"Public health is the health of a population, and you're sort of taking the macro view. But then psychology is really helping one person. So I thought that understanding the person can then help me understand the community," she notes.
Fate and Faith
One morning in September 2015, Zigo rose at 3:00 a.m. and made her way to the Mall. She waited 10 hours to see one of her heroes, Pope Francis, on his much-anticipated trip to Washington. They even learned the pope's route beforehand.
"We were in the front row, and he was like three feet away from us," she says. "I'm Catholic and I was there with my Protestant friend. It didn't matter what religion you were. We were both just there to see him."
It's probably her most memorable experience in four years, she says. Throughout her time at AU— throughout her entire life—she's been guided by her Catholic faith. Given the precarious nature of her infancy, it's understandable that she'd think about fate and chance.
"It's partly just that I need to believe that I have a purpose, and that everything happens for a reason," she says.
Another time when random chance helped her? In her first year, as part of the Honors program, she was placed in Hughes Hall. And that's where she found so many good friends, including her significant other and her roommate-turned-best friend. "I'm the classic case of, 'Go to college, meet everybody,'" she jokes.
But it wasn't just fate that brought her to this moment. Through dedication and planning, she made her own luck.