Government & Politics
Rising Above: A New Project on Civil Discourse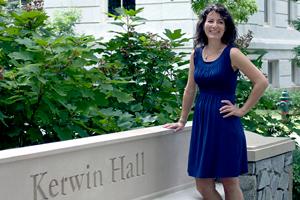 It's so familiar, almost like Groundhog Day: Far-right fringe speaker comes to college campus. College students heavily protest the speaker's controversial lecture. Conservative commentators complain about college kids violating free speech.
Lara Schwartz wants to move beyond this predictable debate. "It's not a very interesting conversation from the perspective of a university and the students who want to get something done in their careers. It's not connected to our mission as a university, which is about building scholars, building leaders, building professionals, advancing knowledge," she says.
As director of the new Project on Civil Discourse, Schwartz wants American University students to think more seriously about the power of their words. And from her classes, she's already discovered students' hunger to confront complicated questions around speech.
"Setting aside [speech] rights, it's also, 'What are our responsibilities? What kind of system could we build?" she says. "What is civility? How do we treat each other? How do we talk?"
Pilot to Project
Schwartz, a professorial lecturer in AU's School of Public Affairs, started this as a pilot in fall 2017. Small student groups, paired with faculty/staff mentors, discussed how to accomplish diversity, inclusion, and free speech on campus. It was a process of problem solving, and the groups gave presentations to Fanta Aw, vice president of campus life and inclusive excellence, now-Interim Provost Mary Clark, and LGBTQ advocate Charlotte Clymer.
SPA dean Vicky Wilkins and Schwartz then had conversations about a comprehensive program, and Wilkins strongly supported a new SPA Project on Civil Discourse. While it will remain SPA-based, it will be a university-wide program in 2019-2020. The Wall Street Journal reports that civility programs are now a nationwide trend, noting activities at AU, Wake Forest University, and Carleton College.
The Project on Civil Discourse will have student-led discussions—held in classrooms and other university settings—with plans to hire student-peer facilitators. There's also the Building My Voice tool, a downloadable PDF that will eventually become interactive. Schwartz will be a faculty fellow with the Center for Teaching, Research, and Learning (CTRL), where she'll work with other professors on these issues. Upcoming speaker events include consumer activist and provocateur Amanda Werner—who sometimes appears as the Monopoly Man—and conservative professor Josh Blackman, who was shouted down by CUNY Law School students earlier this year.
Schwartz notes how the Project on Civil Discourse isn't necessarily about "healthy debates" among students. "Civil discourse involves listening," she says, "so we'll look at what listening means."
Architects of Our Voices
Schwartz frequently advises being the "architect of your own voice." That includes taking ownership of the messages you're conveying, while understanding the ramifications of your speech.
"Your goals include, 'How do I want to be perceived among my peers?'" she says. "That person you fought with in your dorm lounge can be the same person looking at résumés at the Hill office where you're applying for a job."
This means contemplating your career objectives. She offers a hypothetical of a student who'd someday like to be chief of staff to Sen. Rand Paul (R-Ky.): "There are people in Kentucky who are going to be winners and losers in anything he supports or poses. You have to at least hear them, and you have to work with other people," she says. "And one thing you'll find is there's almost no job where actually shouting over people and not understanding them wins."
You must also articulate, and be able to stand by, your contributions to AU discourse, she says. You may have the "right" to invite radical speakers to campus, but it's not necessarily desirable and might make you unpopular with fellow students. "If it's, 'I invited Steve Bannon to own the libs,' well, you're the architect of that. You made that choice, but then you're also responsible for the consequences," she explains.
Where is the line between what's acceptable and what's not? Schwartz makes it clear that, as the project's director, this isn't for her to decide. A chart on the website mentions civil discourse as truthful, productive, and audience based. "If it's not truthful, it can't be productive," she says. "But it's a person or group's choice. It's their responsibility. They've got to think about it and justify it."
Truth is essential for civil discourse, and she says that's where people must weigh the merits of someone's "arguments." Why give a forum to a Holocaust denier or pro-slavery revisionist, since they'll say things that are not only hurtful but demonstrably false?
Thoughtfulness in College
To Schwartz, AU is a great place to improve civil discourse, because students are learning how to form evidence-based ideas. "We've already made that commitment. College is literally about being thoughtful," she notes. "The fortunate thing about academia is we have learning goals and outcomes. We're not here to care whether you're 'Feeling the Bern' or 'Making America Great Again.' It's, 'Are you using credible sources and habits of mind?'"
This is a time of intense polarization throughout the country. Cable TV political debates descend into verbal jousting. Conflict is not a bug but a feature of social media. It warmed people's hearts when John McCain requested that his two political rivals, Barack Obama and George W. Bush, deliver eulogies, but cordiality among elected leaders is increasingly rare.
Yet this is how AU can make a small contribution, Schwartz argues. "Hopefully, American is going to do better than America at this, and maybe America will catch up," she says. "And I actually really believe that. I think our students can do this."