Literature
Life and Energy: Kyle Dargan on Poetry and his New Book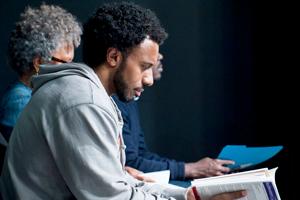 "Rage would be a word to fit in the mouth/had the mouth not grown small from watching/SWAT tanks quash demands for answers." That's from Kyle Dargan's new book, Anagnorisis: Poems, and he remembers exactly where he was while formulating those thoughts.
"I was in my bed, at 2:00 a.m., watching the riots in Ferguson, and just thinking to myself, 'How is this happening here?'" he says in an interview. "And there is a certain helplessness in that. So, I tried my best to capture that feeling in language."
In Anagnorisis (TriQuarterly Books/Northwestern University Press), Dargan explores issues of racial injustice, police brutality, and citizenship. The book was unplanned—he was initially working on a 'new and selected' work—but his editor asked him to consider an entirely new volume.
"All of the new work, after examining it in one body, sort of had a life and energy of its own," says Dargan, an associate professor of literature and assistant director of creative writing at American University's College of Arts and Sciences.
New Revelations and Strange Places
"Anagnorisis" refers to a character making a critical discovery about the nature of their condition, Dargan says. Derived from Aristotle and the Ancient Greeks, it's prevalent across literary movements and time periods. For instance, Dargan has taught his students Arthur Miller's Death of a Salesman through the lens of Greek Tragedy.
For his latest book, Dargan examined his own moment of revelation: the months leading up to the 2016 election that put Donald Trump in office. "As a statement of values, to actually have that happen in this country really forces me to consider, 'Who are these people I live with? What do they think of me and people like me?' So, a lot of the poems speak unabashedly toward that shock," he says.
While Dargan pondered being black in America, his time overseas helped him put racist ideas in a global context. Dargan devotes a middle section of the book to his recent experiences living in China.
"I left America with all this weight on my shoulders about the police shootings, and sort of this rising white supremacy. And I go to China, and in part, I expect to be able to leave some of that behind me. But then you realize, as an African American in China, it's just a different type of hypervisibility," he notes.
Upon returning to the US, he could draw from this newfound perspective. "To actually have the lived experience to understand that colorism is a global thing. Xenophobia is a global thing," he says. "It just helps you exist in the space where we are right now."
Dargan also goes local with a look at gentrification in DC. He thinks about food, culture, and the transformation of U Street in the poem, "White. Bread. Blues."
"Everyone needs a place to be strange, or a city where you know what will and won't leave you hungry," he writes.
In the interview, he explains, "One of the things that always fascinates me and scares me, in regards to DC, is that it does change so fast. … I'm from Newark, New Jersey, and they're still building some of the same development projects they were trying to build when I was a kid."
All Forms and Genres
Dargan's early motivation came from his late grandmother, an avid reader who shed light on how writers can influence their readers. He started getting serious about poetry in high school, though he still views himself as primarily a teacher. Poetry, he says, is more of a passion and a hobby.
Anagnorisis is his fifth collection of poetry, and for the first time, he included nonfiction in his book. Inclined to dabble in multiple genres, he's considering plans for a novel, a nonfiction book, and an Anime script.
"I think when you're a creative writer, you should feel comfortable touching it all," he says.
Poetry is intimidating for many people, and he tries to assuage student fears in his creative writing classes. He believes the problems stem from the way poetry is taught in high schools.
"So much of the instruction around poetry is tied to the interpretation. 'Tell me what this means,'" he explains. "I want them to understand that poetry isn't about what it means. It's about what it does. And it does different things for different people."
In discussing influences, Dargan likes to focus on his contemporaries and what he's reading right now. Yet he mentions a surprising source of inspiration, someone you might not even think of as a writer: Bruce Lee. He's learned a lot from Lee's edited volume of letters and essays, Artist of Life.
"It's so clear, with his approach to engaging in forms but not being beholden to forms of writing," he says of Lee. "Some people just do one thing well. But other people really adapt and do what they need to do every time they write."
Defying Expectations
Dargan recently appeared at a Politics and Prose book event. He's earned accolades for his writing, getting the New York Times Book Review treatment in his early 20s. But that success created expectations about his writing choices, Dargan says, and he resists being pigeonholed.
Based on previous experiences, he knows he'll get a variety of reactions to Anagnorisis. "I'm not necessarily invested in people responding one way or another," he says. "I just hope this is a book that people have conversations around."