On Campus
Highlights from Helene Gayle's Fall Commencement Address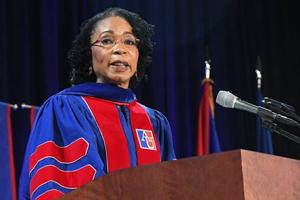 Newly minted American University graduates gathered on December 16 for the Fall Commencement ceremony. As the sound of bagpipes reverberated inside Bender Arena, 703 students enjoyed the momentous day with friends and family. Per tradition, some attendees supplemented their graduation attire with a personal touch. One graduate's cap read, "She flies with her own wings."
The celebratory occasion included remarks from graduating student speakers Sade Tuckett and Heaven Sensky, as well as President Sylvia Burwell and Fanta Aw, vice president of campus life and inclusive excellence.
On stage, Burwell, Interim Provost Mary Clark, and Board of Trustees Chair Jack Cassell presented an honorary Doctor of Science degree to Dr. Helene D. Gayle, president and chief executive officer of The Chicago Community Trust. In her current role, she works to advance equity and improve quality of life for Chicago's residents. Among other positions, Gayle has served as CEO of both McKinsey Social Initiative and CARE USA, where she led a staff of 11,000 people to fight poverty in 87 countries.
On Sunday, Gayle spoke about confronting societal divisions, pushing for equality, and restoring justice. And she challenged AU students to embrace the unpredictable and fight for a better future. Here are 10 highlights from her speech to AU's graduating class.
1) On working at the Bill & Melinda Gates Foundation with Burwell: "Your president and I would get up most mornings and hit the gym together. Back in those days, those bench presses and squats at 6:00 a.m. in the morning made solving world problems seem like a piece of cake. But I guess they strengthened both of us for the road ahead."
2) On AU's celebration of Wonks: "In this political climate when some are promoting, and even glorifying, an aversion to knowledge and facts, this commitment to research over speculation, and evidence over ideology, is essential."
3) On her decision to head an organization in Chicago: "After almost 30 years of focusing on issues of health and economic inequity globally, I really felt this urge and felt it was time for me to start tackling some of those same challenges locally. And I was largely motivated to do this by seeing my own country becoming more divided and more unequal."
4) She lauded the work of Chicago artist Tonika Johnson, whose "Folded Map" project exposes community division. "The divide between the addresses, lives, and experiences she documented isn't just a divide of blocks or miles or income. It's a divide of justice—that core principle of fairness and equity. In that sense, Chicago is no different than the rest of the world. And you, class of 2018, have a chance to help bridge that divide."
5) Even with the hard work and determination it takes to earn a degree, she noted the "miracle" that graduates are experiencing. "There's a miracle to be seen in how your planning and efforts have led to this day. Because the truth is, for many people—in Chicago, in the country, and in our world—hard work is not able to span that divide between the future they dream about and the future they actually achieve."
6) Gayle also offered some good news for the crowd. "Our world has seen and endured troubling times before. And no matter what page of history you turn to, you can always find examples of energetic, idealistic, competent individuals like you who have found ways, both great and small, to bring positive change."
7) She highlighted the possibility of human progress. "As we continue towards building a more perfect union, we shouldn't be discouraged just because everything isn't finished. It's the work of each generation to take what the generation before us has left and continue to move it forward. And each generation is better equipped than the last one to address our biggest challenges."
8) While discussing increased political engagement from young people, she mentioned recent contributions from AU grads. "Look at the 34 AU alums who ran for office this year, and 24 of them won. Look at the choices that you're making. You're buying products from companies that represent your values. You're working for organizations whose missions you believe in," she said. "I have no doubt that you will successfully carry the baton forward. You've already started."
9) She advised graduates to remember what's important. "Always, always, always remember your purpose. That passion that gives you that sense of meaning. Because it's easy to get focused on the goal and forget the purpose."
10) Gayle summed up her thoughts with a final message. "Each of us is prepared to leave our mark on this world. So, remember your purpose. Have no fear. This is your moment. Go out, make the most of your miracle. Congratulations, AU class of 2018."