On Campus
Top 10 AU Stories of 2018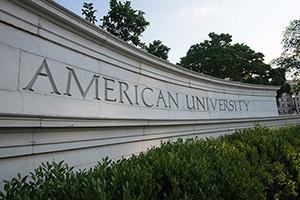 As 2018 comes to a close, now is the perfect time to reflect on all American University has accomplished in a busy year. From a unique partnership with Special Olympics International that involves research and educational opportunities for students and faculty to two major alumni gifts that will have a significant impact on the future of the university, take a look back at some of the top stories of the year.
AMERICAN UNIVERSITY LAUNCHES PLAN FOR INCLUSIVE EXCELLENCE
On January 30, President Sylvia M. Burwell made the first major announcement of 2018 by launching AU's Plan for Inclusive Excellence. The plan represents a far-reaching effort to build a truly inclusive campus community.  "American University can thrive only when we affirm the dignity of everyone, when we demonstrate cultural competence, and when all members of our community—especially students, faculty, and staff of color— feel included," President Burwell said. 
AU AND SPECIAL OLYMPICS INTERNATIONAL COLLABORATE TO ADVANCE RESEARCH ON DISABILITY
This unique collaboration will include research and educational initiatives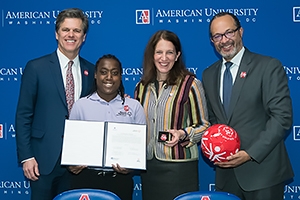 for students and faculty. AU students who are currently enrolled in the online Master of Science in Analytics program will analyze Special Olympics' dataset of health information for persons with intellectual disabilities and develop predictive analytical models to inform Special Olympics programs worldwide. The partnership coincides with the 50th anniversary year of Special Olympics and the unveiling of AU's new strategic initiative on global disability and development, led by its Institute on Disability and Public Policy.
A DAY TO REMEMBER: SYLVIA BURWELL IS INAUGURATED AS AU'S 15TH PRESIDENT
On April 12, the university celebrated the inauguration of Sylvia Burwell, AU's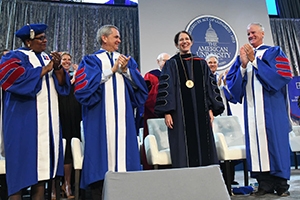 first woman president. The ceremony included an introduction by Board of Trustees Chair Jack Cassell, remarks from former president Neil Kerwin, Provost Scott Bass, Mayor Muriel Bowser, and Atul Gawande, a surgeon-author and Oxford classmate of Burwell. Film and TV director Davis Guggenheim, of An Inconvenient Truth fame, served as master of ceremonies.
CARBON NEUTRALITY IS NOW REALITY AT AMERICAN UNIVERSITY
Shortly after inauguration, the university announced another major achievement: carbon neutrality. AU was not only the first carbon neutral university in the nation, but also the first urban campus and the first research university to accomplish this important achievement—two years ahead of schedule.
AU'S TOP STUDENT LEADERS OF 2018
In early May, the university launched its 2018 commencement celebrations by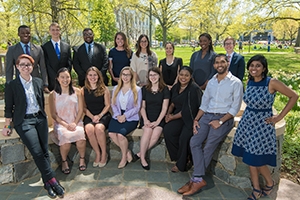 honoring this year's University Student Award winners. These annual awards recognize student leaders who have made significant contributions to the university through academic achievements, service, community outreach, and more.
INCOMING STUDENTS "EXPLORE DC" THROUGH SERVICE
This year's Explore DC program comprised two days of service and site visits
and included about 750 participants—mostly incoming freshman, as well as transfer students, and, for the first time, 210 students in the International Accelerator program. Board of Trustees Chair Jack Cassell and President Sylvia Burwell pitched in at service projects for A Wider Circle and the Armed Services Retirement Home, respectively.
The university's Project on Civil Discourse started as a pilot launched by Lara Schwartz, a professorial lecturer in AU's School of Public Affairs. Small student groups, paired with faculty/staff mentors, discussed how to accomplish diversity, inclusion, and free speech on campus. It was a process of problem solving, and the groups gave presentations to Fanta Aw, vice president of campus life and inclusive excellence, now-Interim Provost Mary Clark, and LGBTQ advocate Charlotte Clymer.
GIFT OF $5 MILLION ADVANCES CONSTRUCTION OF NEW SCIENCE BUILDING
In early September, AU announced a $5 million gift from alumnus and trustee Gary M. Abramson, SPA/BA '68, and his wife, Pennie. The gift, a philanthropic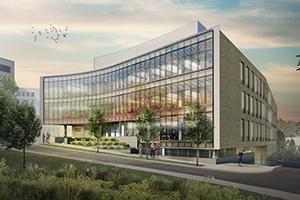 investment in the Hall of Science, will strengthen AU's capacity to engage in scientific inquiry. "In an ever-changing world, science is essential to how society approaches its greatest opportunities and challenges. AU students and faculty deserve a space that matches their ambition and affords them every opportunity to advance scientific discovery," the Abramsons said.
AMERICAN UNIVERSITY CREATES THE SINE INSTITUTE OF POLICY AND POLITICS
Not long after the Hall of Science gift, AU revealed a milestone gift of $10 million from AU alumnus, trustee, and entrepreneur Jeff Sine, SIS/BA '76, and Samira Sine, an advocate for women and children and a seasoned journalist, to launch the Sine Institute of Policy and Politics. Capitalizing on AU's distinctive location in the nation's capital, the Institute will bring together experts and top scholars in the field with students in research and scholarship to work on the nation's most pressing challenges. 
WELCOME, NEW FACULTY
This fall, AU welcomed 25 tenure-line professors to campus. UCM profiled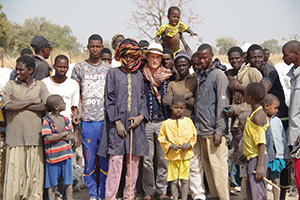 six of the new faculty members, who are experts in subjects ranging from race and basketball to the political economy of environmental management and cybersecurity.