Television & Film
Coast to Coast: SOC Prof. Mentors an FDDS Student in DC and LA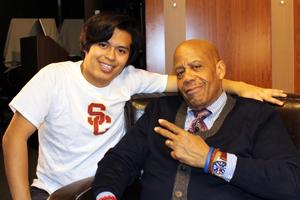 Are there certain keys to success at American University? If you talk with most high-achieving students, they'll invariably mention one thing: office hours. It's worth establishing relationships with faculty, and Fernando Rocha had incentives for meeting School of Communication professor Russell Williams.
Rocha is a second-year student in the Frederick Douglass Distinguished Scholars program, and Williams has been a faculty supporter of FDDS since its inception. Rocha is a film and media arts major who could learn from Williams, a two-time Academy Award winner with considerable knowledge about the art and business of moviemaking.
They've forged a strong mentor-mentee relationship, which has extended beyond AU's campus to the West Coast and Hollywood. "Professor Williams is a great example of why it's really important for students to get to know the faculty. Especially if it's not a faculty member you have class with. Because they're still at the school, you're still a student, and they're still resources," Rocha says.
Summer in LA
A major reason why Rocha chose AU was his acceptance into FDDS, an elite program that covers student scholars' tuition, room and board, and other expenses. Given Rocha's film aspirations, FDDS managing director Larry Thomas suggested he reach out to Williams. They began talking, and Rocha stopped by his office periodically to seek career guidance.
"I'm competing not just with other AU students in the job market, but also NYU and USC students. So most of his advice has been about how to work in an environment where we don't have major studios in this city," Rocha says. "How to use the resources I do have to be competitive."
They decided Rocha should take a Summer 2018 course—with AU/FDDS financial support—at University of Southern California. The class was a partnership between USC and Universal Studios on directing and producing, and it included time in the mock "New York City" lot. Williams, also in LA over the summer, met with Rocha and recommended Hollywood people he should contact.
At an Academy of Motion Picture Arts and Sciences screening, Williams introduced Rocha to a cinematographer friend with film connections to Cuba and Mexico City. Rocha has an interest in the Mexican film industry, so this was a natural networking opportunity. "I just put the two of them together at a table over coffee and some pastries, and let them map out what they wanted to do," Williams recalls.
Big Markets, Local Markets
Rocha, whose parents emigrated from Mexico to the US, is hoping to work in Mexico City this summer. Eventually, he'd like to build a career in bilingual cinema.
Mexican filmmakers are expanding artistic boundaries and getting rewarded with Oscars: Guillermo del Toro (best director and best picture for The Shape of Water, 2018); Alejandro G. Iñárritu (best director and best picture for Birdman, 2015, and best director for The Revenant, 2016); and Alfonso Cuarón (best director for Gravity, 2014).
In talking with professionals in LA, Rocha also learned that there's room for growth in smaller foreign films and streaming. "Online streaming services are getting into buying their content locally. And the difference is that lets other people tell their own story," he says. "That's what I want to work in."
Rolling Up Your Sleeves
Rocha and Williams both grew up in the Washington area. Rocha hails from Arlington, Virginia, and Williams has roots in Southeast DC. Williams is an AU alum who graduated with a bachelor's degree in film, art history, and literature in 1974. "To see someone who grew up locally, but has somewhat of the same dreams that I had when I was here as an undergrad, was something of a kinship," Williams says.
Yet, Williams explains, the real affinity blossomed while observing Rocha's work ethic and attention to detail. "The fact that he's serious, he has not shied away from any task that I've given him, and the fact that I have actually given him an opportunity to do some paying gigs, and he's said, 'Hey, no problem. Much appreciated professor,'" Williams notes. "He's showed me that mentally he's in the right space to be successful."
Williams believes it's vital to do the grunt work when entering the film world. He remembers his own early years in local television, working at NBC during the Watergate Hearings.
"We worked 22-hour days. So that means you didn't even go home. You just took a little bird bath and had a fresh set of clothes to put on," he recalls. "If you don't understand that you're going to start at the bottom, you're doing yourself more harm than good. Everyone who is in a decision-making position in the industry generally had to work their way up."
Williams notices that same commitment from Rocha. "One, he's confident. Two, he knows how to communicate. And three, [he's] task oriented. So far, I haven't seen any task that I've given him that he has not finished on deadline. And that's also very important in not only this field, but just about anything."
Present and Future
Williams' Hollywood career wasn't just successful but historic. He was the first African American to win two Academy Awards in any category, snagging Oscar gold for sound work on Glory (1990) and Dances with Wolves (1991).
Now, he sees talent and Red-Carpet ability—whether it be televised awards shows or prestigious film festivals—in Rocha.
"I want to see him give his speech. And, of course, I want to hear my name mentioned," he jokes. "I really think that Fernando is going to have the type of career that's going to let him take all the things that he's interested in and passionate about, and put them into a form that's going to be tangible and accessible."
At the moment, Rocha is focused on more immediate plans. FDDS is celebrating its 10th anniversary this semester, and Rocha was tapped to produce a documentary video commemorating the program.
"I'm very thankful for these opportunities," he says, "and I look forward to the next two years here."
AU's School of Communication offers students a wealth of opportunities to connect with alumni and industry professionals in Los Angeles. To learn more about SOC's presence in LA, read about the LA Intensive programming.