In the Community
Welcome to Campus: Education Center Helps DC Kids See a Collegiate Future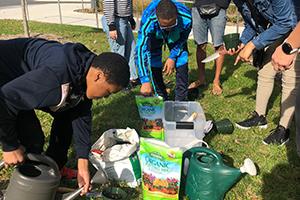 When DC middle school kids from Ward 7 and Ward 8 visited American University last year, there was a telling moment. "They asked 'Is this still DC? Is it still in the district?' Because they had never been over here," recalls Laura Owen, inaugural director of the Center for Postsecondary Readiness and Success, part of AU's School of Education. "It's a really different experience for them."
But AU wants to bridge any gaps between the university and the local community, with a special focus on helping underserved areas of the city. The poverty rate in mostly minority communities east of the Anacostia River—which includes Ward 7 and Ward 8—is about three times higher than the rest of the district, according to the DC Fiscal Policy Institute. Now, the Center for Postsecondary Readiness and Success (CPRS) is helping disadvantaged DC students believe in themselves and envision a collegiate future.
"The program is designed to get them onto a university campus so that they can see themselves there," says Owen.
Visiting AU
Last year, CPRS received a $29,000 grant to support this ongoing project. Students from Charles Hart and Stephen E. Kramer middle schools came to AU's campus twice in the spring semester of 2018. Working in collaboration with the College Success Foundation and a private funder, they wanted students to be fully immersed in interactive classroom activities as opposed to just a campus tour.
First, students attended the Optics Olympiad, a previously established event where students engage with science. They returned later in the semester, seeing sports facilities and meeting with student-athletes, eating in the cafeteria, participating in a college prep classroom experience, and asking a panel of AU students questions about college.
"We talked about how students can stay academically qualified, and how to make decisions about post-secondary education," Owen says. "It was really fun because the students ended up asking more personal questions to our speakers: 'What is it like to be a professor? Do you still have time with your family and your kids?'"
Owen subsequently brainstormed with more AU professors, and they conferred with the College Success Foundation about new ideas. Once the activities were selected, AU faculty visited the DC schools to explain their plans for upcoming workshops. When the middle schoolers arrived for their fall 2018 visit, they participated in STEM activities and a trip to the AU Design and Build Lab, colloquially known as the Makerspace.
Enthusiasm and Wearing the Swag
Jasmine Byrd is pursuing her master's degree in education policy and leadership at AU, and she works as an administrative assistant with CPRS. While helping out during the fall visit, she was impressed with the commitment of everyone involved.
"I believe that this program is inspiring and encouraging DC students," Byrd says. "The program is effective because it brings at-risk youth outside of their community to the AU campus, and it sends AU faculty and students into the community."
Byrd recalls the enthusiasm of a young student who approached her: "She asked, 'Are you a student or do you just work here?' And I happily responded that 'I do both.' My response prompted a huge grin on her face, and she looked at me and said, 'I am going to apply here. I really like it, and it's my second time on campus.'"
Owen witnessed the same kind of passion. "It was so inspiring, because some of them came back again this semester and said, 'I'm coming to American. This is where I'm going to school.' They just were so excited," she says. "We also gave them AU swag. They got a shirt, a water bottle, and an AU notebook so they could take notes when they were going through different activities and participating. And some of them were so happy to be at AU that they put their shirt on right there."
Making it Fun
For these community efforts, there's been substantial support from faculty, including the School of Education's Carolyn Parker and Kathryn Walters-Conte, the science outreach coordinator for the College of Arts and Sciences.
Physics associate professor Gregg Harry wrote the Optics Olympiad proposal to the National Science Foundation, which provided the initial funding. He's been heavily involved in planning the popular event for the past two years, and he's gearing up for the third Optics Olympiad on February 15. It will be a larger event—with more students and more DC schools—and it's moving from the Mary Graydon Center to the Don Myers Technology and Innovation Building.
"For the students, our goals are twofold. One is to have fun, and the other is to inform. But to the extent that there is some tension between them, we aim more for the fun," he says. "The learning can come later. The key is to get them interested in science."
Harry adds, "It's valuable for us to have good relations with the rest of the city. And just to appreciate the fact that we're more than just an institution that's teaching college students, that just happens to be located in Washington. We're an integrated part of the community."
A Pivotal Time
Harry originally considered a program for high schoolers, but many teachers told him middle school was the age to get kids' attention. The research shows that middle school is a pivotal time for planning success, Owen explains, and kids need certain fundamentals to be on track for subjects like Algebra I in 9th grade.
"Many intervention programs start really late. They're coming in 10th, 11th, and 12th grade to talk about college. And for many students, decisions have already been made that limit what their opportunities are going to be," Owen says.
This grant for helping middle school students is just one part of CPRS's mission and research agenda. They're working on counseling issues, combating "summer melt" to ensure university-bound students do enroll, and they've got an upcoming project with AU's Community-Based Research Scholars. SOE dean Cheryl Holcomb-McCoy and Owen have worked with former First Lady Michelle Obama's Reach Higher Initiative to help steer more kids to college, and some of that work will continue.
"I'm a first-gen student. And I love the opportunity to work with students, to look at what the opportunity gaps are, to look for strategies that help students," Owen says. "And our goal is to be more and more involved in the district."