Research
Secret No More: New Book Exposes the Truth About Domestic Violence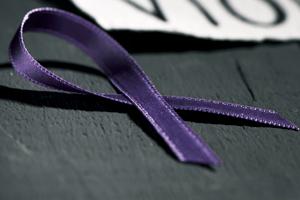 *Note: This story contains sensitive material about intimate partner violence.
Many Americans treasure their privacy, preferring to keep family business confined to their living rooms. Unfortunately, what occurs inside a private residence frequently constitutes a public threat. In a groundbreaking new book, American University's Rachel Louise Snyder takes an unflinching look into the dark corners of our homes and the darker recesses of our brains.
Her forthcoming work, No Visible Bruises: What We Don't Know About Domestic Violence Can Kill Us, will help rip the lid off a problem that all-too-often remained secret. Make no mistake, Snyder says, this is a US public health issue. And as horrifying as domestic violence can be, it also contributes to many other societal ills.
"Domestic violence intersects with all sorts of social issues: homelessness, poverty, education, cycles of violence," says Snyder in an interview. "Learning about it over the past 10 years has been completely eye-opening, in terms of the myths surrounding it. People might think, 'Why should it matter that someone beats up their husband or wife in the privacy of their own home?' Well, it should matter to all of us."
Snyder is an associate professor in the Literature Department of the College of Arts and Sciences, and she has a part-time appointment teaching journalism in the School of Communication.
Historic Roots and Change
Snyder says the first known domestic violence case to be prosecuted involved Herodes Atticus, a Roman-era aristocrat who was charged but exonerated for the death of his pregnant wife, Regilla.
In the US—until recently—women were considered the property of their husbands. Snyder says some women couldn't get credit cards in their own name until the 1970s, and beating one's wife was legal in the District of Columbia until 1991.
"Our body of jurisprudence in the United States is slim when it comes to men being prosecuted for crimes against family members. And certain attitudes are pervasive," she says. "I was in a Western state just a couple of years ago, listening to state congressional testimony. And one of the lawmakers referred to domestic violence as private violence."
But are times finally changing? The hyper-masculine NFL has come under scrutiny over lax punishment for domestic violators, and running back Ray Rice's elevator assault sparked genuine outrage and intense conversations. The #MeToo movement has highlighted the importance of women's agency and autonomy.
"These things are all on a continuum, and #MeToo has grown to encompass domestic violence. I think women are speaking out more and more," Snyder explains. "But the law follows culture. We as a society might be progressing faster than the laws, at the moment, reflect."
An Investigative Eye
Based on her earlier reporting in the New Yorker, Snyder notes the challenges posed by traumatic brain injuries and strangulation. They often don't leave any physical marks, but they can be predictors of future domestic homicides. We look for brain injuries after car accidents or high school football hits, but not in domestic violence cases, she says. "It's just a matter of educating emergency rooms and health care personnel," she states. "Law enforcement might view a person with brain injuries to be an unreliable witness, and the cops won't take the accusations seriously."
Memory loss or disorientation from abuse can make courts believe the victim is mentally unfit, and the abuser might subsequently gain child custody.
These kinds of shocking details fill the book, as Snyder brings an investigative journalist's eye to the material. But she also crafted a literary work. Inspired by socially conscious page-turners like Barbara Ehrenreich's Nickel and Dimed and Adrian Nicole LeBlanc's Random Family, the creative writing professor hopes No Visible Bruises reads like a novel.
In addition, she interviewed just about every group connected to this issue: victims and survivors, perpetrators, district attorneys and prosecutors, domestic violence advocates, batterer intervention leaders, and others. She accompanied police on ride-alongs and shadowed Cleveland detective Martina Latessa.
Victims and Abusers
Snyder talks to victims—whom she defines as people still in abusive relationships—and survivors. She traveled frequently and took the time to make people comfortable. In Cleveland, Latessa offered Snyder some words of wisdom to embrace. "She said, 'Victims are often powerless in every other aspect of their lives. So when they are finally given a chance to meet someone willing to listen and believe them, it's empowering and life changing,'" Snyder recalls.
She also spoke with numerous perpetrators of domestic violence. It's helpful to learn more about them, she argues, especially because mass shooting assailants often start with domestic targets. The first modern mass shooter, Charles Whitman at the University of Texas tower, initially killed his wife and mother. But if this sounds like FBI criminal profiling, she says there is no identifiable "type" of domestic abuser.
"The very first time I went to a batterer intervention group, I was expecting this edginess to them that literally was not there. They were funny, they were joking around with each other, and I thought, 'Oh my god, I would go out for a beer with any of these guys,'" she remembers.
And she does believe rehabilitation is possible for some people. "'What is our alternative? Why not try? We lose nothing by trying, and we lose a whole lot by not trying," she notes.
A Critical Moment
As a journalist, Snyder has broadly focused on human rights, violence, and war. She spent six years in post-genocidal Cambodia, and she moved from the study of large-scale "killing fields" to intimate partner violence. Her good friend, novelist Andre Dubus III, introduced her to his sister Suzanne, who works in domestic violence prevention. Snyder was immediately transfixed by the subject, and this became her new journalistic obsession.
But this work is not without personal struggles. In 2014, her two decades of reporting on conflict and death became emotionally debilitating, and she was diagnosed with vicarious trauma. She took a year off from this type of reporting for therapy, painting, and exercise.
"For people who work with traumatized individuals, this does not get talked about enough. You have to take care of yourself, or you can't do justice to the people who are living it," she notes.
Her book will be released in May, and it's already generating buzz. Esquire listed it as one of the 25 most anticipated books of 2019. With refreshing new gender rights discussions—and given the current cultural and political climate—No Visible Bruises is tapping into the zeitgeist.
"I do think it's a critical moment," she says. "People talk about toxic masculinity, and the word that matters is the adjective. It's not masculinity, it's toxicity—that is what we need to address."