On Campus
AU Roundtable Discusses Report on Slavery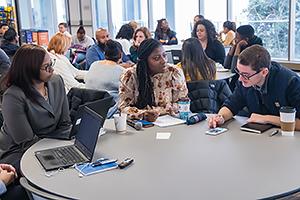 In any honest telling of US history, slavery looms large. It was woven into the nation's founding fabric, and many institutions participated in, profited from, or indirectly benefitted from an inherently exploitative system.
In a collaborative and unprecedented way, American University is now confronting its own complicated history with slavery. Did AU have direct or indirect ties to slavery? And what was the nature of those ties? These are the kinds of questions that the American University Working Group on the Influence of Slavery seeks to answer.
The working group was established in April 2018. After releasing a report earlier this month, AU held a community roundtable discussion about its findings in McDowell Hall on Wednesday, January 30.
New History Uncovered
This project was inspired by School of International Service student Nickolaus Mack, who raised questions about AU's past through his writings in the Eagle. At the Wednesday roundtable, Mack said the investigation uncovered "a lot of history that was just untold and unseen."
"As we worked, we've learned so much that we're now sharing with you," said Bette Dickerson, co-chair of the working group, retired sociology professor, and now interim assistant vice president in the Office of Campus Life. "It's an ongoing learning process for all of us."
Summarizing the thoroughly researched report, University Chaplain Mark Schaefer outlined AU's Methodist roots, and how the slavery issue divided both the Methodist Church and progressive white Americans in the 19th century. AU was founded in the 1890s, decades after slavery was abolished, but wealth accumulation from the practice still flowed to a variety of institutions.
"Even though there was no direct connection, AU doesn't get clean hands as a result," said Schaefer. "As an institution in the District of Columbia in the 19th century, it almost certainly has benefits from the slave economy."
When he was fifteen, John Fletcher Hurst, who later became a bishop in the Methodist Church and eventually AU's founder, inherited one or two slaves from his father's estate. Hurst mentioned two in a journal, but the working group has only been able to identify one: Tom King. Schaefer says Hurst was not a radical abolitionist—those who called for the immediate end of slavery—but his position did evolve. Hurst arranged for King's freedom before he was ordained, a few years before DC Emancipation.
"It appears that Hurst had a growth in his own understanding of the issue, where he began to see that gradual emancipation was insufficient. That it needed to be all at once," Schaefer said.
Schaefer subsequently detailed what's known about AU grounds and local slave-owning families.
"Enslaved people were present over the course of around 150 years on the lands that became our university," Schaefer said. The working group established that slaves once worked on a vast farm that extended into Montgomery County, Maryland, a portion of which is the land where AU now stands. The land was owned by the Murdock and Davis families, both of whom owned slaves prior to DC Emancipation in 1862. Hurst purchased a portion of the property in 1890 to establish a new Methodist university.
Schaefer further noted, "We know that AU relied on countrywide fundraising to help purchase the land, build and develop the campus, and open the university. These funds, no doubt, included wealth accumulated from and during the slavery era in the United States."
Memorialization and Incorporation
The working group stressed the need to honor the former slaves and memorialize this history. That poses challenges because very little is known about the lives—or even the names—of local slaves. During the discussion, Dickerson asked each table to brainstorm and present their own proposals, and additional questions, to the working group.
In response to questions from the Eagle, veteran sports journalist David Aldridge, an alum and working group member, advocated for the report's findings to be incorporated into AU's curriculum.
"This is a working, living document," he said. "It's going to be a part of this school forever going forward."
Jessica Waters, dean of undergraduate education, noted that efforts have already been made to include this work in the AUx2 course. "For the final assignment, students can choose between a couple of topics, one of which is, 'Read this report. React to this report. Deal with this report,'" she said.
Other table ideas included potential scholarships for black students in the name of Tom King or renaming a campus building after him. Several audience participants suggested introducing this history during Welcome Week.
AU student Joshua Dantzler liked what he was hearing around the room: "Great minds think alike, because what you've already said we've echoed and snapped and clapped."
Keep Asking Questions
Toward the end of the discussion, there was broad agreement that the work is just beginning.
"This is going to keep going, and it is going to be passed on. And it is now in the life of AU," said Dickerson.
Aldridge recommended further exploration of AU's story, showing a picture of Bishop Hurst at the then-College of History groundbreaking ceremony in 1896. The photo includes an African-American man and two women, and Aldridge surmises that their inclusion in the photo must have been intentional.
"I want to know an answer to the question, 'Who were these people? And why were they there? Why were they invited to be in the picture?' And that's your job to find out," he said.
Students in the audience seemed receptive to delving deeper, and Mack pledged to keep spreading the word.
"I'm very looking forward to students becoming engaged and fired up about this work," Mack stated, "and making sure that AU becomes a place where we know our history."
Student Mulan Burgess expressed appreciation to the working group for holding an open event. "I do believe that this conversation should still continue to be had, and it should have students at the forefront of the conversation," he said.
Vice President of Campus Life and Inclusive Excellence Fanta Aw initiated and sought membership in the new working group. And at the event, Aw invited students to keep seeking constructive solutions.
"Being on the sideline is not the solution, but also when you come to us, I will say, 'Be careful what you ask for, because you actually may get it,'" she said. "But you need to come up with a plan."