Literature
The Butterfly and the Bee: How Covering Combat Sports Can Improve Writing Skills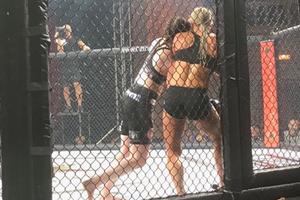 Toward the outset of her writing course focused on combat sports, Nancy Kidder assigns a reading of an extremely old boxing match. Long before pay-per-view or radio, this one took place in The Iliad. Epeius defeats Euryalus during the funeral games, with the loser getting a two-handled trophy and the winner securing a mule.
From Homerian epics to bareknuckle prizefighting in 1700s England to Ali vs. Frazier at Madison Square Garden, the study of fighting can teach us a lot.
"One aspect of this course is how this is part of the human condition, and we talk about narrative storytelling," says Kidder, an adjunct professorial lecturer in the Literature Department at American University and an AU alumna (CAS/MFA '16). "Then we kind of unpack society, by using the lens of combat sports."
Kidder's class is a college writing seminar 101, under the subject of "Writing and Fighting." Centered around boxing and MMA, students examine the racial, gender, and cultural dynamics of sports that juxtapose "unrelenting aggression with heroic fortitude."
From Pariah to the G.O.A.T.
In an interview, Kidder points out another aspect of that Iliad boxing match: there's trash talking. Granted, it's in the Ancient Greek vernacular, but she ties that to 20th century America and Muhammad Ali. Her students were generally born in the late 1990s or early 2000s—two decades after Ali's final fight in 1981—and she says they initially just considered him a celebrated figure.
To get a fuller picture, the course utilizes King of the World: Muhammad Ali and the Rise of an American Hero by David Remnick, editor of the New Yorker. Students read about Ali's trials and tribulations to understand the man and his times. They discuss his controversial name change, Nation of Islam membership, and military draft refusal.
"He was a pariah. Many people did not agree with him, and he was ostracized and stripped of his [heavyweight] title," Kidder says. But, as she relays to students, the tide turned with increasing opposition to the Vietnam War and greater acceptance of civil rights over the years. Other actions surprised students, like Ali hurling racially loaded taunts—deploying the term "Uncle Tom"—toward his rival Joe Frazier.
"I want them to see that he was a complicated individual who happened to be heavyweight champion, and he made decisions that encapsulated what was going on culturally," she says.
Literary Inspiration
Numerous literary giants drew inspiration from boxing, and Kidder includes required or suggested readings from the likes of James Baldwin, Norman Mailer, George Plimpton, and Tom Wolfe. They cover A.J. Liebling, whose New Yorker boxing collection The Sweet Science has been called the greatest sports book ever written.
She gives each student their own "fight writing" assignment. Kidder says there's a reason why old-time American sportswriters offer valuable lessons about writing.
"In the early days, you could listen to a match on the radio once; there was no tape recording. Or you had to read about it in the newspaper. So writers had to capture the energy, the punches, the jabs—they had to make it captivating," she explains. "We also analyze what makes great sports writing. Having a lede, the nut graph, the backgrounder, the action. Understanding those active verbs, and then using the right fight terminology to understand your subject."
That level of detail appeared in Gay Talese's shockingly intimate profile of Floyd Patterson in Esquire. That's a favorite selection with students, Kidder says, as it exposes the agony of defeat. (Patterson was so ashamed after losing a few fights, he'd disguise himself with a fake mustache.) In their discussions about storytelling, they explore empathy for the underdog, highlighted in movies like Rocky and the current Creed series.
That compelling narrative of a rough-and-tumble, rags-to-riches upstart, she says, is often a stand-in for larger national symbols. "We talk about the American Dream, and how we think about meritocracy. People think if you have the skills and you fight hard enough, you can make it. But we also talk about how the American Dream might be a misnomer. This is the fight game. Sometimes it's all about who has the bigger promoter, who can talk the most, and luck."
MMA is Everywhere
Though it's now experiencing growing pains, MMA achieved worldwide popularity and exposure in recent years. In her class, Kidder explains the geopolitical implications of the sport. Emulating its UFC Performance Institute in Las Vegas, the promotion company is planning a similar institute in the world's largest market, China.
"MMA is everywhere, and the UFC is doing a really good job of making this a global sport," she says.
Kidder adds that the sport successfully incorporates a diversity of techniques, from a variety of countries. "MMA is a chess match, and it's bringing in all these forms of kickboxing, Brazilian jiu-jitsu, boxing, wrestling, muay thai," she says. "I also think there's a generation of new viewers who have grown up taking taekwondo, taking karate. So they have that interest in martial arts. I think that has contributed to the appeal."
There are also opportunities for women, as superstar Ronda Rousey reputedly made more money in 2015 than any man in the sport. Kidder notes that unlike sports such as tennis—where match length differs for men and women—MMA abides by the same fight template for everybody.
"I do think this element of athleticism is appealing for both sexes, and that you view them in the same way."
Violence, Triumph, and Real-Life Cinderellas
MMA and boxing have their detractors, especially with rising concerns about concussions and violence in sports. This subject surfaces in classroom discussions, and the course syllabus includes a New York Times op-ed against legalizing MMA in New York state. Kidder says UFC has been proactive in requiring fighter MRIs, but she believes officials should test more often and allow more time between fights.
There is also a socioeconomic/class dimension to this topic. Many combat-sport athletes come from low-income backgrounds—making it arguably exploitative—but MMA enthusiasts defend its multiculturalism and cosmopolitanism. Still, some elites eschew the sport: Actress Meryl Streep angered the MMA faithful with her derisive comments at the 2017 Golden Globes. (Kidder's class reads commentary about this as well.)
"If you're going to look at the negative, you have to look at the positive," says Kidder. "You had 'Cinderella Man' James Braddock, who represented a guy who was down in the Depression era, lost his job, and came back by beating Max Baer. He gave people hope."
She notes that in May 2015 Philippine streets were empty, as fans flocked to TVs to watch their national hero, Manny Pacquiao, take on Floyd Mayweather.
Countries, communities, and individuals can identify with a fighter. At age 13, Kidder watched James "Buster" Douglas' stunning upset of Mike Tyson, then a decorated heavyweight champion. It turns out that Douglas came from Kidder's hometown of Columbus, Ohio, and her interest in the sport was ignited.
She now follows MMA with her husband, and she's often picked her dad's brain about watching Ali in his prime.
In her classroom, combat sports turn into metaphors for life. "As an icebreaker, I'll ask: 'What makes a fighter?' And I'd say 80 percent of students don't even talk about combat sports," she says. "They talk about fighting for your rights. Fighting to get out of bed in the morning. We're always fighting something."