On Campus
Wonk of the Year John Kasich Gives Energetic Speech in Bender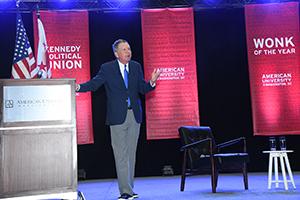 American University awards its Wonk of the Year to an individual who is smart, passionate, focused, and engaged, and uses those attributes to enact meaningful change. On Thursday night, for 2019 WOTY John Kasich, the operative word was engaged. Kasich mostly dispensed with the lectern and walked around the stage, trying to connect with students in every corner of the Bender Arena bleachers. At one point, he even called on a couple students in the crowd. 
The former Ohio governor, congressman, and Republican presidential candidate delivered his speech with conviction and empathy. The enthusiasm continued during a candid moderated discussion with AU president Sylvia Burwell. 
The student-run Kennedy Political Union hosted Kasich, with AU College Republicans cosponsoring the event. 
Have Big Dreams
Kasich talked about growing up in a small, blue-collar town outside of Pittsburgh, Pennsylvania, the son of a mailman and the grandson of a coal miner. He then attended the much bigger Ohio State University. After meeting the OSU president and learning that he knew President Richard Nixon, Kasich had the audacity to write a letter to Nixon himself. Kasich was invited to a meeting with Nixon, which his family assumed wasn't real and possibly a scam. But Kasich—a first semester freshman—soon found himself outside Nixon's Oval Office. 
"A guy walks up to me and he says, 'Young man, you're going to get five minutes alone with the President of the United States,'" he recalled. "What I'm thinking is, 'I have a new jacket, a new shirt, and a new tie, and new pants—I didn't come all the way here for a lousy five minutes.'"
He met with Nixon for 20 minutes, which was longer than he got in the Oval Office during his entire time in Congress. "Why does that story matter? Have big dreams," he said. 
While working as an aide in the Ohio State Senate, his boss was helping Ronald Reagan's upstart 1976 presidential campaign. Kasich was suddenly asked to map out delegates in five states for Reagan. "I had absolutely no idea what that meant, and I said, 'Absolutely! I can get that done!'" he recounted. "Sometimes you have to learn to fly by the seat of your pants and have confidence that you can figure something out." 
He told a story about sleeping on a cot at an AU fraternity house, while trying to launch a career in Washington. He eventually got a job working for a former aide to President John F. Kennedy. Kasich met numerous influential Democrats on Capitol Hill, even as he prepared to run as a Republican for the Ohio State Senate. He learned a valuable lesson, which he relayed to AU students: "No silos. Don't lock yourself in. You're young. You got the whole world in front of you, and I want you to take advantage of it in every way that you can."  
Everyday Heroes
Kasich encouraged students to take action themselves. And to break with polarized political debates, he suggested that people have more power than they realize. "Presidents don't matter that much," he said. "What affects you are the people you live around. Your roommate, your mother, your father, your brother, your sister. Where you live. What you do on a day-to-day basis. The things that you're interested in and you care about."
In searching for meaning and truth, he spoke of how each student is made special. "There's never been anybody like you before, and there will never, ever, ever be anybody like you again. So, you have a destiny and you have a purpose," he said. "On this college campus, I guarantee you that there are many conversations that occur at 2:00 o'clock in the morning…about 'what is my purpose?'" 
While discussing civil rights and political leaders, he also highlighted a few everyday heroes who are changing the world. He spoke of a shoe shiner at a children's hospital in Pittsburgh, who used his tip money to donate more than $200,000 for families who couldn't pay their hospital bills. He talked about a nine-year-old boy in Ohio who grew up in a homeless shelter. After his grandmother adopted him and wanted to buy him an Xbox, he implored her to instead use that money to buy blankets for other homeless people. Kasich also exalted kindness from celebrities, including Drake visiting a sick girl in a hospital. 
He also described the courage it sometimes takes to ask for help. After noting how a player in this year's NCAA men's basketball tournament openly sought mental health treatment, he explained why that's an important issue on college campuses. "The ability to admit a need is not a weakness. It's a strength," Kasich said. "Maybe you can be part of that group that leads us out of this wilderness. Where people can begin to admit their problems."
Escaping Silos and Listening
Kasich returned to the idea of escaping your silo and listening to different viewpoints. "There's nothing more boring than somebody who can't listen. There's nothing more boring than people who can't explore something they don't agree with," he said. 
He then referred to an earlier conversation he'd had with Fanta Aw, vice president of campus life and inclusive excellence, about issues in Central Asia and Africa. "She's interesting! She's not boring! I don't know if she's a Republican or a Democrat. I have no clue. I don't care. It doesn't matter to me. She's just something special," he said.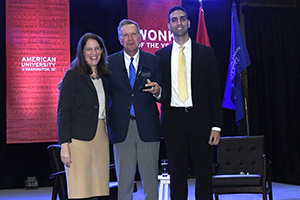 He praised President Burwell, recalling how they worked together on Affordable Care Act-related issues when he was a Republican governor and she was Health and Human Services secretary in a Democratic administration.
During the question-and-answer session, a student asked Kasich what he learned from his presidential bid. "You want to be a successful politician? Let people know you care about them. Listen to them," he said.
He downplayed the notion that voters and their chosen candidates need to agree on every single issue. "The person that's going to emerge on the Democrats' side is somebody who can capture a certain imagination, a certain zeitgeist, and a certain sense that, 'They know me, they get me, and they care about me.' That is what I think, in the 21st century, people want out of a politician at any level."
Burwell ended the evening with a question about Kasich's future presidential aspirations. "Is there anything that you would like to announce, or say, tonight, to close us out?" Burwell asked. 
"I'm not going to get in a race that I can't win," Kasich said, before stating that he's enjoying writing a book, commentating on CNN, and starting a new business. Yet he added, "If all the sudden I felt that I could win and change the country, that's another story."