Television & Film
SOC Alumna's Filmmaking Philosophy Earns Early Accolades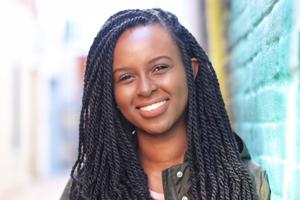 Two-time local Emmy nominee? Check. Worked on an Oscar-winning film? Check. Murugi Thande is just a couple years out of school (SOC/BA '17), but she's already amassing an impressive list of accomplishments.
The DC-based Thande is now a video editor with National Geographic, where she was part of a team that worked on Free Solo—the Academy Award-winner for best documentary feature of 2018. After getting nominated for a Washington-area Emmy last year, she was recently nominated again for her short film about sexual assaults on the DC Metro. In addition, her photography work related to the Stonewall legacy and LGBTQ rights is currently on display at the Newseum.
Yet Thande still sounds modest about her early success, and she's taking it one project at a time. "I tend to approach each assignment the same way, because I don't know if a project is going to be a big thing until after the fact," she says.
Thande earned her bachelor's degree in film and media arts from American University's School of Communication.
A Fast Start
Thande's career is taking off, in part, because she started her career prep early. She was just a first-year student when she began interning at WUSA Channel 9, and she worked there all four years she attended AU. She got promoted to associate producer in the marketing department, and after graduation, she became a multimedia producer.
There was a strong connection between her WUSA job and her coursework in SOC's film department. "I would learn something at school, and I could apply it to my job. There was a great synergy," she says. "Because I love film so much, I really put my all into the [SOC] program. And I came out with really good projects."
One such project involved traveling to the Mississippi Delta with SOC professor Leena Jayaswal. She made a photography/audio project, with a focus on pottery in the area.
"That was a really great experience. It was my first time in Mississippi, and I learned a lot in a short amount of time."
Jayaswal met Thande while jurying an AU Photo Collective show. Jayaswal not only gave her top honors, but she implored Thande to take her Principles of Photography class.
"Her work really lit a spark for me. I don't usually go around telling students, 'Take my class!' But I just saw something in her," Jayaswal says now.
Thande enrolled in Jayaswal's course, and the professor continued encouraging her talented pupil.
"After I started the class, she told me, 'You're really good at this. You have to keep going.' Just her pulling me aside and saying that to me—it really made a difference," recalls Thande.
She'd later become Jayaswal's teaching assistant, and they remain in contact today. "There is something with her work and her style, and the way she pushes herself, that will lead her to bigger and better and brighter things in the world of photography and filmmaking," Jayaswal says.
Thande had other supportive SOC professors, such as Alexandra Silverthorne, Kyle Brannon, and Russell Williams. In fact, at National Geographic, she still uses much of what she learned about video editing from Williams' class.
Honing Her Craft
Thande grew up in Waldorf, Maryland, with an early predisposition towards the arts. Her father, Thande Njuguna, was once a rising star artist mentioned in Time magazine. She dabbled in ceramics, drawing, and her favorite early medium, photography. She'd later shift her focus to video, shooting films with friends on a DSLR camera.
"We would make these short films and put them in these DVD cases, with actual graphic designs," she recalls. "If I'm being honest, I just liked this because I was good at it. More so than drawing, more so than all these other hobbies I had, I was genuinely good at video. I just enjoyed it and felt comfortable with it."
She applied to AU early decision and her interests in film expanded. During those AU years, she worked as a video logger—essentially, cutting video highlights—in Rio de Janeiro at the 2016 Summer Olympics. She was present for every historic moment of the Olympics, from gymnast Simone Biles' gold-medal performances to swimmer Michael Phelps' late-career triumph.
In Brazil, Thande worked every day from 3:00 a.m. to 3:00 p.m., and she embraced the challenges that each event presented. "I did a lot of track, and sports like rowing, equestrian, shooting. Shooting is a trippy sport, because you don't see anybody move. So you're cutting a highlight of someone just shooting," she explains.
Don't Throw Away Your Shot
In recent years, working on Free Solo was certainly a high point. She edited two promo videos for country singer Tim McGraw, who composed music for the film. Before the Oscars, Thande was tasked with creating National Geographic's "Free Solo Wins Oscar!"-type marketing products—without any idea if the film would indeed win. She even read some awards-season prognosticators who weren't picking Free Solo in the documentary category. They were wrong, of course, and her hard work paid off.
"Then all of the stuff that I had made was everywhere on social media. Everyone was retweeting it and posting it," she says.
In this instance, the philosophy she lives by came in handy: Work extremely hard on each project, because you never know what will resonate.
Thande has taken a similar approach to her life, staying busy during off-hours. She recently edited a short film being sent to festivals, and she traveled to Richmond, Virginia, to work on a personal project.
"I let my [spare] time revolve around my main hobbies, which is filming, editing, and photography," she says. "Any chance I get to do those things, I try to spend my free time doing them."