Government & Politics
Get to Know New Sine Executive Director Amy Dacey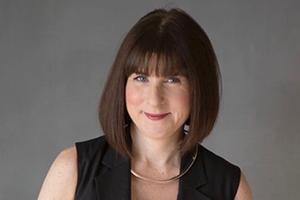 Amy Dacey is someone you might call a "mover and shaker." She seems to know everybody in Washington, and she brings decades of experience in the political and nonprofit worlds to American University. Just before she spoke with University Communications and Marketing last week, she was about to travel to Detroit for the recent Democratic presidential debates.
An AU alumna (SPA/MA '95), Dacey characterized her new executive director position at the Sine Institute of Policy & Politics as a bit of a homecoming. She talked about her deep affection for AU, and her deeply held beliefs in public service. This conversation has been edited for clarity.
UCM: Why did you want to do this now, at this point in your career?
Dacey: I think an opportunity certainly came up here at American University. And as they launched the Sine Institute, for me, as an alumna, it was great to come back to a place where I got my master's degree. Also, I had just finished up a fellowship at Harvard and I loved working with the students. I really thought that how the Sine Institute was designed was compelling—looking at the policymaking and politics perspective from a 360-degree view.
UCM: Do you think nonpartisanship is a hard sell these days, given the political temperature in Washington?
Dacey: There has always been a challenge to bring together people with differing opinions. But I think people, now more than ever, want to find solutions to some of the biggest problems that we face. To understand that, a lot of times people come together to find those moments of consensus. There are examples, and we want to highlight those here in the nation's capital and on the federal level. But there's a lot happening in the states and in between different sectors, whether it's the private sector or the nonprofit sector or government. We're going to bring in a lot of people to Sine who are dealing with this on a day-to-day basis, and we'll share that with the students and the faculty and the staff.
UCM: You have a background in Democratic politics. How will you make that transition at an institute that promotes bipartisan solutions?
Dacey: Well, certainly, it's no secret that I'm a Democrat and have worked in Democratic politics and different areas for decades. But there are a lot of other things that I've done—whether it's working at the Service Employees International Union and on their government relations policy, or working for the National Foundation for Women Legislators, which is a nonpartisan group. Or some of the board work I've done with the American Council of Young Political Leaders. I've found that, in many of my jobs, it's been about finding commonality with people from another group or another party.
UCM: When former Attorney General Loretta Lynch spoke here at All-American Weekend, she suggested that when you're in the room with both sides of a debate, they're nowhere near as far apart on policy as you might believe from watching the news. Have you witnessed this during your time in Washington?
Dacey: Absolutely. When I was at SEIU we were spearheading an effort to work for the Affordable Care Act, and there were a lot of different groups that came together to try to find consensus. And there might be differences on some of the various parts, but I think you saw a lot of people want to come to one common goal and make people's lives better. So I agree with her. When you're in the room, that's your job. To figure out where are those points where you're in agreement, and to grow and expand from there.
UCM: Where did you grow up?
Dacey: I grew up in Auburn, New York, which is outside of Syracuse, in the central New York Finger Lakes region. It was an upbringing where, when I was eight years old, my dad decided to run for school board and told me that all kids went to [political] party meetings on the weekends. And we dropped [campaign] lit and stuffed envelopes. I grew up in a very active household where public service mattered, and there was a lot of respect for it. To be a part of the process and to advocate for things you care about.
UCM: Was there a point when you decided that you wanted to pursue a career in politics?
Dacey: I think all my life I volunteered in New York state. We went around to our neighbors and people in our community to encourage them to vote. Even through high school. And I went to undergraduate at Binghamton University and studied political science, and when I was done there, I immediately wanted to come to the nation's capital and be part of what is happening on a national level. I wanted to continue my education, so I came to American to do that.
UCM: How did you first get your foot in the door in Washington?
Dacey: Well, I'd like to think that my very first job in Washington was at the American University bookstore. But I also found my first internship through the Career Center, at the National Foundation for Women Legislators. That turned into a job. And through that, I met a lot of Clinton administration officials, met a lot of women state legislators across the country, and that opportunity really helped me find the next opportunities as I went along.
UCM: Were there any other early career moments that had an impact on you?
Dacey: One of the biggest was when I went to work for Representative Louise Slaughter in her congressional office. She became a mentor and a friend to me, not only for her advocacy work for women, but she was a champion on so many issues. She taught me a lot while I was working for her, and I ran one of her re-election campaigns. I just think that working with her and the team there left a huge impression on me.
UCM: You also worked for John Kerry, on his presidential campaign and his leadership PAC. What did you take away from that experience?
Dacey: I really learned a great deal from Secretary Kerry. Not only about commitment and the honor in public service, but about individuals doing this work for the right reasons. He certainly felt he could make a difference and worked every day to do that. I got to work with our incredible campaign team and travel across the country. It's a very diverse country. So meeting with different people in different states and hearing their concerns was amazing.
UCM: What advice would you give to an AU student trying to break into politics?
Dacey: I think that you have to have a lot of conversations, make sure you're talking to a lot of people, try to be flexible in the work that you want to do. You also have to not be so concerned about every decision that you make. You should be fearless in trying things and going for it, knowing that the path is not always straight. It can be winding and going different directions, and they should embrace that.
UCM: What do you like about working in an academic environment?
Dacey: There's so much incredible expertise and knowledge here on campus. Faculty who have been working on issues I've cared about for a long time. It's the energy with students, who take a new perspective and look at things through a different lens than I sometimes do. It's the opportunity to bring in practitioners who've done this work, to have two-way conversations with people on campus.
UCM: What gets you up every day to work on these tough political issues?
Dacey: It's at my core—and I was raised this way by my parents—to truly believe in public service. I do believe that government matters. I believe that politics is personal. People control the destiny for their government, and if they're engaged and they're involved, it makes it that much better. So my goal is to make sure people understand that and know that.
UCM: What do you do for fun?
Dacey: Well, listen, we live in the nation's capital. It's fun to take advantage of the museums. I've been in DC a long time, and it's growing and evolving and there are always new opportunities. I'm a big golfer. I also have family nearby. One of my biggest things I like to do for fun is spend time with my nieces.
UCM: Do you ever mix golf with politics? Or maybe golf with a Republican or somebody from the other side of the aisle?
Dacey: I don't do the tournament route. But it's an eclectic mix of people I golf with. A lot are in the business, and when you're out on the golf course you talk about politics and how things are changing. There have been Republicans and Democrats, and people who haven't been involved in politics at all. It's a great way to get out there and do something fun, but it's also a great way to communicate with people who you want to see.
UCM: Now that you've started your job, have you noticed any ways that AU has changed since you attended school here?
Dacey: Structurally, there are certainly a lot of changes. It's been great to see it grow and evolve. I think it's exciting to come back and see some of the new programming and new initiatives and departments. I had the opportunity to meet with all the deans when I started, and it was great just to hear the amazing work they're doing. I'm excited about this institute, too, because when I was a student in the School of Public Affairs, I don't know how much time I spent with other parts of campus. I'm hoping this institute helps students see different parts of campus outside of their own major.