Research
Start a Business, Make a Home: PhD Grad on Local Immigrant Entrepreneurs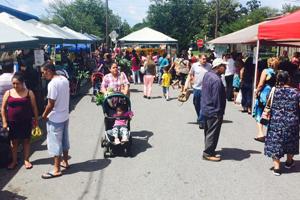 Here's a factoid you might not know: immigrants are much more likely than US-born adults to start their own businesses. According to the nonprofit National Immigration Forum, the entrepreneurship rate for immigrants in a given month in 2016 was twice that of US-natives.
In her recent doctoral dissertation, Antoaneta "Toni" Tileva takes a closer look at small immigrant businesses in the DMV area. What she found is a group of industrious individuals, unafraid to forge into a wide variety of entrepreneurial endeavors.
"People often think of immigrants and just say, 'Oh, they'll go into food business, construction, or daycare.' But you find people who want to start event planning businesses, successful t-shirt design businesses, graphic design businesses, Internet service providers, and art cafés," she says. "I've just seen a lot of creative enterprises."
Tileva recently earned her PhD in anthropology at American University's College of Arts and Sciences. She spoke with University Communications and Marketing about her dissertation and findings.
True Immersion
Tileva studied three immigrant spaces: a farmers' market in Takoma Park, Maryland, variety stores in Mount Rainier, Maryland, and a women's entrepreneurship program in Falls Church, Virginia. The immigrants typically came from places like El Salvador, Honduras, Mexico, and Ethiopia, though she did not categorize them by country of origin. Her research provides a broader look at the local immigrant business experience.
Upon starting this project, Tileva learned that many immigrants are reticent and guarded in today's tense political climate. She realized that simple survey-interrogation research had limitations. Instead, she took a combined approach—asking questions, but also immersing herself in immigrant spaces.
"I thought, 'I can do participant observations.' Just going into the stores and seeing and observing for myself. But then I could still interview entrepreneurs and many people involved in those businesses," she says. "It was kind of pragmatic. It enabled me to get data from both these methods."
Barriers of Entry
Tileva found that while local immigrants do incredible work, they face significant roadblocks to opening and running businesses. If they're working with a nonprofit, it often means being forced to enter extensive training programs, devise business plans, and follow uniform guidelines that might not be appropriate for each specific business. Tileva questions the efficacy of many of these regulations, and she thinks immigrants are hamstrung by red tape.
"There are tremendous barriers of entry to becoming an entrepreneur. And these barriers of entry don't really have to be there. I'm saying, 'Why are they there? Why is there this need for this orderliness?'" she says.
That need for "order," she says, is very much a neoliberal economic fixation. By default, it leads to greater control of public spaces. In some neighborhoods, there's a lot of rhetoric about "cleaning up spaces" or active opposition to businesses that residents think "look trashy," she says.
But small immigrant businesses often rely on a more informal, less orderly structure that suits their customers, and helps ingratiate them in the community. For instance, the farmers' market she observed, unlike many grocery stores, has tables where people can sit.
"It's a much more communal space than people would see in a 'normal farmers' market.' And there isn't that impetus that you have to spend money," she says. "There are moms and kids who are just hanging out. It's just a place for people to be together."
Tileva explains that while farmers' markets are rule-bound to label their prices, local immigrant businesses have good reasons to resist this. It's not so much about bargaining, but price and product discussions enable merchants and customers to interact.
"This is a way of imbuing a space with cultural meaning. It's saying I'm not just there to shop and give you my money. I can have a conversation with you about, 'How is this grown? Tell me a little bit about this [vegetable]?'" she explains.
She notes how microlending institutions generally expect entrepreneurs to devise a business plan, but immigrant businesses can find this daunting.
"They said things to me like, 'It's really difficult for us to think in future terms, because we just got here,'" Tileva recalls.
She says some nonprofits that don't require hard-and-fast plans attract more immigrant businesses, and those businesses are successful.
"If any of these nonprofits allowed some room for not doing things exactly quite by the book, and exactly how it should be, there was almost a multiplier effect. When lowering these barriers of entry, the benefits were tremendous," she says.
There's also the question of how to define "success." Grantmaking and donor institutions, she says, often use language that emphasize how "businesses are growing." But, with immigrant businesses, that doesn't necessarily match reality. It's more the process that matters.
"With a lot of these businesses, it's just a success in and of itself for them to start it."
Grounded in the Every Day
School of International Service assistant professor Erin Collins was an outside member of Tileva's dissertation committee. Collins was especially struck by the sensitivity Tileva showed for her research subjects.
"Her care for the communities with whom she did research—and the ways in which she writes about immigrant placemaking practices—is very powerful because it's very grounded in the every day," Collins says.
Tileva didn't just spotlight those authentic immigrant voices, but also interviewed government and nonprofit officials involved in local immigration matters.
Collins commended Tileva's willingness to broaden her research and engage with everyone. "Toni was just always a very interested and excited scholar. She would read all sorts of things and talk to all sorts of people," Collins says. "She was always talking to people in the halls or at events. That's what makes a good ethnographer. It's someone who is interested and open, who reads and thinks broadly and widely."
Drive and Motivation
Tileva is herself an immigrant and came to the US from Bulgaria when she was 12. While identifying with that immigrant experience, she witnessed small triumphs in these DC-area communities. She saw go-getters putting products out into the world—finding ways to earn money and be part of their neighborhoods. She remembers one woman—a former housekeeper just starting to grow her own vegetables—showing up at the farmers' market with two bags and a desire to sell leafy green chipilín.
"This showed tremendous drive and motivation to me. She's somebody who thought, 'I don't know anything about farmers' markets, but I know that I have a product that people will love.' And she sold out on the first day. She routinely sells out," says Tileva.
"I know it sounds like a cliché, but immigrants have this really intense work ethic. This thinking of, 'I'm going to make this work, because there's a need for this. And I'm just going to do everything I can to make this work.'"