Student Life
The Class of 2023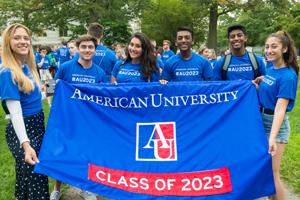 Welcome to campus, American University Class of 2023! Here's our annual snapshot of the diverse group of first-year students at AU. It's a breakdown of who they are, where they're from, and what they've achieved to get to here.
By the Numbers*
Average GPA: 3.69
Average SAT: 1301
Average ACT: 29
Most common female names: Emily (22), Olivia (21), and Emma (21)
Most common male names: Benjamin (19), William (14), and Matthew (13)
First-generation college students: 135
Top states represented: New Jersey (199); New York (182); Pennsylvania (151); Massachusetts (141); Maryland (135); California (131); Virginia (81); Florida (79); Connecticut (79); and Illinois (59)
Countries represented by citizenship: 56. The top three represented (besides the US) by citizenship are China, India, and Panama.
Non-English languages spoken: 33
Top three non-English languages spoken: Spanish (74); French (13); and Mandarin (10)
High school activities: volunteered (64 percent); varsity sports (50 percent); worked (42 percent); debate (18 percent); interned (19 percent); drama (15 percent)
Race/Ethnicity:
Asian: 6.6 percent
Black/African American: 7.9 percent
Hispanic/Latinx: 13.5 percent
International: 3.9 percent
Multiracial: 4.7 percent
Underrepresented minorities: 21.5 percent (includes American Indian/Alaska Native, Black, Hispanic, and Native Hawaiian/Pacific Islander)
In addition to the 1,806 freshmen, AU welcomes 332 transfer students this fall.
*This is the AU data as of August 13, 2019.
The typical first-year student was born in 2001. Take a glance at what happened then, what's happening now, and what's changed over the past 18 years.
2001: Al Qaeda carries out the September 11 terrorist attacks, killing nearly 3,000 people in New York, Virginia, and Pennsylvania. In response to the 9/11 attacks, the US invades Afghanistan.
2019: The Trump administration is reportedly considering a deal to withdraw most US forces there.
2001: British Prime Minister Tony Blair and his Labour Party are re-elected in a landslide.
2019: Conservative Party leader Boris Johnson is elected prime minister amid stalled Brexit plans to leave the European Union.
2001: Legendary race car driver Dale Earnhardt dies in a crash at the Daytona 500.
2019: Dale Earnhardt Jr. and his family survive a plane crash in Tennessee.
2001: Tiger Woods wins the Masters tournament and holds four major golf championships at the same time.
2019: Woods enjoys triumphant comeback to win the 2019 Masters.
2001: The Baltimore Ravens win the Super Bowl in January. New England Patriots backup-turned-starting QB Tom Brady and coach Bill Belichick embark on their first Super Bowl winning season in the fall.
2019: Brady and Belichick beat the Los Angeles Rams to capture the Pats' sixth Super Bowl title.
2001: The Arizona Diamondbacks beat the New York Yankees to win the World Series. Pitcher Curt Schilling named co-MVP.
2019: The controversial Schilling is now reportedly mulling a run for Congress.
2001: High school sophomore Lebron James is named to USA Today's All-USA first team.
2019: James will soon start his 17th NBA season, and he's now an enthusiastic sports dad at his son Bronny's AAU high school games.
2001: "Hanging by a Moment" by Lifehouse is the Billboard Hot 100's number one song of the year.
2019: "Old Town Road" by Lil Nas X sets a record for most consecutive weeks atop the Billboard Hot 100.
2001: The first in the Harry Potter film series, Harry Potter and the Sorcerer's Stone, is the year's highest grossing movie.
2019: Harry Potter and the Cursed Child is the first non-musical play to gross over $100 million on Broadway.