Achievements
Two American University Scholars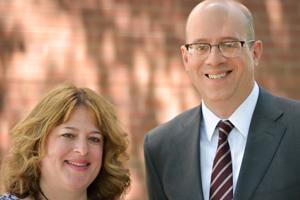 Ninety-one percent of undergraduate students do an internship while attending American University. If that already sounds like good news, evidence shows that these interns are usually finding positions in helpful, supportive environments.
Let's say you take an internship at the National Institutes of Health. It's quite important that your supervisor there is committed to your success. Two scholars at AU's School of Professional & Extended Studies examined these "forgotten educators," i.e. the internship supervisors at various workplace destinations around Washington. SPExS senior associate dean Diane Lowenthal and assistant professor Jeffrey Sosland surveyed some 86 DC-area supervisors, and they've confirmed that AU interns are in good hands.
"There is this notion when you hear about internships, and particularly internships in Washington, that it's about free labor. Taking advantage of students and not paying. But what we've found in our research, and the data we collect, is that employers and internship supervisors really are passionate about being educators and about giving back," says Sosland.
Award-Winning Research
Their research article, "The Forgotten Educator: Experiential Learning's Internship Supervisor," was published in the Journal of Political Science Education, and they've been honored for their work with the 2019 National Society for Experiential Education (NSEE) Outstanding Experiential Education Research award. The American Political Science Association also honored Lowenthal and Sosland for an earlier conference paper on the subject.
As educators, Lowenthal and Sosland have been deeply devoted to facilitating quality internships, and their research largely validates the work SPExS is doing.
"Between us, we have 35 years of experience working with student interns here at AU. We think the Washington Semester Program is pretty amazing. Obviously, we've both stayed here a long time. And one of the things I'm charged with in my administrative role is making sure this is a successful program," says Lowenthal.
With the role of internship supervisors largely unexamined, Lowenthal and Sosland's research broke new ground.
"There is a lot in the [research] literature about students and faculty. But in the internship courses that we teach, the internship supervisor is asked to evaluate the students and they're deciding 40 percent of their grades," says Sosland. "If they're that involved in the academic process, we needed to have a better understanding of who they are, what motivates them, and how good they are as educators."
They note that many internship supervisors were previously interns themselves, and they hope to create a pipeline for smart, aspiring professionals. They even find some AU alums at various DC nonprofits and agencies, perhaps only a few years out of school.
"We have some internship sites that have been hosting students for us for decades, and in some cases, where the internship supervisor has been the same for over 10 years or 20 years. They know exactly what they're going to ask the students to do, and exactly how they're going to mentor the students. And we were pleased to find out that most of the internship supervisors who responded to our survey take their role very seriously," says Lowenthal. "But, of course, there are exceptions. We hope that one of the lessons learned here is that we can help the internship supervisors do a better job, provide them more guidance, and make them more effective as educators."
Getting it in Writing: Why Internship Contracts Matter
They discuss the importance of internship "infrastructure," which can increase the odds that the student will have a positive educational outcome. That means the faculty adviser should sit down with the student to explore exactly what they hope to obtain from their internship, Sosland says. It also means working with the internship supervisor to ensure the employer will be a good fit for the student and the student's skill set will be useful for the employer.
A lot of what's expected should be put in writing, essentially an "internship contract." AU calls it the "experiential learning form," with both the student intern and internship supervisor agreeing to the intern's days/hours and office responsibilities. The faculty internship professor should then sign it, and Lowenthal encourages AU professors to review these forms closely.
"Sometimes students are being asked to work all of their hours on a weekend, which we don't want," she says. "Sometimes the list of tasks doesn't sound like something that students should be getting academic credit for. We always tell our students, 'Everybody in DC is going to, at some point, make copies and get coffee for people. But that shouldn't be your main responsibility.'"
Ultimately, the director of experiential learning will review the form. In the past, AU has found scams—which tend to be more common in virtual internships—and stopped students from participating.
Overall, though, faculty and school officials have found that these internships are beneficial for everyone. Students get real-world job experience—DC as the classroom—and employers appreciate what AU students can offer. "Another thing we found in the research is that what students bring—from understanding social media in a way that people our age just don't, to just having that young energy in your office—really makes a difference," says Sosland.
Kansas City Connection
If Lowenthal and Sosland established a solid rapport as co-researchers, it's probably because they've known each other since nursery school. They both grew up in the Kansas City area, and they even attended the same summer camp and synagogue.
Speaking about their local connections and common friends, Sosland notes, "Diane actually knew my wife a year earlier than I knew my wife."
After Lowenthal had already started teaching at AU, she had a chance encounter with Sosland at their Kansas City synagogue in the early 2000s. "We knew that we had both gotten PhDs in the field, and I said, 'Well, I've got a really good job, and I think we might be hiring,'" she recalls.
He applied to AU, and it turned out to be a great fit. Some 17 years later, they still work together and talk Kansas City sports (Lowenthal's office is adorned with 2015 Royals World Series champion paraphernalia). They even both have kids the same age starting college this fall.
Now, as they head to Florida in September to receive their NSEE awards for outstanding research, they can enjoy this professional accomplishment together.