Alumni
Growth and Promise: Leading PR Executive Gets More Involved at AU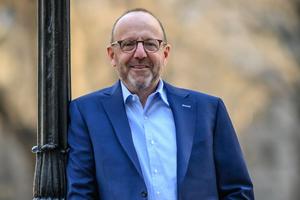 When Michael Kempner, SPA/BS '81, arrived on campus in the fall of 1976, American University was a very different place. There was no Katzen Arts Center. There was no Bender Arena. A much smaller version of the School of Communication, as he recalls, was located on the third floor of Mary Graydon Center.
Kempner observed American University's tremendous growth since that time, but he's especially excited about what's happened lately.
"For many years, I followed the university, but much more from afar," he says. "But about a decade ago, I became more interested in its progress and development. So, slowly but surely, I became more involved."
He saw extraordinary advancements at SOC—which his public relations firm, MWWPR, has partnered with to expand career opportunities for students in the communications industry. And he was impressed with the leadership of President Sylvia Burwell.
"That solidified my interest in taking a much more serious and broader role in the future of the university," says Kempner, who is a newly appointed member of the AU Board of Trustees.
In a recent interview, he spoke about his undergraduate years at AU, his career in public relations, and a political education that's stretched from Illinois to New Jersey and Washington, DC.
Dinner Time Talk and Petition Drives
Kempner grew up in Morton Grove, Illinois, a northwest suburb of Chicago. Cook County is a place where political passions run high, and he jumped into the game early. After Kempner heard about plans to build condominiums where he played baseball, climbed trees, and flew kites with friends, he led a successful petition drive to stop the development.
"I lived in a very progressive household in the middle of the Vietnam War and Watergate. So progressive politics, and everybody's responsibility to take action, were typical dinnertime conversations in my house," he recalls. "I had a passion and a direction from a very young age."
He was active in local politics in Illinois and Bergen County, New Jersey, where his family moved during his high school years. When it came time to choose a college, American University in DC seemed like a no-brainer.
"I wanted to go to Washington to get into real-world politics. I wanted to begin my career, and American gave me that opportunity," he says.
The summer after his first year at AU, he started working as an assistant in the Washington office of then-New Jersey governor Brendan Byrne.
To get the full "DC-as-classroom" experience, he worked full-time jobs and scheduled most of his courses at night. He took a year off from AU to work on Jimmy Carter's 1980 presidential reelection campaign in Illinois, Delaware, and New Jersey before returning to graduate from the School of Public Affairs in 1981. He also held a senior job on Capitol Hill, serving as legislative director to then-Rep. Robert Torricelli, D-NJ.
On (Accidentally) Starting His Own PR Firm
Kempner's next consequential career step? It had to do with chocolate. If that sounds surprising, it was still a job where Kempner utilized his political training and legislative acumen. At the time, chocolate liquor was illegal in the US—an oddity of early 20th century lawmaking—even though there was very little alcohol in its contents.
"I became president of a chocolate company. They hired me, not because I knew how to run a business, but because I knew how to change laws. And so I helped change some 30 state laws, and a federal law, to allow for chocolate liquor bottles."
When his chocolate enterprise became more about payrolls and factories, Kempner considered other career options. Yet since he'd come to DC, each job opportunity begot each job opportunity. He'd never really "looked" for a job before, and he hardly knew where to start. But with his knowledge and contacts in New Jersey, people kept bringing him consulting projects. Lo and behold, he backed into starting his own public relations and public affairs firm.
"That's how it began. It was me in a single room in Jersey City, and we grew it from there," he says.
Going Global
Kempner founded MWWPR in 1986, and today it's one of the leading independent public relations firms in the world. The client list is too long to name—they represent Whole Foods, Deloitte, Barefoot Wine from E&J Gallo, music streaming service TIDAL—but Kempner has tried to treat each client as if it were the only one.
"Since I had never worked at a public relations firm before, we had the luxury of not being bound by convention. We were bound by one objective: 'What is the right thing to do for our clients?' So we were willing to try many things, and we were willing to fail," he says now.
Kempner sold MWWPR to Interpublic Group in 2000, but with a commitment to keeping it client-focused and independent, bought it back in 2010. Even after more than three decades in PR, the work remains fascinating to him.
"You are on the front lines of what matters in society, in people's tastes, in what they buy," he says. "You are very much a barometer of what is happening in society."
Leading an Interesting Life
Kempner is married to an AU alumna, Jacqueline Steinberg-Kempner (SOC/BA '84), and they're based in New York City. Among other responsibilities, he chairs the Manhattan Chamber of Commerce and sits on the board of the New York Coalition for the Homeless. He also fundraises for and supports numerous Democratic politicians and progressive causes. And he's quite enthusiastic about his new role as an AU trustee.
"I feel very fortunate," he says. "It feels almost as if my life is coming around full circle."
If his schedule sounds hectic, Kempner makes another thing clear: he likes keeping busy.
"If it's travel, culture, work, philanthropy or politics, my hobby is to lead an interesting life. And I definitely have an interesting life," he says. "Every day is different, but I'm not complaining."