Research
Get to Know Them: Chris Parker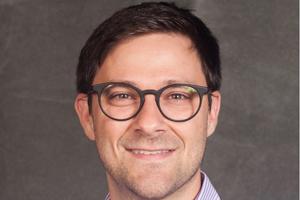 If you think about how technology shapes our lives, you'll scratch the surface of Chris Parker's research. Broadly, the new American University professor examines how technology impacts businesses.
"I've looked at new products that can be delivered through technology, which couldn't be delivered before," says Parker. "I'm trying to see what they're doing to society and what they're doing to the company."
He's examined online retail and other business models that wouldn't have existed before the internet and mobile phones. Supply chain logistics, he adds, is now giving us a greater understanding of how companies interact. It's an opportune time to do this kind of work, because more data is emerging that can be mined and studied.
This semester, Parker started working as an assistant professor of information technology and analytics in the Kogod School of Business.
Ride-shares and Race
Parker recently made news with a study he co-authored about bias in ride-sharing services like Uber and Lyft. Parker and Indiana University professor Jorge Mejia found that drivers were more likely to cancel rides with black passengers than white passengers. Parker and Mejia looked at test cases using rainbow flags over passengers' profiles—signaling either LGBTQ riders or their allies—and found they were associated with higher cancellation rates than perceptibly straight passengers.
These trends exist during normal hours, but during peak times—when a ride can cost up to $30 per passenger—the unequal treatment based on race disappeared. However, during peak hours, LGBTQ passengers and allies were still more likely than others to experience cancellations.
Not content to let this disturbing information languish, Parker got in contact with an economist at a ride-sharing company about addressing these issues. "We're trying to figure out what's next. How can we try to fix the problem? Just recommending 'pay more' is not necessarily going to solve this problem here," Parker explains.
Seeing the World
Parker hails from a large family in Norman, Oklahoma. His father was a professor at University of Oklahoma, and Parker saw aspects of an academic career—such as work-life balance—that appealed to him.
He was mathematically inclined at a young age. In long car trips he can't even remember, his parents kept him entertained with math problems. "They would say, 'We have 185 miles to go, and we're driving 60 miles an hour. How much longer do we have to go?' It was at a point where I should not have known how to do the division. And it would take me a little while, but I would sort of calculate through in my head intuitively," he says.
Parker got his bachelor's degree at Oklahoma State University in business economics and quantitative studies. For his next major endeavor, he decided he wanted to see the world. He moved to England and earned a master's degree in computational finance from University of Essex, and later finished his PhD in management science and operations at London Business School.
In addition to the intellectual stimulation, Parker played a lot of soccer in London. Grad students competed with business professionals, and London Business School doctoral students took on their PhD-student counterparts at London School of Economics and Political Science.
"My sophomore year of high school I quit playing, and sort of burned out," he recalls. "Then living in England, I fell back in love with it."
Attacking the Problem
Parker was most recently an assistant professor of supply chain management at Penn State University. Now he's made another big move, but he's not new to Washington. His wife has worked in DC for years, and Parker commuted to Penn State during the week. His AU schedule is more manageable, but he also saw much to like about his new job.
"This department is just fun; it's such a nice group. They're working on cool problems, both inside and outside of the classroom," he says.
It's the problem solving—like what he did on long car trips as a child—that still motivates Parker today. He explains what draws him to academia's two channels, research and teaching.
"I like attacking a problem saying, 'Actually, I could argue either way. I could argue left or right on this thing, and let's just let the data speak,'" he says. "With teaching, it's difficult, difficult, difficult. And then all of a sudden you just see that light flash in somebody's eyes in class, and they're like, 'I get it.'"