In the Community
Funk City: SPExS Prof on Building Bridges Through Music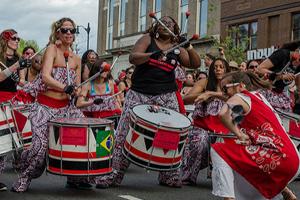 If you're new to DC, you might not notice it. So much of what's famous here is visual: the Washington Monument, the Lincoln Memorial, the White House, the Capitol Building. Yet the city pulsates with melodies and beats, and they're not culled from the West Wing theme song you imagined while interning on the Hill.
DC is a great music city, and it's also an authentic one with a storied past. There's the unique go-go sound godfathered by the late Chuck Brown. We've got the pioneering DIY punk and hardcore scene, led by Minor Threat and Fugazi frontman Ian MacKaye. And a who's who of jazz legends, from DC native Duke Ellington to Sarah Vaughan to Billie Holiday, played the clubs on U Street.
Lauren Sinclair wants to not only preserve that history, but support DC's present and future music scene. She helps organize the Funk Parade, a U Street neighborhood festival that celebrates the music, art, and culture of the city.
"This is really just to enjoy ourselves, celebrate a city that we all love, and get down," says Sinclair, a professorial lecturer at American University's School of Professional & Extended Studies.
Fresh off the fifth annual Funk Parade in May, Sinclair discussed the successful event and the power of local music. 
We Want the Funk
Sinclair got involved with the Funk Parade through friends, co-organizers Chris Naoum and Justin Rood. When she heard about the concept, she suggested ways to demonstrate the historical importance of funk music to the U Street Corridor.
"I had lots of ideas, and they were totally overwhelmed with the planning. They said, 'These are great ideas, but we're saturated right now. So if we give you a fancy title, will you run with it?'" she recalls.
Sinclair was named "historian coordinator in chief," and she now organizes educational events around the Funk Parade. It's a bit like planning panel discussions at South by Southwest. Among many local partnerships, they joined forces with Knowledge Commons DC and started an "Academy of Funk."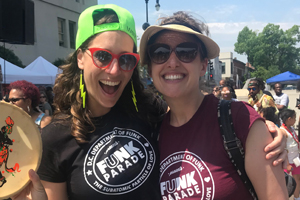 Last year—with the theme of "future funk"—she organized an Afrofuturism panel featuring AU literature associate professor Keith Leonard, AU performing arts assistant professor and ethnomusicologist Kendra Salois, and professor Meta Jones at Howard University. This year, she planned a "Fashion as Soft Power" event that included a museum specialist, Timothy Burnside, from the Smithsonian's National Museum of African American History and Culture, and Grammy nominated singer/producer Maimouna Youssef.
"Knowledge Commons has this great message that everyone has something to teach, and everyone has something to learn," she says. "It's really an incredible way to uncover the warmth of the DC community and the passionate dedication of the art community."
Through a grant with the DC Office of Planning, they've hosted artistic interventions, such as Holly Bass's disco public skate jam and the eight-foot diameter disco ball that leads the parade.
Sinclair is committed to fostering these kinds of relationships. "That's something that is really exciting for me—getting people together who wouldn't necessarily cross paths."
The Funk Parade had trouble securing funding in 2018, but local supporters stepped up and it was another well-attended success. In the coming years, organizers will continue advocating for the Funk Parade.
"There's nothing like walking down U Street with a marching band of 50 plus female drummers [Batalá Washington], and seeing the faces of people across broad swaths of DC society," she explains.
Sounds of the City
Sinclair moved to DC from—arguably—the country's music mecca, New York City. She familiarized herself with Washington through live concerts at the Black Cat, DC9, 9:30 Club, and Rock & Roll Hotel. A classically trained violinist, she's played with both the AU and Howard University orchestras. She recently had a nonfiction contribution, "No Church Without A Choir"—about Howard-trained musicians—published in an edited book, DC Jazz: Stories of Jazz Music in Washington, DC.
She can also talk at length about contemporary DC music. "There's a burgeoning hip hop scene here. The lyrics are really on point, picking up on all the most important issues in local, national, and global politics," Sinclair says.
She notes that current homegrown bands, such as Priests, might play local clubs even as they become more popular nationally. "If I feel bored about my usual playlist, I look at what's showing at Comet Ping Pong or Black Cat. They're booking bands that you can see for $10 or $12, who are going to be playing Lollapalooza or Coachella—sometimes the same year."
Sinclair also encourages DC newcomers to check out a go-go show. "You dance all night long. I've never been able to stay until the close of a go-go show, because they dance me off the floor. It's exhausting, but in the best way," she says.
At SPExS, Sinclair has taught international students, so they're entering the class with little knowledge of racial and cultural issues in the nation's capital. And she's used music—everything from Kendrick Lamar to Beyoncé's album Lemonade—to teach broader societal lessons.
The Whitening of the Green Line
If DC's musical legacy is largely African American, that way of life is threatened by changing neighborhoods and gentrification. In an AU lecture, Sinclair shared a song by DC rapper Tarica June with a memorable lyric about the Metro: "I remember all black on the Green Line."
Sinclair also points out the fate of epic jazz spot Bohemian Caverns. "It's just sitting empty now," she laments. "And it's just a sad reminder that places will be priced out and maybe not even replaced. So I think DC is at a critical moment to invest in art, and make sure that musicians have spaces to engage that creative side of our humanity."
One of the Funk Parade's charges is to highlight U Street's African-American heritage. And, through this celebration, it attracts all kinds of people to one joyous musical festival.
"If you go to any of the stages and you look around, you see people who would never come together in a shared space like that," she says. "We've never wanted it to be just like a drunken party. We really want it to be a moment of recognition and engagement—a dedication to the community that we've all come here to build."
*Photo Above: Funk Parade accountant Amy Naoum (left) and SPExS prof Lauren Sinclair.