If you are unable to install the VCL client or want to access a virtual desktop without installing any software, you can use the web browser access feature.
We recommend you use Google Chrome, Firefox, or Safari browsers to connect to the system, as they offer the most stable experience.
The web browser virtual desktop offers the exact same experience as the client version, with the exception of access to your local hard drives and USB devices. All work must be saved to network drives or to cloud storage systems (Google Drive, Dropbox, etc.).

Connect to the VCL system with your web browser
1. Go to the VCL Portal.
2. Click the "VMware Horizon HTML Access" button.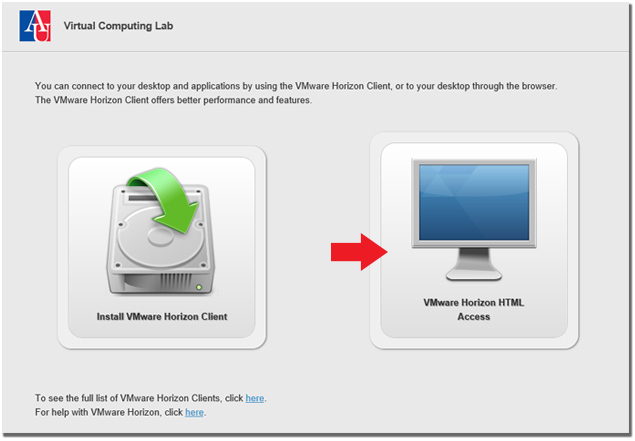 3. Login with your AU username and password.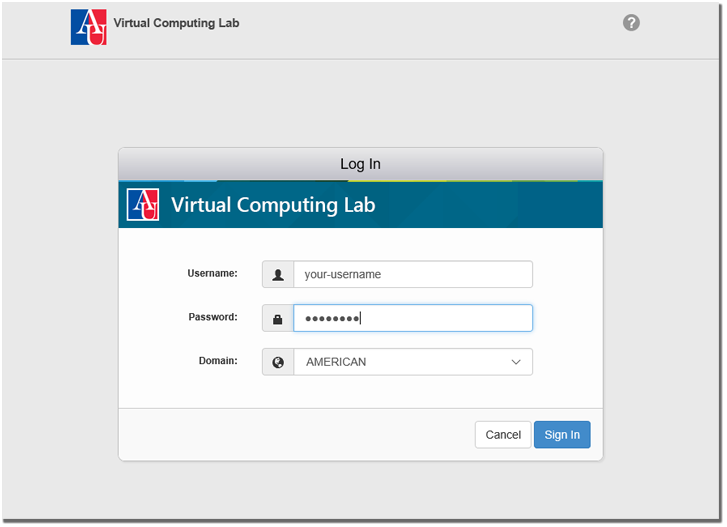 4. You will then be prompted to enter your DUO two-factor secondary password. (For information about setting up DUO, follow the instructions at the DUO enrollment website)
5. You will now see icons for each desktop pool you can access.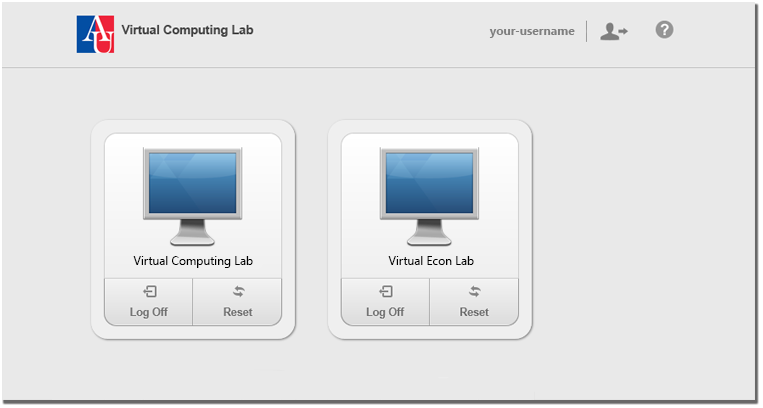 6. Click on the icon for the desired pool to launch a virtual desktop.
Web Access tips
Do not click the browser's Back button, as this will cause you to end your VCL desktop session. If the sessions is disconnected, the virtual desktop will reset, wiping all unsaved data.
Refrain from resizing the browser window once a virtual desktop loads. This will place extra horizontal and vertical scroll bars in the browser window, which could make navigating the virtual desktop difficult.
Remember, you must save all work to network drives or cloud storage systems. You will not have access to your local drives or USB devices when using the web browser access feature.

Need Help?
VCL Support is available at the Research Applications and Methods Center, Room 5 in the Library
Hours:
Sun - Thurs: 11 am - 9 pm

E-mail: helpdesk@american.edu
Phone: 202.885.3862