American University Veteran Services News You Can Use February 2022, Volume 8
Announcements
Make sure to read News You Can Use Volumes 1 through 7 for other important announcements!
Updated COVID-19 Guidance for Spring 2022 and the REMOTE ACT
As of January 31, 2022, residential classes are now in person! Remember, all students, faculty, staff, contract workers, and visitors, whether vaccinated or unvaccinated against COVID-19, are required to wear masks while indoors on university property. (Choose N95 or KN95 masks; they're available at distribution sites if you don't have one.) For more information concerning the University's COVID-19 response, please visit thisFrequently Asked Questions page.
On December 21, 2021, President Biden signed the "Responsible Education Mitigating Options and Technical Extensions Act" or the "REMOTE Act" into law. This law extends the various COVID-19 protections for GI Bill® students from December 21, 2021 to June 1, 2022. In part, this means that students who were attending a course that was converted to online training because of COVID-19, and were getting paid the resident rate, may continue to train online, and will continue to receive the resident housing rate until June 1, 2022.
Spring 2022 and Term 1 2022 Schedule VA: When do payments disburse?
Please allow 2-4 weeks for payments to post to your student account. Veterans Affairs requires American University to submit final certification AFTER the University's "Add/Drop" deadline. This is because GI Bill® Benefits reflect the number of credit hours taken. This also ensures that there are no discrepancies between the amount received and the actual amount the student is eligible for. For Post 9/11 GI Bill® recipients, payments for tuition and fees will be posted directly to your student account. If you are eligible for a book and supply stipend and Monthly Housing Allowance, that will be paid directly to your bank account or preferred method of payment. For students receiving Tuition Assistance or participating in the Veterans Readiness and Employment Service program (Chapter 31), payments will be posted directly to your student account. For students participating in the Montgomery GI Bill® (Chapter 30 & Chapter 1606) or the Veterans Education Assistance Program (Chapter 35), benefits will be paid directly to your bank account or preferred method of payment. For more information please read the following knowledge article.
Automatic Monthly Enrollment Verification for the 2021-2022 Academic Year!
The Department of Veterans Affairs is implementing a monthly enrollment verification requirement for Post 9/11 GI Bill® recipients. Effective December 17, 2021, students receiving these benefits must verify their enrollment at the end of each month. This will go into effect at American University for students in the Spring 2022 semester and Term 1 2022. If you have not received an opt-in text message from the VA to verify your enrollment at the end of each month, please contact the GI Bill ® hotline at: 888-442-4551 to verify that your cell phone information is on file and to opt-in to the text message monthly verification option before this requirement goes into effect at the end of January 2022. Those who fail to verify their enrollment for two consecutive months will have their Monthly Housing Allowance and kicker payments put on hold. If you want to learn more, you can read the Veterans Affairs' blog post about these changes or you can read News You Can Use Volume 6!
Are my Veterans Education Benefits taxable?: Did you receive your 1098-T? Are you wondering how to report this on your taxes? IRS Publication 970 states "Payments you receive for education, training, or subsistence under any law administered by the Department of Veterans Affairs (VA) are tax free." Veteran's educational benefits are not taxable. However, they can be reported as a grant on Box 5 of the Form 1098-T. Reporting veteran benefits on the form 1098-T does not indicate that such benefits are taxable. Instead, it only indicates that the individual's qualified educational expenses used for purposes of determining the tax credit must be reported. *This is for informational purposes only. American University cannot give tax advice. Please direct any specific questions to a tax professional. *
Do you need access to the Veterans Lounge?
The Veterans' Lounge is located next to AU Central – Veteran Services office in 201 Asbury building. The Veterans' Lounge is designated for all military-affiliated students. Students using VA Education Benefits are automatically given access to the veterans' lounge. For any issues with accessing the Veterans lounge, please email veterans@american.edu from your AU email.
Notice! There are a few changes that are scheduled to take place in the Veterans Lounge during the Spring 2022 semester. If you have any personal belongings in the lounge, please remove them by February 14, 2022. Personal items that are not removed might be discarded while the scheduled cleaning and improvements are taking place.
What happens if I change my enrollment and I am using VA Education Benefits?
If you withdraw from one or more of your courses after the end of the school's drop period, VA may reduce or stop your benefits on the date of reduction or withdrawal. If you withdraw from a course after the end of the drop period, you may have to repay all benefits for the course unless you can show that the change was due to mitigating circumstances. VA defines "mitigating circumstances" as unavoidable and unexpected events that directly interfere with your pursuit of a course and are beyond your control.
Examples of reasons VA may accept are:
Extended illness;
Severe illness or death in your immediate family;
Unscheduled changes in your employment; and
Lack of child care.
Examples of reasons VA may not accept are:
Withdrawal to avoid a failing grade;
Dislike of the instructor; and
Too many courses attempted.
Note: VA may ask you to furnish evidence to support your reason for a change.
If a serious injury or illness caused the change, obtain a statement from your doctor.
If a change in employment caused the change, obtain a statement from your employer.
The first time you withdraw from up to six credit hours, VA will "excuse" the withdrawal and pay benefits up to the point you stopped attending. Remember, this only applies to your first withdrawal. If you receive a grade that does not count toward graduation, you may have to repay all benefits for the course.
**Even approved mitigating circumstances appeals and your first withdraw up to 6 credit hours (known as the 6 credit hour exclusion) will only pay up until the day you stop attending class. This may still cause you to have a balance due with the university. **
Non-Punitive Grades:
You should check your school's grading policy with the registrar or the office handling VA paperwork. The school may have "non-punitive grades." VA defines "non-punitive grades" as those not used to compute graduation requirements.
Common examples are:
An "I" grade for an incomplete which is not made up during the time period required by the school or within one year from receipt;
A "W" grade for withdrawing;
An "AU" grade for auditing;
An "FZ" grade for failing a pass/fail course
Any grade the school does not use to compute the GPA (grade point average) or its equivalent.
If you receive a non-punitive grade, the school will notify VA. Upon receipt of the notice, VA may reduce or stop benefits. You may not have to repay the benefits if you can show that the grades were due to mitigating circumstances.
February Calendar
Don't miss these important deadlines and upcoming events!
February 1, 2022: Students begin receiving prorated housing allowance for attending classes in January if Request for Certification (RFC) was sent prior to the start of Spring 2022 semester.
February 7, 2022: Last day to withdraw from a spring course for a 25% refund (no refunds after this date). Refer to the knowledge article above to see how this could impact your VA education benefits.
February 14, 2022: If you have any personal belongings in the lounge, please remove them by this date
February 28, 2022: Schedule of Classes for Summer 2022 and Fall 2022 published. All students (except those using Chapter 31 and 35 benefits) must submit monthly enrollment verification to VA for February enrollment.
AU Veterans Spotlight Benjamin Schreiner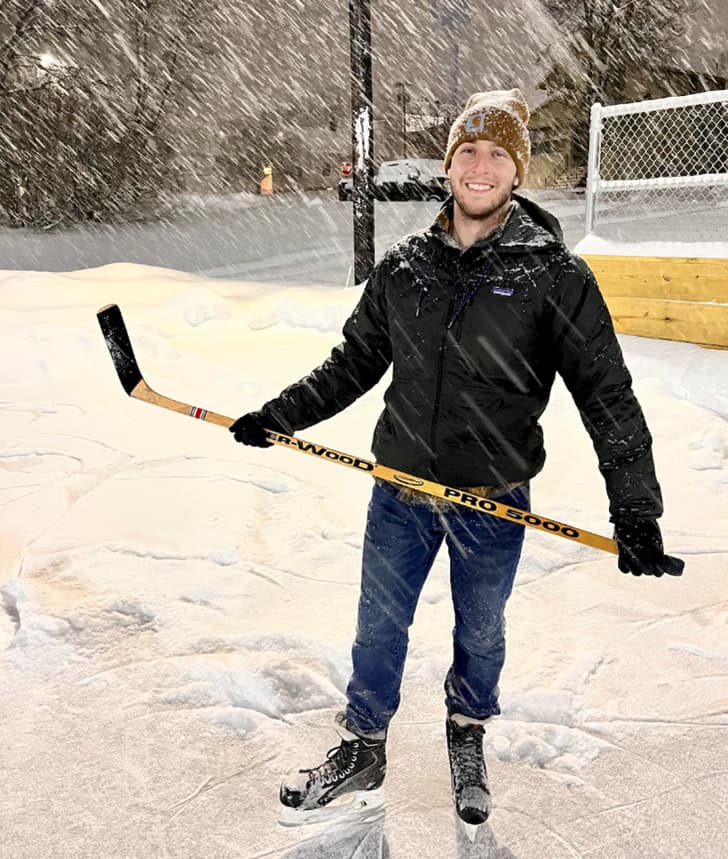 Ben Schreiner is currently a combined Bachelors/Masters student who will be graduating from the School of International Service with a bachelor's in international studies this Spring. He will then continue his education to pursue a master's degree in the School of Public Affair's Terrorism and Homeland Security Policy program. He has been a VA work-study student at the American University's Veterans Services Office since Spring 2020. Before pursuing higher education in 2019, Ben spent six years on active duty in the US Navy, serving aboard the USS GETTYSBURG (CG-64) and USS HOPPER (DDG-70).
"Ben joined the VA Work Study team just before March 2020. At that time, we could never have anticipated all of the changes that were coming as a nation, as a university and to Veterans services. I am very thankful for all our VA Work Study students who have such an important role in making sure you have access to the information you need as a VA Beneficiary. During this time, Ben has learned multiple office roles like accountant, editor, social media content creator (to name a few). His hard work has contributed to students having accurate and timely information concerning changes impacting VA Benefits. Thank you, Ben!"
-Alicia Marsh Associate Director-Veterans Services