From the President and Board Chair
2021 was defined by a word and a feeling that captures the relentless American University changemaking spirit—FORWARD. We moved forward in our community of care and ongoing response to COVID-19 and transitioned to a world of sustaining operations and excelling in our mission as the virus continues to evolve. We had forward momentum across our strategic priorities of scholarship, learning, and community. And with the launch of critical new initiatives that advance our values, we pushed forward on the challenges that shape our society.
After successful online learning through the first year of the pandemic and our spring 2021 midsemester residential experience that brought the first groups of students back to campus in March, AU changemakers returned in full to our classrooms, laboratories, residence halls, playing fields, and offices beginning in August. With a 98 percent vaccination rate, extensive testing infrastructure, and comprehensive health and safety guidelines, the AU community filled our Washington, DC, campus for a safe fall semester filled with learning and community building.
AU changemakers know that change can't wait. This spirit was evident long before the pandemic and was exemplified by our community's dedication and creativity over the past two years. That is why we take the lead on today's greatest challenges from sustainability to inclusive excellence. We create a unique experiential learning environment that engages our students inside and outside of the classroom. And our scholarship impacts communities around the world through collaborative, interdisciplinary action. In just a few examples from 2021, the AU community:
Introduced a comprehensive fundraising campaign, Change Can't Wait: The Campaign for American University, and a new brand narrative, Challenge Accepted, that build from the Changemakers for a Changing World strategic plan and propel our priorities forward. Change Can't Wait is AU's first fundraising campaign to launch in nearly two decades. The campaign has achieved great success to date, and we are more than halfway to our $500 million goal. Challenge Accepted is a call to action and opportunity to share the purpose-filled stories that exemplify the AU experience.
Kicked off our Year of Climate Action with the Seeing Climate Change Symposium, a gathering of leading figures from the arts, sciences, and policy worlds who examined how best to understand and respond to human-induced global heating, and our new five-year sustainability plan (the third such plan in our history) with a goal to achieve zero waste by 2030.
Started a $15 million National Science Foundation-funded project—the largest externally-funded grant in AU's history—to research wasted food and reimagine a more sustainable, equitable, and resilient food system through a network of 40 faculty from 14 institutions—including seven other AU professors—and 45 graduate students in the five-year project.
Forged a partnership with Urban Teachers led by School of Education Dean Cheryl Holcomb-McCoy to facilitate a curriculum that prepares career teachers who accelerate student achievement and disrupt systems of racial and socioeconomic inequity in urban school systems.
Welcomed Sara Clark Kaplan as the new executive director of our Antiracist Research and Policy Center, where she is collaborating with ARPC's 48 affiliate faculty members to address structural inequities and fight for racial equality and social justice.
Our community celebrated faculty achievements in teaching and research such as the National Association of Black Journalists' honoring Professor Sherri Williams as its Journalism Educator of the Year for her teaching and partnerships with media outlets that published her students' work and amplified their stories nationally. While the Marguerite Casey and Group Health foundations named Professor Orisanmi Burton a 2021 Freedom Scholar in support of his continued exploration of the collision of Black-led movements with state infrastructures, the National Center for American Indian Enterprise Development tapped Professor Elizabeth Rule, an enrolled citizen of the Chickasaw Nation, for its 2021 class of Native American 40 Under 40 award recipients for her research on issues in her Native American community.
We also lauded students and alumni who have used their unique AU educational experiences to make real change throughout the world. The Washington Business Journal recognized three outstanding Eagles on its 25 Under 25 Class of 2021 list—undergraduate student Sophia Andrews, SIS/BA '23, started Ngoma Kenya, a nonprofit that focuses on arts education, orphan care and girls' empowerment; graduate student, Elli Wachtman, SIS/MA '22, founded Sikhona Rescue Centre, a grassroots social enterprise that aims to provide a physically and psychologically safe space for survivors of emotional, sexual or physical violence; and alumna Yamillet "Yami" Payano, CAS/BS '18, created Sign-Speak, a software service that uses machine learning to translate American Sign Language to English. In an event sponsored by AU's Office of Research, we honored Doreen Bogdan-Martin, SIS/MA '91, director of the Telecommunication Bureau of the United Nation's International Telecommunications Union with our inaugural Outstanding Technology Policy Changemaker Award for her work bringing the underrepresented to the technology policy table and connecting the unconnected.
In 2022, we look forward to another monumental year for AU, implementing our 2021 Campus Plan and focusing on years four and five of our Changemakers strategic plan. There's still so much to do at AU, in DC, and around the world, and we will continue to identify, accept, and take on the challenges because we know that change can't wait.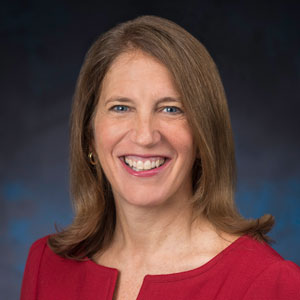 Sylvia M. Burwell
President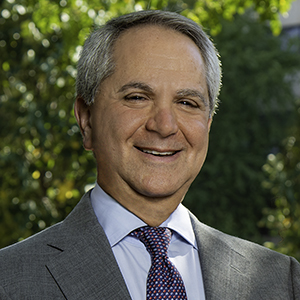 Marc N. Duber
Chair, Board of Trustees