Research for Change Part V
On September 29—the UN-designated International Day of Awareness of Food Loss and Waste—AU announced its leadership of a $15 million, five-year project funded by the National Science Foundation to research wasted food—the largest externally funded grant in university history.
CAS environmental science professor Sauleh Siddiqui leads the Multiscale Resilient Equitable and Circular Innovations with Partnership and Education Synergies (RECIPES) an interdisciplinary network of 40 faculty from 14 institutions—including seven other AU professors—and 45 graduate students that aims to reimagine a more sustainable, equitable, and resilient food system—one of the greatest challenges of our time.
"To make sustainable, long-term decisions about local, regional, and national food systems, we need better data," Siddiqui said. "Food encompasses health, culture, environment, and the economy, and intersects with other systems, such as transportation, energy, and water. We need to make connections between data from these different sources to improve our food systems and reduce wasted food."
The project will involve creating strategies to minimize consumer food waste, studying new wasted food technologies and their integration with regional infrastructure, educating youth and college students about wasted food through their STEM classes, and assessing strategies to minimize consumer food waste.
Transforming the food system "exemplifies the impact that AU has on the world's most pressing problems," said AU president Sylvia Burwell. "Our expert scholars bring unique interdisciplinary approaches to critical challenges and create knowledge that translates into action. The NSF grant continues our leadership in sustainability and leads on the change we know can't wait."
AU scholarly research and knowledge-building that affects policy for change is a critical element of the university's strategic plan and Change Can't Wait: The Campaign for American University. It strategically focuses on areas that can make an impact in DC, in the US, and throughout the world: sustainability, health, social equity, security, and data analytics.
For example, the new executive director of the Antiracist Research and Policy Center (ARPC)—Sara Clark Kaplan, founder of the Black Studies Project at the University of California, San Diego—envisions ARPC as a nationally-renowned interdisciplinary center. It will serve as an intellectual hub for all individuals who share a commitment to antiracist scholarship and social change and facilitate analysis of existing policy and create new thought frameworks for reimagining it.
"We believe that shared commitment can bring together people from different disciplines, approaches, and experiences—from activists to artists to students to scholars," said Kaplan. Forty-eight faculty affiliates advise and contribute to ARPC's critically important work of dismantling structural inequities and fighting for racial equality and social justice.
And through cross-disciplinary research on the influence of diet on an individual's susceptibility to addiction and cognitive control issues, Terry Davidson, Trone Family Eminent Scholar Chair in Neuroscience and Behavior, and a team of Center for Neuroscience and Behavior researchers are poised to revolutionize understanding of drug abuse and other cognitive disorders. They are addressing the root cause, paving the way for an enhanced understanding of addiction and more effective preventative treatments.
The center and AU partners also connect policymakers with the latest scientific research on brain disorders and helps translate pathbreaking scientific discovery into policy and action. A $5 million Change Can't Wait campaign gift from AU trustee and US congressman David Trone, and his wife, June, through the David and June Trone Family Foundation established this first eminent scholar chair in AU's history and advances AU's goal to generate knowledge that impacts and shapes our world.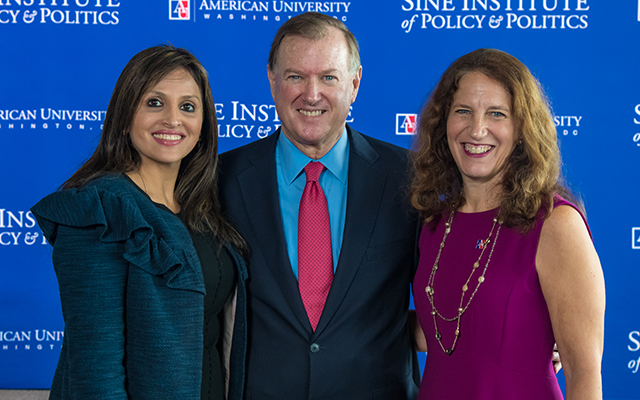 Fifty-five research and programmatic centers across campus are creating knowledge that translates into action, including the Sine Institute of Policy and Politics. For its 2021 summer series, Sine convened conversations with leading experts in healthcare, government, politics, policy, education, urban development, business, sports, and entertainment to reimagine America post COVID-19. As of its third anniversary in September, Sine had brought 188 guest speakers to AU in its mission of convening the best and brightest from the public, private, academic, and nonprofit sectors—as well as journalism—to craft and promote non-partisan solutions through democratic discourse. In November, the institute announced its fourth class of fellows. A $10 million milestone Change Can't Wait campaign gift from AU trustee and entrepreneur Jeff Sine, SIS/BA '76, and Samira Sine, an advocate for women and children and seasoned journalist, makes the Sine Institute possible.