Changemakers Join AU Leadership Part VI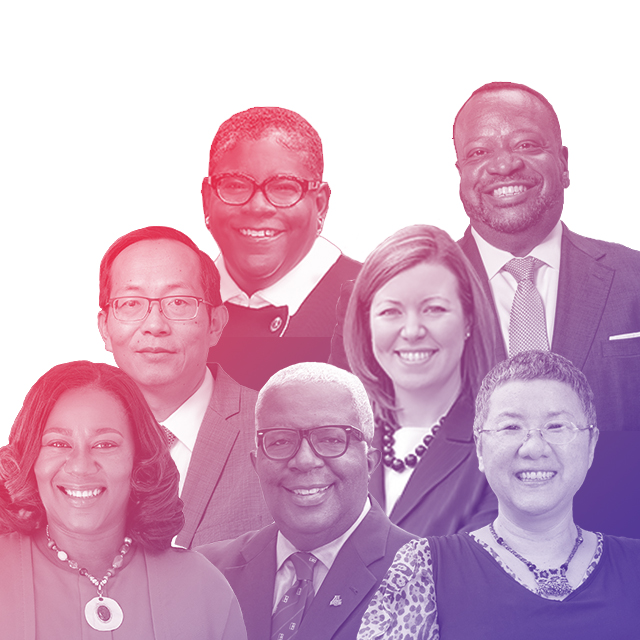 AU's new chief financial officer, vice president, and treasurer Brontè Burleigh-Jones, Kogod/BS '91, Kogod MBA '93, moved to university administration because she wanted to use her skills and education to help college students in a meaningful way.
She joins AU from Dickinson College, where as vice president of finance and administration, she led a college-wide financial task that created a revenue enhancement and operational efficiencies plan, developed a multi-year facilities management framework, and implemented an institutional operating reserve policy.
"Now, part of my job [at AU] is making sure everybody understands how resources are managed, that we have the resources necessary to carry out the [university's] vision and talking to President Burwell about the strategic plan and the direction she wishes to take our institution," said Burleigh-Jones.
Burleigh-Jones is among seven leaders to join AU in 2021 as five familiar leaders take on new roles.  Effectively leading academic affairs through the pandemic and facilitating the fall in-person return to classes as acting provost, Peter Starr, former dean of the College of Arts and Sciences, becomes permanent provost and chief academic officer. Dedicated members of our community and valued colleagues Prita Patel and Monica Jackson become vice provost for academic administration and deputy provost and dean of faculty, respectively.
As the first vice president of undergraduate enrollment, Fanta Aw, Kogod/BSBA '90, SPA/MPA '94, CAS/PhD '11, already vice president of campus life and exclusive excellence, advances this strategic priority to the leadership level. Counselor to the president and former AU chief of staff Seth Grossman is the first vice president of People and External Affairs, a new division that includes WAMU 88.5 FM and the offices of human resources, government and community relations, strategic planning, and equity and Title IX.
AU's new chief of staff, Sara Baldassaro, most recently was interim vice president of communications and marketing at George Washington University (GW) and has served the White House and US Senate.
New university librarian Jeehyun Davis comes to AU from Villanova University where, as associate university librarian for collections and stewardship, she led development of the Affordable Materials project that focused on equitable access to course materials and reducing students' textbook costs.
Roger Fairfax Jr., who joins the Washington College of Law as dean, is a prominent legal scholar, educator, and nationally known expert on criminal justice. The founder of the Criminal Law and Policy Initiative at GW, Fairfax practiced law in DC and was a federal prosecutor and law clerk.
Prominent journalist, public policy analyst, and author Sam Fulwood III, whose work addresses media influences on American life, US race relations, data-driven journalism, and the intersections of media, technology, and democracy, is the new School of Communication dean. He continues as a nonresident senior fellow at the Center for American Progress where he was vice president of race and equity.
Erika Pulley Hayes, former president and CEO of Community Communications Inc., is WAMU 88.5 FM's new general manager. A member of the NPR board of directors, she managed two public radio stations in Central Florida after serving as vice president of radio for the DC-based Corporation for Public Broadcasting.
As its inaugural vice provost, Jeff Wang leads the new Office of Global and Immersive Studies, which brings together AU Abroad, English Language Training Academy, and Washington Semester and International Accelerator programs. While assistant vice president for global affairs at Rutgers University, Wang restructured and enhanced international student services and expanded study abroad opportunities for students and faculty.
Excellence Requires Inclusiveness
The AU community believes that we cannot be excellent unless we are truly inclusive, so we strived to be better in Year 3 of our Plan for Inclusive Excellence by:
Establishing the Board of Trustee's Diversity, Equity, and Inclusion Committee with its chair on the Executive Committee;
Opening Black Affinity Housing with approximately 50 residents;
Providing a self-service tool that allowed more than 1,900 students to designate their chosen names, pronouns, or gender identities;
Engaging more than 380 faculty in equity, diversity, and inclusion trainings—a 34 percent increase from the previous year;
Training 100 percent of AU's police officers in implicit bias and fair and equitable policing;
Putting  inclusive hiring practices into place that resulted in 50 percent of new tenure line faculty hired for the 2020-2021 academic year identifying as faculty of color;
Raising $1.35 million for access and equity-focused student scholarships—the second-best year on record.