Finding Their Voices Through Complex Problems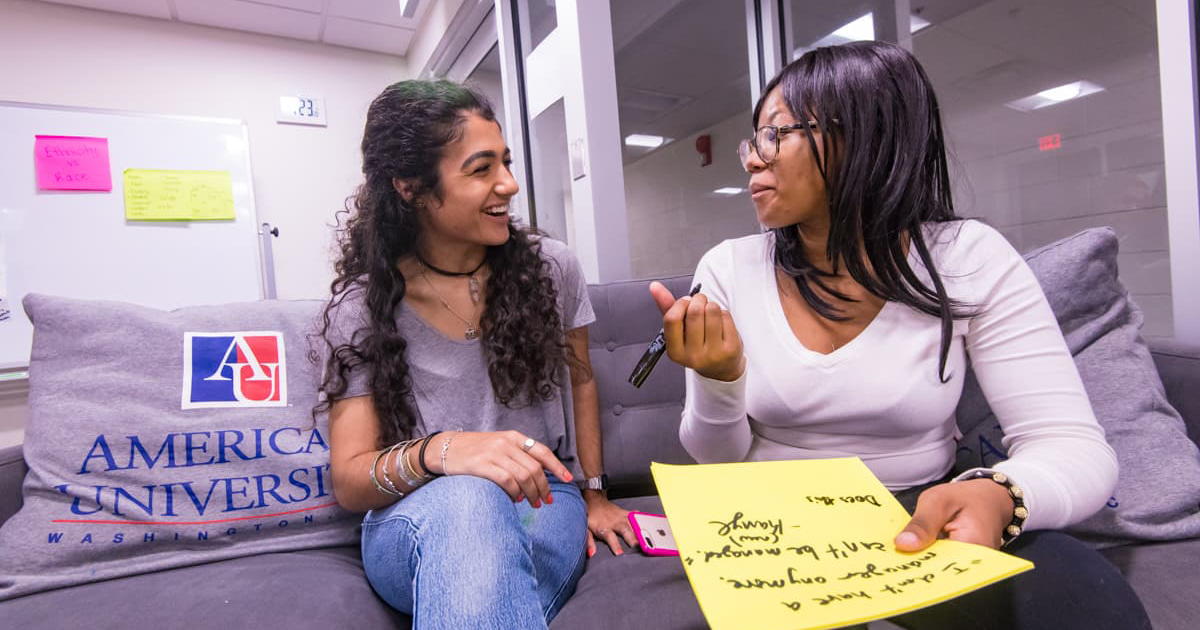 Kamelle Ruano remembers vividly her first steps inside a classroom at American University.
Ruano walked into a section of the complex problems course—Fight Club: US War and Peace—as a timid, nervous first-year student. But her participation there changed her trajectory.
"I was a student who did not speak a word my first month of college," Ruano said. "I was so scared of saying the wrong answer. But after an office meeting with the professor, I saw that it was okay to ask questions and spur discussion. I started becoming more vocal and started offering my own opinions. And it changed the way I think analytically and critically."
The Complex Problems course is just one facet of the AU first-year experience the university—through collaboration among faculty, advisors, administrators, and student leaders—transformed within five years. The experience responds to first-year obstacles, holistically integrating students into the university setting while teaching them how to navigate college, empower their curiosity, and foster nimble thinking in a quickly changing world. Part of AU's new core curriculum along with American University Experience, Complex Problems facilitates difficult conversations and moves students into an inquiry-based model.
Faculty Director Adam Tamashasky cherishes the opportunity to work with first-year students. "When I have anyone whose first college class is with me, I'm awash with privilege," said Tamashasky, who teaches The West's Problem with Evil. "These students are excited, freaked out, sort of like an exposed nerve. To be a part of their growth and helping them integrate into AU has been the best experience."
Ruano was so profoundly impacted by her complex problems course that she has been a peer leader in the program for five semesters. Peer leaders are teaching assistants who connect with students and facilitate classroom conversations. A CLEG (communication, legal institutions, economics, and government) senior, Ruano believes Complex Problems enhances the first-year experience by pushing students to have respectful and open dialogue as they discuss issues facing the globe. Students engage through readings, films, field trips, and important conversations. With more than 140 topics, Complex Problems offers a wide swath of opportunities to think through philosophy, current, events, pop culture, and politics.  
"I think powerful questions are exactly at the core of what we were trying to figure out, and Complex Problems allows us to work out how we think about issues and how we should approach solving them," she said. "It can be very profound."
A second-year public health student and peer facilitator, Rebeka Rafi relished the chance to engage in other perspectives. Her Complex Problems class—Empathy in a Digital Age—shapes her approach to every class she takes by unlocking a deeper approach to critical thinking.
"Complex problems really helped me immerse myself in a seminar-based classroom setting where I'm able to challenge certain ideas and gain more insight into what my peers are thinking about certain topics and issues," said Rafi. "It made me want to be that resource for incoming freshmen who've never been exposed to the college setting. It's an awesome opportunity to interact with the incoming class because you see the impact the course has on students."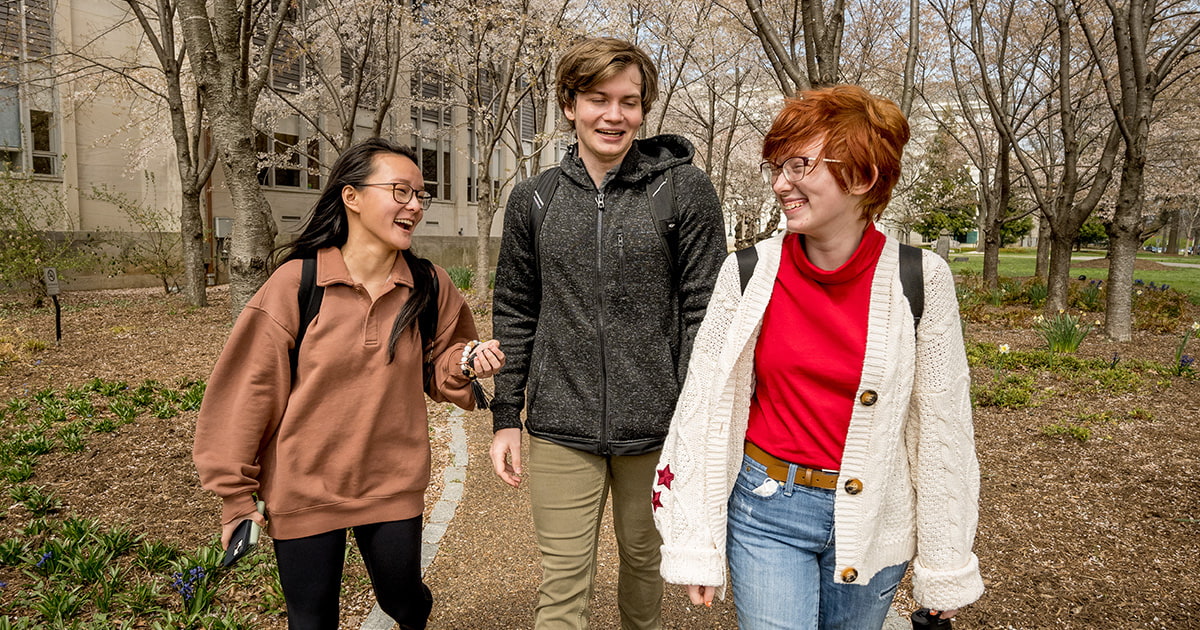 Get to the Core of AU's New First-Year Experience
Equipping students for success in and out of class.
Full Story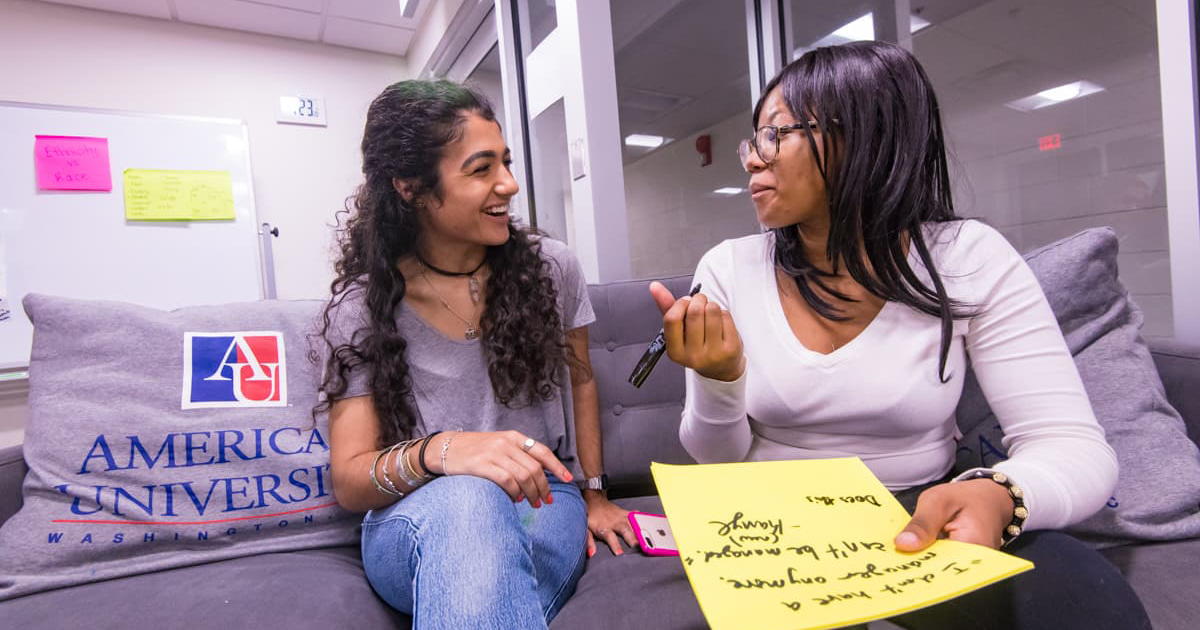 Finding Their Voices Through Complex Problems
Part of AU's new core curriculum along with American University Experience, the Complex Problems courses facilitate difficult conversations and moves students into an inquiry-based model.
Full Story