Humanities Truck Switches Gears to Meet New Need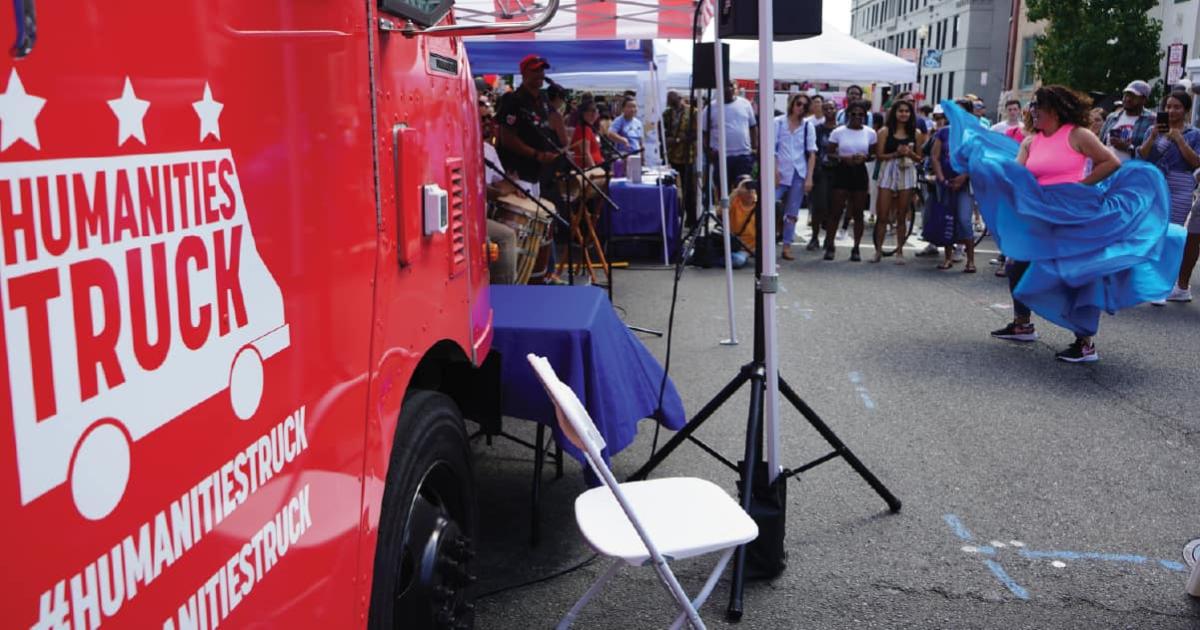 When the COVID-19 pandemic hit—and everything stopped—faculty fellows that operate AU's Humanities Truck found another use for the university's high-tech mobile lab: delivering groceries to hungry Washingtonians.
Since it began rolling through the streets of DC "meeting people where they are" in 2018, the Humanities Truck has been an embodiment of AU's commitment to engage with the city we call home. Community is a pillar of the university's Changemakers for a Changing World strategic plan.
Before March 2020, Humanities Truck fellows had used the mobile recording studio, performance, and creative space to develop neighborhood storytelling systems. Other projects have examined LGBTQ activism, the Federal City Shelter, and local responses to climate change. The truck has become a welcome sight around town—its photo exhibit at the Adams Morgan Day Festival in 2019 attracted more than 7,500 people.
Then, like most of life, the truck hit the brakes when the pandemic started, and in-person university research programs were suspended. But not for long. Truck fellows soon began using the vehicle to distribute groceries to communities wrestling with food instability.
Shifting to food insecurity put a pandemic twist on the truck's mission to use ethical, community-based research to reimagine AU's connection with DC communities, says Dan Kerr, program director and CAS professor.
"The ways in which people share food [are] really how people build communities," says Kerr. An emergency $100,000 grant from the Henry Luce Foundation made the truck's shift to food distribution possible.
One of several truck fellows who has adapted their work to food aid is CAS professor Ludy Grandas, a senior lecturer in the Department of World Languages and Cultures. Each week, Grandas distributes bags of groceries, courtesy of Food for All DC, to day laborers congregated at the Home Depot parking lot in Northeast Washington.
Prior to the pandemic, Grandas and her students had joined forces with the laborers to tell their personal stories that then were exhibited throughout DC via the truck. Now, those same students participate in the Humanities Truck's food distribution program whenever possible.
"We are saying to our communities that we are here in times of crisis. We are here for you," says Grandas.
More than a year into the pandemic, Kerr says the Humanities Truck continues with its food justice work and shares exhibits online, like From Me to You: A COVID-19 Oral History Project, as it breaks "new ground in developing a new form of public humanities work."
To learn more about AU's Humanities Truck, visit humanitiestruck.com.