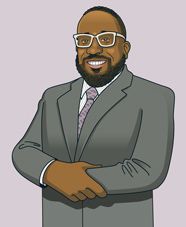 When he earned an appointment to the Montgomery County District Court at age 36, Zuberi Williams, WCL/JD '03, Kogod/MBA '05, became one of the youngest judges in Maryland history. A man whose title now begins with "Honorable" draws on his upbringing and diverse legal career—state and federal clerkships, public and private practice—to honorably perform his job, weighing punishment, deterrence, and rehabilitation in sentencing offenders. "We can be hopeful that people are going to actually get better and be better," Williams says.
"I will give punishment when punishment is due, but those other two areas? That's where the hope lies."
1978: Born at Howard University Hospital in Washington, DC. His mother immigrated to the US from a small village in Guyana, and his father grew up on the West and South Sides of Chicago.
1984: Told family and friends he wanted to be a geologist after seeing Indiana Jones and the Temple of Doom.
1986: Started writing in a journal—as required by his mother—every Sunday after church. "As a parent now, I think it was just an opportunity for my parents to have some peace."
1995: Penned the winning essay in the McDonald's Black History Makers of Tomorrow contest for the DC metro area. His piece on his desire to practice civil rights law earned him a scholarship and stock in McDonald's and Coca-Cola.
1996: Broke his scapula, ending his senior wrestling season at La Plata High School. "It made me think, 'Look, I can't do sports long term.' It reinforced my focus on academics."
2000: Graduated from Texas Christian University with a degree in business administration and marketing.
Enrolled at WCL, where he was on the Administrative Law Review and served as a student attorney with the Glushko-Samuelson Intellectual Property Law Clinic.
2002: Worked for Judge Alan Goldberg at the Circuit Court of Cook County in Chicago as part of the American Bar Association's Judicial Intern Opportunity Program (JIOP). The initiative is aimed at racial and ethnic minorities, LGBT students, people with disabilities, and others who are underrepresented in law.
2003: Elected by his WCL classmates to deliver the student commencement address. Using a wooden Louisville Slugger as a prop, he said: "At the end of the day, we have to go to bat for folks that don't look like us and folks that don't think like us."
Began a prestigious clerkship with Maryland Court of Appeals Chief Judge Robert Bell—the Old Line State's first African American chief judge.
2004: Joined Venable LLP's white collar crime practice group.
2005: Graduated from the Kogod School of Business with an MBA.
Took a federal clerkship with Judge Gerald Lee, CAS/BA '73, WCL/JD '76, during which the court handled cases on MS-13, warrantless wiretaps, and Ahmed Omar Abu Ali's conspiracy to assassinate President George W. Bush.
2007–10: Served as a DC assistant attorney general, practicing civil defense litigation. Due to the variety of lawsuits—from employment discrimination to family law—"every day was like taking the bar all over again."
2010: Appointed as a Maryland Office of Administrative Hearings administrative law judge.
2011: Welcomed the first of three children with his wife, a fellow WCL alum. Silas was born with Rubenstein-Taybi syndrome. "One of the things that has made me a better listener is that my child is nonverbal. But for one occasion, I've never heard him speak. It's important to listen extra hard to those without voices and those who have mental disabilities and mental illnesses—they have important things to say."
2014: Applied for a vacant Montgomery County judgeship for the third—and final—time. "I think that, being a progressive county, [then Governor Martin O'Malley] was trying to send a message about the future, and it worked out for me. A lot of people stood up for me."
2017: Made his first "40 under 40" list when he became the first judge named to the Leadership Center for Excellence's list of emerging leaders in DC.
2018: Joined the board of the Pipeline to Practice Foundation, which works to diversify the judiciary by providing support to young attorneys.
2019: Named a "Leadership in Law Award" honoree by the Maryland Daily Record. "You have to follow the law in the judiciary, but that doesn't mean you have to throw people away. You have to be pragmatic, but I don't want to be so pragmatic that I'm not hopeful. People can do better if given the opportunity."