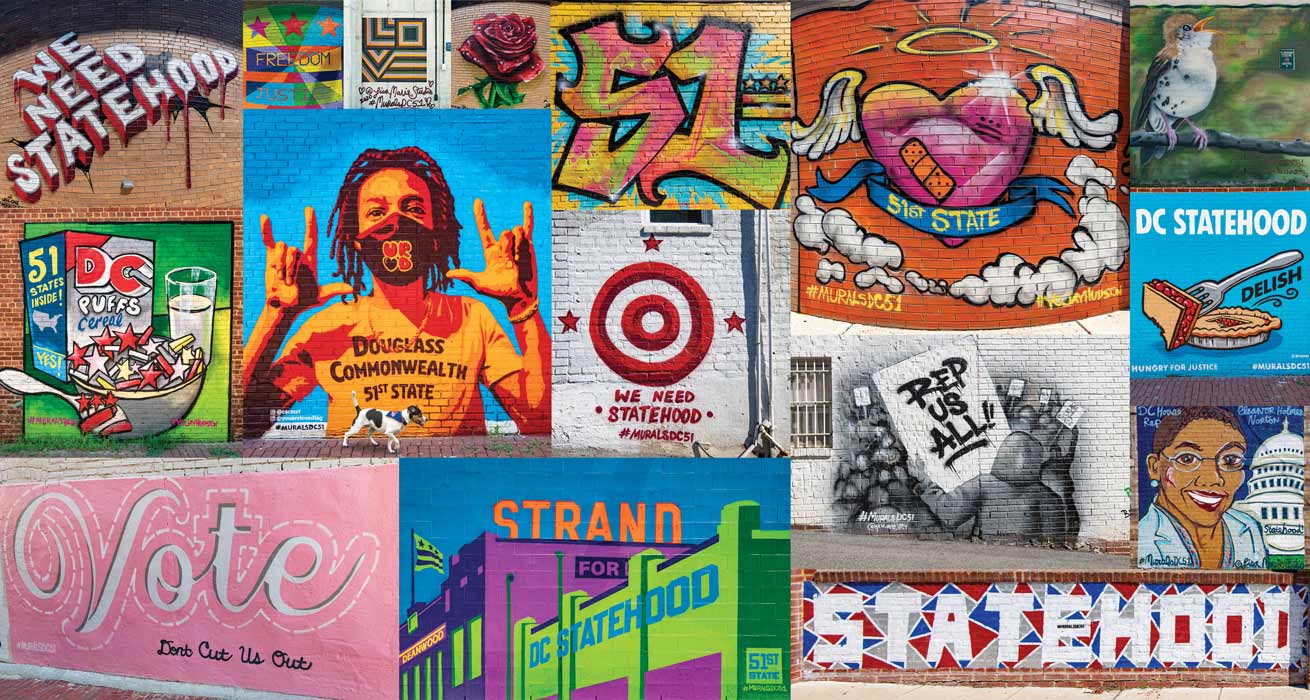 Sheila Escobedo Zazueta, SPA/BA '17, is not a native Washingtonian, but she feels a kinship with her adopted hometown of six years.
As associate director for statehood under DC mayor Muriel Bowser, SPA/MPP '00, she has advocated since February for the addition of a 51st star on the American flag and full congressional representation for the District's 702,000 residents.
Campaigning for the Douglass Commonwealth—named for the abolitionist who spent the last 17 years of his life in Washington—reminds Escobedo Zazueta of her childhood in the Mexican border city of Mexicali. She was in elementary school when her family relocated to Riverside, California. But it wasn't until her junior year of high school—10 years later—that she was granted US citizenship.
"I felt a sense of, 'I'm not invisible anymore.' I thought I was never American because I looked different from my peers, but this was finally something that made me whole," Escobedo Zazueta says. Then she came to DC, "and it's kind of like [I'm] a second-class citizen again."
A first-class victory for DC taxpayers came on June 26 when H.R. 51, the Washington, DC, Admission Act, passed the House, 232-180, clearing statehood through a chamber of Congress for the first time in the District's 230-year history—and 27 years after it first failed in the House. Delegate Eleanor Holmes Norton (D-DC) introduced both bills. She was unable to vote on either.
Add that to Washingtonians' long list of grievances. In the March CARES Act, Congress classified DC as a territory, shortchanging its COVID-19 relief funding by $750 million. And amid June protests, the Trump administration deployed the National Guard and reportedly toyed with the idea of assuming control of the Metropolitan Police Department. The District is also unable to participate in judicial confirmations, house felons in-state, institute a commuter tax, and exercise full financial autonomy. Washingtonians pay more federal income tax than residents of 22 states—but have no say in how those dollars are spent.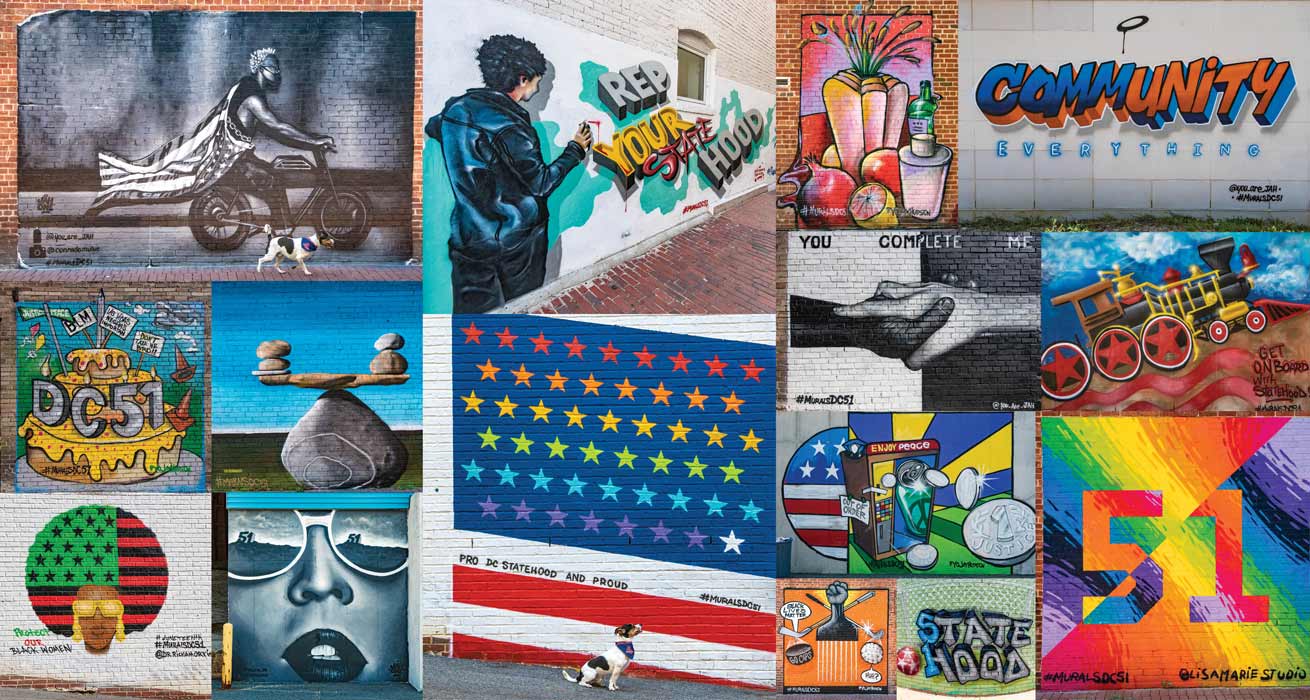 Democracy begets democracy, says Fernando Laguarda, director of the Washington College of Law's Program on Law and Government, and states are subject to more robust policy scrutiny. DC's governance structure of 13 city council members and a mayor, established by the Home Rule Act of 1973, boasts far fewer legislative eyeballs than even the smallest states in the Union. Wyoming and Vermont have smaller populations and manage annual budgets that are a fraction of DC's $16.8 billion, but they have bicameral legislatures that total 90 and 180 members, respectively.
"When you have functioning democracies, there are better outcomes in governance," says the longtime DC resident. "But it's difficult to convince people to take democracy seriously when we're not taken seriously as a democracy by our own democracy."
Washingtonians don't need convincing: 86 percent voted in favor of statehood in 2016. That's why Escobedo Zazueta's outreach is aimed primarily at residents and representatives outside the Beltway. A 2019 Gallup poll found that 64 percent of Americans oppose statehood, a reflection of the lack of knowledge about DC's democratic plight and a one-dimensional view of the District as center of (sometimes grimy) politics rather than a vibrant city rich in culture, where people live, learn, work, and play. Progress requires friendly neighbors. 
Representative Jamie Raskin (D-MD) has long advocated democracy for DC. The WCL professor emeritus was born in the District and has pushed for statehood for decades. Raskin's even more determined now that he's a member of Congress who can do something about it, though his constitutional arguments are largely the same: a mixture of law, history, and basic arithmetic.
There are only 13 originals among the 50 states—the other 37 have been admitted by acts of Congress, with some quirky circumstances like DC's. Texas rose to statehood from republic, not territory, and West Virginia was carved out of a seceded Virginia during the Civil War despite constitutional questions.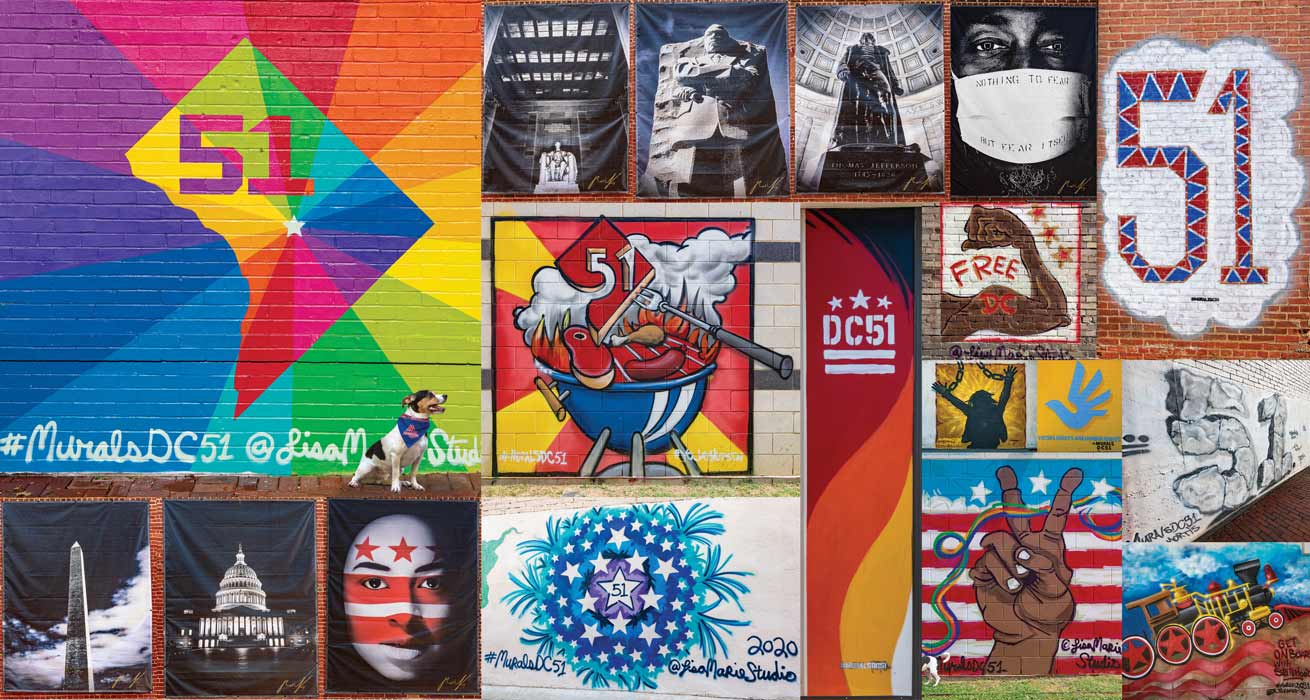 Opponents to DC statehood raise a few of their own. In a debate split along party lines, Republicans often zero in on the 23rd Amendment, which in 1961 granted Electoral College votes to the District. What if, some ask, by reducing the boundaries of DC to a small area of federal property surrounding the National Mall and ceding the remaining land to Douglass Commonwealth, three electoral votes belong solely to the residents of 1600 Pennsylvania Avenue?
"If that were true, [Republicans] would be supporting it," Raskin says with a laugh. He acknowledges that the path is clearer with a repealed 23rd Amendment, but the act of shrinking the District—which H.R. 51 proposes to create a new state—has precedent. In 1846, Congress retroceded Alexandria, then part of Washington, to Virginia. "If Congress can reduce the size of the federal district in the nineteenth century to protect slavery, surely they can do it in the twenty-first century to bring people up to level political equality," he says.
For some, like President Sylvia Burwell, democracy is at the heart of DC statehood. "For more than a century, AU has promoted the values of leadership and service—principles closely aligned with the tenets of democracy and equality that built our nation—and we believe that it is wrong that the people of Washington, DC, are not currently afforded the same voting rights and representation as other citizens of our nation," she said in June.
For others, it's about two blue Senate seats they'd like to either add or avoid. Regardless, this summer's vote marked a turning point: a 51st star that once seemed far off in the galaxy might not be light years away. "It's still going to be a real struggle," Raskin says, "but I think that having an entire political party now devoted to statehood means that it's a question of when and not if."
After H.R. 51 passed, Bowser quoted Frederick Douglass, the man for whom she hopes her home will soon be named: "Power concedes nothing without a demand."
"Statehood is our demand," said Bowser, who commissioned 51 murals around the city this summer to artfully advocate for autonomy. "I was born without representation, but I swear, I will not die without representation."