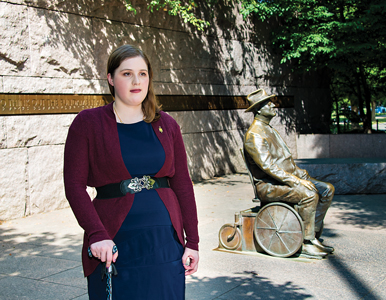 One in six eligible US voters has a physical, mental, emotional, or learning disability, according to the Rutgers School of Management and Labor Relations. They represent a robust minority that's woefully under-represented in the halls of government, from city council to the state house to Capitol Hill.
To help some of the 61 million American adults living with a disability get on the ballot, Sarah Blahovec, disability vote organizer at the National Council on Independent Living (NCIL), created a first-of-its-kind boot camp for first-time candidates for local office.
In June, NCIL, a nonprofit run by and for people with disabilities, launched Elevate—a series of five nonpartisan, accessibility-minded campaign training webinars on messaging, fundraising, and campaign operations. Blahovec, who has Crohn's disease and has written extensively about living with chronic illness, even promoted the project from her bed during a May hospital stay. Her determination—and Twitter shout-outs from Senator Elizabeth Warren (D-MA) and Stacey Abrams—boosted Elevate's rollout, prompting 86 individuals and 21 organizations to register for its inaugural seminar, Campaign 101: An Intro to Running for Office.
"We're a nonpartisan organization and we do this in a nonpartisan way, but we definitely want people with disabilities to be more represented in elected office," says Blahovec. She also partners with NCIL's 403 member centers for independent living and 56 statewide independent living councils to increase voter registration and turnout, advocate for election reform, and lobby election officials to ensure that the voting process—from sample ballots to polling places—is accessible.
Data remains "pretty abysmal," but Blahovec is doing her part to figure out who's representing the disability rights community. She identified nearly 100 people with disabilities who were elected or ran for local, state, and federal positions in 2018 and 2019.
She hopes the list—which appears on NCIL's website—continues to grow as more Americans recognize the capabilities and contributions of people living with disabilities, both visible and invisible. "There's a lot of work that we as a culture need to do to address ableism and our thoughts about people with disabilities."