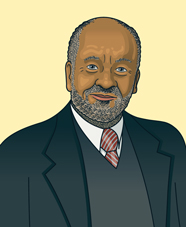 At 98 years old, Edmund Wyatt Gordon, SPA/MA '50, has enjoyed many roles: minister, educator, psychologist, writer, researcher, and coarchitect of the federal Head Start program, which has served more than 30 million children and their families since 1965. He has learned and taught on more than a dozen college campuses, and his tens of millions of published words span 18 books and more than 200 academic articles and essays. The thread running through Gordon's 75-year career? His commitment to ensuring that low-income students have access to a quality education. "I've lived a long time, and to this day I run into people who praise Head Start for the start that it gave them. I'm very proud of that."
1921: Born in Goldsboro, North Carolina. His mother was a teacher and his father was a country doctor.
1931: Joined the Boy Scouts, spurred by his love for hiking and the outdoors.
1934: Bought his first record, a Rachmaninoff piano concerto. "I'm not very good at music, but I'm a great connoisseur of it."
1937: Graduated from Dillard High School at age 16. "It was at that time the only high school [in Goldsboro] for people of color."
1939: Dismissed for a semester from Howard University due to poor academic performance. Returned and met two important figures in his intellectual development: philosophy professor Alain Locke, the first African American Rhodes Scholar, and chapel dean turned civil rights leader Howard Thurman. "I began to be impressed with the world of ideas—that there were people in the world who spent their time thinking about ideas."
1942: Graduated from Howard with a bachelor's in zoology but decided he was no longer interested in medicine.
1945: Received a bachelor of divinity in social ethics from Howard.
Met his wife, Susan, while working as a minister at a struggling church in Omaha, Nebraska. They married three years later.
1950: Earned a master's in social psychology from AU while serving as assistant dean of men at Howard.
1951: Became a father to another Edmund—"Ted"—the first of the couple's four children.
1952–1957: Cofounded, with Susan, and directed the Harriet Tubman Clinic for Children in New York City. "There were no mental health facilities For Children in Harlem at the time. We happened to start one."
1957: Earned his doctor of education in child development and guidance from the Teachers College at Columbia University.
1965–1967: Helped launch Head Start, an early education and wellness program for low-income children and part of President Lyndon B. Johnson's War on Poverty, as director of research and evaluation. "[In my career] I'm most proud and also most disappointed in Head Start. It is known for early childhood education, but my initial interest was really in family development. It was in the second year of Head Start that Congress stripped a lot of its community development money because the initial manifestations of it were becoming political."
1973–1979: Founded and oversaw the Institute for Urban and Minority Education at Columbia's Teachers College.
1979: Joined the psychology faculty at Yale University, where he received the first of his nine honorary degrees. "I have to admit, I'm something of an egotist. I have worked hard and as my wife often said, 'We tried.' I'm just delighted that some people have recognized it."
1991: Retired due to a federal law forcing tenured professors to step down at age 70—but not for good. It expired two years later, and he remained in academia full-time until 2002.
2011–2013: Headed the Educational Testing Service's Gordon Commission, a two-year study group on student achievement and assessment.
2019 : Named the recipient of AU's Neil Kerwin Alumni Achievement Award.
Coauthored his 18th book, Human Variance and Assessment for Learning. "After my wife died three years ago, sitting here doing nothing, it was clear to me that if I was going to remain sane, I had to use my time. The one thing I know how to do is to read and think and write, so I read and think and write and talk to people."