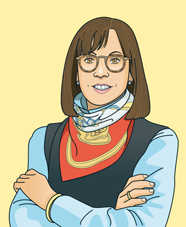 Susan Zirinsky, SOC/BA '74, longtime senior executive producer of 48 Hours, earned a big promotion in January, becoming the first female president of CBS News. But "Z," as the newshound is known to colleagues, didn't forget her roots. Zirinsky—who retained the title of senior executive producer—brings decades of newsroom experience and her trademark doggedness and drive to her new job at the helm of the 91-year-old division. After a 47-year career spanning nine US presidents and eight CBS Evening News anchors, "this was the time to step up to the plate," she says. "The organization needed a reset" and Z—who inspired Holly Hunter's hard-charging producer in the critically acclaimed Broadcast News—was the perfect fit for the role.
1952: Born in New York City. 
1962: After years of wanting to be a doctor, declared to family and friends that she was going to be a television producer. "I just felt this deep devotion to storytelling."
1970: Graduated from Lawrence High School in Cedarhurst, New York.
1972: During her junior year at AU, began working as a Saturday desk assistant at CBS News in DC two weeks after the Watergate break-in. "I'd go back to the dorms where everybody was puking and having a nice Saturday night, and I would be regaling stories of the stakeout that I was on or that I was in garages looking for people."
1974: Graduated with a degree in communications and psychology while working full-time at CBS.
Fished a copy of the script of Walter Cronkite's newscast announcing president Nixon's resignation out of the trash. "That's my most prized possession." 
1981: Landed an exclusive interview with President Carter at a cemetery near his home in Plains, Georgia, during his final days in office. He expressed disappointment over his failure to bring American hostages home from Iran. "He spoke from the heart; I felt privileged to share this moment in history."
1983: Jumped off a moving train to send footage of President Reagan's visit to Augusta, Georgia, in time for CBS Evening News.
1984: Married then CBS Evening News senior Washington producer Joe Peyronnin at San Francisco City Hall after the Democratic National Convention. "We got back to our room, called our parents, then called Dan Rather." 
Met with director James L. Brooks the same Friday, launching Broadcast News.
1987: Worked as a technical adviser and associate producer on Broadcast News. Inspired the fictional  producer Jane Craig, played by Holly Hunter, who cut her hair in Zirinsky's signature bob. "It was an amalgam of people, but it was pretty bizarre. And we looked alike."
1990: Moved back to New York to become the first female senior producer for CBS Evening News.
1992: Served as director of CBS News political coverage. Ran the newsroom during the Albertville, France, Winter Olympics, then rejoined the election beat after the New Hampshire primaries.
1993: Worked as senior broadcast producer for Eye to Eye with Connie Chung.
1996: Began a 23-year run as executive producer of 48 Hours. "It was a show in search of self and it was struggling. We tried different things, but what really resonated was crime," and a recognizable, mystery-per-episode format.
Traveled with Peyronnin to China to adopt their daughter, Zoe.
2001: Served as an executive producer of 9/11, a documentary about the September 11 terrorist attacks told from the perspective of New York City firefighters. More than 39 million people have watched the film, which won Emmy and Peabody awards.
2006: Worked on Beslan: Three Days in September as executive producer. The Showtime documentary, which recounts the September 2004 attack in which Chechen rebels took 1,200 hostages in a school in the small Russian city of Beslan, killing 330, debuted at the Tribeca Film Festival.
2012: Produced breaking news specials on the Aurora, Colorado, movie theater and Sandy Hook Elementary School mass shootings.
2015: Served as executive producer of a news special on the Paris terrorist attacks.
2019: Named president of CBS News. "In the next two years, it's our job to reveal America to itself. It's a calling, a public service, and I feel humbled. Once you've worked at CBS, it's the only thing that occupies your DNA."
Received the Cyrus A. Ansary Medal, which honors a member of the AU community who has displayed extraordinary commitment and leadership, at the 2019 President's Circle Celebration. "American University gave me a solid journalistic foundation which has served me well throughout my career. Even before graduation, the school helped launch me into the heart of the news industry at a critical moment of history in our country. I am forever grateful."