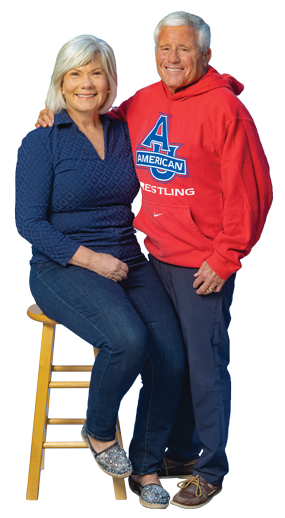 When American University students thrive—in their academic pursuits; their emotional, mental, and physical health; and their sense of belonging—they excel as changemakers in our ever-changing world. As today's college students continue to navigate societal upheaval and access physical and mental health services in record numbers, support for student thriving has never been more critical.
Research indicates that a holistic approach to well-being not only meets students' evolving needs but also better prepares them to manage challenges and build happy, healthy lives. That is why AU is making a historic $89 million investment to create a Student Thriving Complex in the heart of campus. The initiative encompasses renovations to Mary Graydon Center (MGC), a new Student Well-Being Commons, and the forthcoming Alan and Amy Meltzer Center for Athletic Performance. A combination of institutional resources and philanthropic gifts will fund the initiative. 
The project—a signature priority of the Change Can't Wait campaign—advances AU's Changemakers for a Changing World strategic plan by fostering resilience among students and preparing them to tackle society's most pressing challenges.
Providing students with designated spaces to gather and engage is key to building a community with a strong identity that can bridge differences. With students spending an average of one-quarter of their time in MGC, it is the central location for student activities—and is critical to student thriving. The planned renovation will create spaces in MGC for Eagles to pursue their passions and build community through multifunctional areas for engagement, support, and events—including both designated spaces to enhance the experience of AU's more than 150 student organizations and undesignated gathering spaces that foster a sense of belonging for all students.
The Student Well-Being Commons will centralize and expand critical support services that advance overall well-being. Colocating key services such as the Center for Well-Being Programs and Psychological Services, the Student Health Center, and Jacobs Fitness Center will empower students to build the skills and community they need to excel in all areas of their lives.
An important part of the Student Thriving Complex will be the Alan and Amy Meltzer Center for Athletic Performance, the first new athletics and recreational construction on campus in more than 30 years. AU trustee Alan Meltzer, CAS/BA '21, and his wife, Amy, made a transformative $15 million commitment to name the center. Board chair emeritus and current member Jack Cassell, SOC/BA '77, his wife, Denise, and the Bender Family Foundation have also contributed foundational lead gifts to the Meltzer Center, bringing the total raised for the project so far to $22 million.
The Meltzer Center will build on the university's commitment to empowering student-athletes to succeed on the field and in the classroom. It will attract world-class athletes through state-of-the-art competition space and practice and training facilities for AU's teams. By creating new spaces, the facility will also expand recreation and fitness opportunities and resources for all students' physical well-being. By design, the Meltzer Center will bring together students with common interests, boost Eagle pride, and forge connections that create a sense of belonging—all essential to student thriving.
The creation of the Student Thriving Complex marks a new era in AU's commitment to its students and will shape a campus where all students can build community and resilience. Individuals interested in supporting this historic effort should contact the vice president of development and alumni relations at vpdar@american.edu.
More than 50 Years of Eagle Pride
Alan Meltzer, CAS/BA '21, discusses his philanthropy and lifelong love for AU
 
Q: Why is AU a home for your philanthropy?
A: In 1969 I was a half-decent high school wrestler in Needham, Massachusetts, and had no money. AU's wrestling coach offered me a scholarship that covered my tuition. I probably was not exactly the student they were looking for—but I wrestled and worked through college to pay for my room and board. If it weren't for the scholarship I received to attend American, I never would have met my wife, Amy, and had our four children and six grandchildren. AU is the best school in Washington, DC—and it's just hitting its stride.
 
Q: What inspired you and Amy to make a gift to name the Center for Athletic Performance? 
A: I've seen how excited the school gets when we have winning athletic programs. I have stayed involved with AU's program for more than 45 years. For AU to remain competitive in the Patriot League, we need a new facility. I want the center to be a place where students go and where athletes will want to compete. The new complex, which will connect athletics, wellness, and a renovated Mary Graydon Center, will change things on campus. My hope is that the center is a place the AU community enjoys.
 
Q: You recently returned to AU to complete your degree amid a successful career in the insurance industry. What was that experience like?
A: I was five or six classes short of graduating back in 1974, and I always wanted to complete my degree. It was great to return to campus, even though I was a little older than the average student. I am very interested in diversity, equity, and inclusion and took challenging courses that addressed systematic racism and the history of Jews in Europe after the Holocaust. I am extraordinarily impressed with AU's students: they work hard and are nice people. In fact, I had a student tutor, Jai James, CAS/BS '21, who helped me with my algebra class, and I wouldn't have passed if it weren't for her. I liked Jai so much that I hired her to work for my company after graduation.
 
Q: Can you tell us about your board service and leadership of the new diversity, equity, and inclusion committee?
A: I believe that the more you put in, the more you get out. So, the more involved I am on the board, the more I feel I am making a difference. I've been on the board for 15 years and have been lucky to have worked with two fabulous presidents: Neil Kerwin and Sylvia Burwell. It means a lot to me that AU is a welcoming place for all. AU's administration and the board believe in free speech, but we also want students to feel safe here—both physically and mentally.
 
Q: You are also passionate about the Center for Israel Studies. Why is the center important to you? 
A: I am culturally Jewish, and I am very proud of Israel. For many people in the world, Israel is a lightning rod. There is a lack of knowledge that makes Israel a misunderstood country. The Center for Israel Studies educates students without bias. There is open discourse and opportunities for new ideas, and it is led by exceptional professors, including director and Abensohn Chair in Israel Studies Michael Brenner and managing director Laura Cutler.
 
Q: Is there a message you and Amy wish to impart about AU?
A: AU is not just a university; it is made up of people—fabulous people. That is what makes me love the university. I hope when I die, I have a good name. No one is perfect, but you must strive to be your best. Be a changemaker.
Your Impact
Alumni know firsthand what an AU education encompasses: connecting with an inspirational faculty member, gathering with friends on the quad, attending club meetings in Mary Graydon Center, cheering alongside Clawed at athletic events, and seeking out help during challenging times. Now, through Change Can't Wait, the alumni community can ensure that all Eagles thrive by making a gift of any size to the Campus Life Fund.