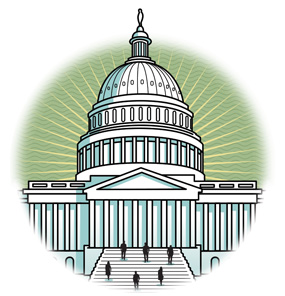 Ibram X. Kendi believes in a world without racism. As director of AU's Antiracist Research and Policy Center, the National Book Award-winning author espouses a new theory of change: Eradicate racist ideas by eliminating racist policies. With philanthropic support, the center aims to develop specialized teams that bring together a leading scholar, policymaker, journalist, and advocate to focus on a specific policy area. Together, the teams will investigate racial discrimination, examine inequitable policies, and craft transformative solutions. By shedding light on racist policies and executing powerful campaigns of change, the center strives for equal opportunity for all. "We cannot sit on the sidelines as inequality passes on to another generation," Kendi says. "We must believe change is possible."
a positive mark
When President Sylvia Burwell embarked on a listening tour during her first year in office, she noticed defining traits among Eagles: commitment, passion, and a drive to push beyond the status quo. "We must continuously take up our charge to make a positive impact on the world, combining our scholarship with a commitment to service, to produce changemakers as well as changemaking scholarship," Burwell said during her inaugural address in April. AU alumni, faculty, and students are hard at work to answer this call to action.
Mark Bergel, CAS/MS '87, CAS/PhD '96, founder and executive director of A Wider Circle, is committed to helping people rise out of poverty. While teaching at AU in 2001, Bergel and his students volunteered to deliver food to families in need. That experience inspired him to create A Wider Circle, which provides furniture and small home goods for families transitioning out of shelters and into homes of their own. In just 17 years, the organization—which also offers job training programs—has served more than 200,000 children and adults in the DC area. "AU taught me to change the reality of the most vulnerable among us," Bergel says. 
In classrooms, laboratories, and centers across campus, faculty are undertaking transformative work that extends far beyond our walls. MacArthur "genius" and journalist Charles Lewis founded the Investigative Reporting Workshop in AU's School of Communication as a new reporting model that independently produces long-form investigative pieces about government and corporate accountability, from gun violence to the plight of Puerto Ricans after Hurricane Maria. Meanwhile, in the College of Arts and Sciences, physics professor Gregory Harry is exploring the far reaches of space. A member of a Nobel Prize-winning scientific collaboration, Harry works to detect gravitational waves from supernovas, neutron stars, pulsars, and possibly even the Big Bang. 
Students are forging new paths, too. Ammarah Rehman, SIS/BA '19, created the Muslim Project, an online campaign that uses video and social media to chronicle the Muslim American experience. Rehman, president of AU's Muslim Student Association, noted there were few campus advocates for Muslim students, despite AU's leadership in international service. Working with others she brought halal offerings to the AU dining halls and helped carve out a gathering space for Muslim students in the Kay Spiritual Life Center. For her work, Rehman earned a prestigious Newman Civic Fellowship. "Being in a community where people are constantly bringing about change has inspired me to do the same," she says.
Even before he stepped foot on campus, Tamir Harper was a seasoned advocate. As a high schooler in Philadelphia, Harper cofounded UrbEd, a student-led nonprofit that champions teacher diversity, improved facilities, and changes to suspension and arrest policies. Now a freshman and a Frederick Douglass Distinguished Scholar, Harper, CAS-SOC/BA '22, is honing the skills necessary to create sustainable change in education through mentorships and campus experiences. "AU is the place for changemakers who want to be on the front lines and go out and do the work," he says. 
With philanthropic support, American University's changemakers will extend the reach and impact of their work.
For information on how to support AU contact Courtney Surls, vice president of Development and Alumni Relations, at 202-885-5900 or vpdar@american.edu.
Creating a Legacy
The Thomas B. Williams Memorial Scholarship invests in the next generation of leaders in AU's School of Public Affairs (SPA). Elizabeth Moler, SIS/BA '71, endowed the scholarship this year to honor the work of her late husband, a longtime public servant and an award-winning adjunct professor in SPA's Department of Government. The $500,000 endowed scholarship fund supports the AU students who will one day shape our policies. 
Williams embarked on a second career in SPA after retiring from the federal government in 1999 after more than 25 years of service. He taught classes on the presidency, interest groups, and energy and environmental policy, and received AU's award for Outstanding Teaching in an Adjunct Appointment in 2004 and 2010. Williams enjoyed teaching because it allowed him to share his deep knowledge of the legislative branch and engage with students who came to DC to study and work in government—just as he had. 
Williams moved to Washington in the 1970s to intern on Capitol Hill—and he never left. He was an expert on public lands, serving on the staff of what was then the US Senate Subcommittee on Public Lands and National Parks and as the Democratic staff director of the US Senate Committee on Energy and Natural Resources. Williams shaped legislation designating national parks, wilderness areas, and scenic rivers. His subcommittee frequently had more bills enacted into law each session than any other Congressional committee.
"He touched a lot of lives," says friend and colleague James Thurber, distinguished professor of government. "He spent time mentoring students to help those in early careers understand Capitol Hill. Tom was a great person, a good public servant, and a fabulous teacher."
"Tom enjoyed sharing what he learned on the Hill," Moler says. "He wanted to show that public service is an honorable profession although it's not always perceived that way in the media. He showed his students that there is an opportunity to be public servants in the classic sense, but also to develop and contribute expertise in their chosen subject area—whether it's teaching Russian or securing public lands."
The Thomas B. Williams Memorial Scholarship will be awarded annually to an SPA student to help advance their education and career goals. "I have a long-standing relationship with American University and it's been an important part of my life and Tom's life for many years," Moler says. "It is a way of honoring Tom and giving back to the AU community."