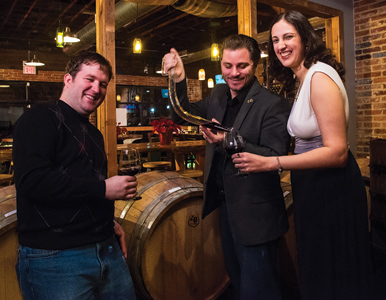 Like creating a great wine, there's an art to building a great team—both require precise ingredients, favorable conditions, and a touch of serendipity. Damon Callis and his wife Georgia, owners of the Urban Winery in downtown Silver Spring, are creating both. 
Georgia's father Bole, a Greek immigrant carpenter and amateur winemaker, began teaching her the vintner's craft when she was a little girl. In fact, when she first brought Damon home to meet her father, Bole put him to work making wine. By 2012, the Callises were starting their own family and ready to pursue their dream: opening an urban winery and wine bar. 
They made business plans, jumped through bureaucratic hoops, and prepared the winery's Georgia Avenue home. A former kickboxing studio, it is now a welcoming space with tables and stools made from repurposed wine barrels and wine-bottle light fixtures—all of which Damon made by hand. Through a large glass window, visitors can see where they crush, press, and ferment grapes in barrels of French and Hungarian Oak. "We're bringing the wonder and the science of winemaking so people can enjoy it and learn about it," Damon says. 
A week after the June 2015 opening, the Houses—who share the Callises' AU ties and love of wine—stopped by to ask if the winery would donate a few bottles for the Silver Spring Library's grand opening. "And now they can't get rid of us," laughs Lysette. Today, she is the winery's office and event manager, and husband Joe does everything from IT to rolling silverware to crushing grapes. "It's great to be working in a place where I get to spend my time with friends and family," Joe says. 
The winery, not quite one year old, remains a labor of love—one that is aging nicely, like a fine wine.