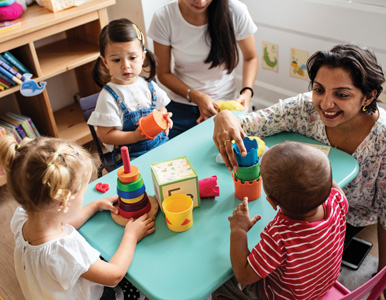 Children are like sponges—by age six, they've achieved 90 percent of their adult brain volume, according to the Centers for Disease Control and Prevention.
A new, three-year, $5 million grant from JPMorgan Chase will advance the work of AU's School of Education and its partners to ensure the littlest learners soak up enough stimuli from qualified teachers to meet all their emotional, developmental, and educational milestones. 
The award will support Advancing Early Education Collaborative (AEEC), a partnership between SOE, Trinity Washington University, and Martha's Table that not only helps childcare workers obtain the Child Development Associate (CDA) credential mandated by the city, but also offers flexible, affordable options for them to continue their education. Launched in 2021, AEEC features stackable credentials, allowing students to transfer credits from the CDA into an associate's program at Trinity or a bachelor's program at either university. 
"As an anchor institution in the community, SOE has a vision of being a direct resource for DC residents who aspire to become educators," says Dean Cheryl Holcomb-McCoy. "With flexibility and student supports built into the program, SOE is committed to preparing them to be highly effective educators."
 
Thirty-three students are currently working toward their CDA at SOE, which incorporates antiracist and socially just pedagogies into the online curriculum. Holcomb-McCoy predicts that over the next three years, AU and Trinity Washington will help 300 early childhood educators—mostly women of color—earn the credential. 
"This is a significant and bold move for two private higher education institutions" with shared vision and values, she says. "Our presidents are committed to making the credentials and degrees affordable for early childhood educators, who typically have lower salaries than other careers that require undergraduate degrees. Our intention is that our graduates will have the financial support, including wraparound services like transportation and childcare vouchers, to thrive without loans."
In 2016, DC became one of the first cities in the country to mandate higher education for childcare workers. The goal of the CDA: to help elevate a profession that's integral to children's development. 
"AU is proud to be part of this new and innovative initiative," President Sylvia Burwell says of AEEC. "We teamed up with great partners on a collaborative solution to prepare our next generation of early learning educators, and this, in turn, will support working parents throughout the region."