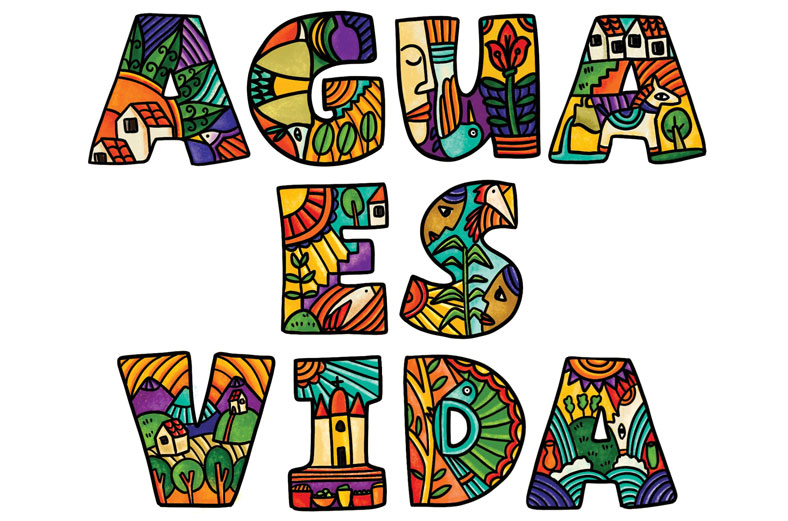 The Lempa River—the third longest in Central America—springs from the southeastern edge of Guatemala, slicing through the western-most tip of Honduras before snaking through a huge swath of El Salvador, finally ending its 262-mile journey at the mouth of the Pacific. The lifeblood and lifeline of El Salvador, the river provides water for more than half of the country's 6.4 million people, from the politicians in the capital city of San Salvador to the farmers in San Isidro, who depend on it for their crops, their cattle, and their very survival. 
To them, water is more precious than gold.
Which is just what Vancouver-based Pac Rim found in 2002 in the dormant El Dorado mine off the banks of the river in northern El Salvador, part of the country's key watershed. At first, villagers thought the discovery would be a gold mine for the economy, bringing much-needed jobs to the region—the poorest in a nation ranked 118th in the world for GDP per capita—and filling the local and federal government's coffers. 
But when they learned that the company planned to use toxic cyanide to extract gold from the rock, releasing arsenic and sulfuric acid, a small group of grassroots activists  said "no" to poison and profits and "yes" to protecting their land and water from exploitation. That sparked a 13-year showdown that grew more contentious and even violent as the price of gold—driven by demand for cell phones and computers—skyrocketed. Eventually the local and national fight became a global one, stretching from the hills of northern El Salvador to the halls of power in Washington, DC—where, like the mighty Lempa, it wound its way to School of International Service professor Robin Broad.  
"It's something I always stress to my students: Be open to the unexpected," she says. "I was taken by the correctness, the justness, the moral core of [the water defenders], but I never expected to work on this for 10 years—or for the rest of my life. It completely changed my sense of the possible."
Broad and her husband, John Cavanagh, director of the Institute of Policy Studies in DC, first met some of the ordinary Salvadorans taking the extraordinary fight to Pac Rim when the progressive think tank presented the activists with a human rights award at the National Press Club in October 2009. 
Among the members of the National Roundtable on Mining in El Salvador, or La Mesa, was Miguel Rivera, who accepted the honor on behalf of his older brother, Marcelo, whose disfigured body was found in an abandoned well near El Dorado just months earlier. The charismatic 37-year-old teacher was the first of the water defenders to be murdered for his outspokenness—but not the last.
Broad and Cavanagh, who met as Princeton grad students in the late '70s, their love blossoming over debates about workers' rights and protests against apartheid, were inspired by the Salvadorans' mission to not only stop Pac Rim, but the deleterious practice of metals mining, altogether. And they were surprised to discover that another part of the story was playing out just four blocks away at the World Bank. 
Six months earlier, in April 2009, Pac Rim had filed a lawsuit against the government of El Salvador, demanding it either be permitted to mine or paid $300 million in "foregone profits" (even though it had yet to obtain a mining permit). The case was being heard by the International Centre for Settlement of Investment Disputes, an arbitration panel so secretive that even Broad—who had written her dissertation on the World Bank—knew next to nothing about it. And what she did know wasn't encouraging: "Justice was scarce, and it tilted toward the powerful."
Still, the grief-stricken Rivera implored the couple to look into it. We don't know how this tribunal works, he said. We don't know what to expect. Can you help?
"I foresaw a day of research, maybe two," Broad says with a knowing laugh.
That favor turned into a labor of love that culminated in March with the release of The Water Defenders: How Ordinary People Saved a Country from Corporate Greed. Authored by Broad and Cavanagh, the book—the couple's third—is a David and Goliath story about how El Salvador chose water over gold, fending off Pac Rim in 2017 and becoming the first country on earth to ban metals mining. 
The book is also about how corporations, whether Pac Rim in El Salvador, fracking companies in rural Pennsylvania, or petrochemical firms outside New Orleans, frequently prey on poor communities, often underestimating their agency and passion.
"The myth is that only wealthy people in rich countries can afford to care about the environment," Broad says. "But around the world, it is often poor people who care the most. They are more dependent on natural resources, and they are the ones more likely to take organized actions on the ground to protect them."  
After they got involved with the water defenders, Broad and Cavanagh traveled to El Salvador eight times, immersing themselves in the community and culture and interviewing activists, religious leaders, national legislators, and even the president and vice president. In 2011, they helped form International Allies Against Mining in El Salvador to coordinate research, letters, petitions, and protests, and organize a speaking tour for some of the water defenders. Six years later, Broad became the first SIS professor to win the prestigious John Simon Guggenheim Memorial Foundation Fellowship, which advanced her work on the ground. 
"At that point," she says, "it was really starting to gel for John and myself that this was a story that needed to be told, if only so Marcelo and the others who were killed would live on."
But when they started putting words on the page, it became clear that the story wasn't going to unfold in a traditionally academic fashion. Furthermore, the couple was intimately and inextricably part of the plot. "We couldn't remove ourselves from it," Broad says.
So, they embarked on a path as uncertain as the one their protagonists had taken. "We carried around drafts of the first five pages of the book for a year, writing and rewriting," Broad says. The result is a meaty but digestible work of narrative nonfiction that is as much the water defenders' story as it is Broad and Cavanagh's. "They didn't just trust us; they helped us write it," she says. "They became our guides to make sure we knew all the pieces. They knew what we knew, and they knew what we didn't know." 
That Broad was able to use her privilege and her voice to amplify the Salvadorans' is a lesson she's brought back from the Lempa River to her academic home off the Potomac.
"I love the buzz of teaching in Washington, DC, but I also get so much fulfillment from being on the ground in remote, rural areas, sipping black coffee, swatting bugs, and talking with ordinary people doing extraordinary things," she says. "They give me hope. My students give me hope."
To meld the two, Broad says, is as good as gold.
Excerpt from The Water Defenders: How Ordinary People Saved a Country from Corporate Greed by Robin Broad and John Cavanagh
But who killed Marcelo? The water defenders had an answer right away. To them, all signs pointed to some combination of Pac Rim and the mayor's office.
Pac Rim's response was to offer condolences but simultaneously deny any connection and express outrage at the suggestion of any company involvement. "We've been cast as demons, responsible for violence, when in reality we are the victims of the violence," [president] Shrake would testify in 2010.
This question of who killed Marcelo started to haunt us in 2009. And it haunted us even more so once the prosecutor's office and local police reported the crime solved. Allegedly, Marcelo's murder resulted from gang activity or drunken arguments or both: "a case of common delinquency" because he "chatted with a group of gang members who then killed him after a heated discussion." Yet Marcelo, like Miguel, did not drink, an aftereffect of growing up with an alcoholic father. Nor was there any indication that he had hung out with gang members. And what about the January attempt on his life? Or the hasty burial in a common grave, without the required orders from the national government? Why the evidence of torture?
Still, within days of finding Marcelo's body, the national police captured several gang members and named another person already in prison, saying they were suspects in the crime. It was reported that cellmates of these men said the arrestees spoke of having been hired to kill Marcelo in exchange for weapons and large sums of money. These may or may not have been the direct killers, the ones who pulled the trigger. It is always easy to point fingers at gang members looking for money. More difficult and more important is to find the "intellectual authors"—the ones who ordered the killing. Such orders can be done directly or indirectly, as in the mayor or someone with economic or political power suggesting "if only we did not have to deal with Marcelo Rivera."
This much we knew: Most towns that sit above gold deposits are economically poor. Their mayors struggle to raise funds for modest budgets. As is typical in many countries, the local government was slated to get 1 percent of Pac Rim's revenues once its El Dorado mine was up and running, with another 1 percent going to the federal government. For a local mayor, that 1 percent would be a bonanza. While Pac Rim waited for a yes from the government, it poured money into local projects, mostly pet projects of Mayor Bautista. Pac Rim also contributed money to local schools for activities including a curriculum touting the benefits of mining. Invariably this kind of money brings significant conflict, if only because such largesse offers local actors who stand to benefit enormous incentive to do damage to those who oppose mining.
A 2010 report on mining in El Salvador by the globally respected International Union for the Conservation of Nature put it this way: Pac Rim "played a significant role in destabilizing the region . . . . Mine opponents consider the mayors to function more as activists for the mine." Exactly how this worked would become even clearer over the next decade as our search for answers continued.
Copyright 2021. Reprinted with permission from Beacon Press.