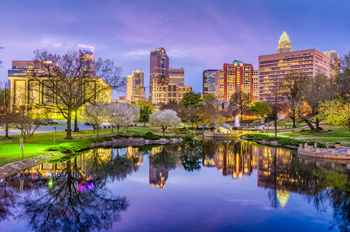 No wonder it's called Buzz City.
A hub for millennials, Charlotte is the third fastest growing major city in the United States, just behind Seattle and Fort Worth. The Southern charmer is the largest city in North Carolina and the 17th biggest in the country, with about 860,000 residents. 
It's not the first time people have swarmed the city. When a 17-pound nugget was unearthed just northeast of Charlotte in 1799, it became the site of the country's first-ever gold rush. Today, Charlotte is an epicenter of banking; Bank of America is headquartered there as are Wells Fargo's East Coast operations. 
Charlotte is a patchwork of 199 neighborhoods, rich in history and diversity. The self-proclaimed Pimento Cheese Capital of the World (Ruth's Salads serves up 45 pounds of the Southern staple every week), Charlotte also gave the world wild cherry-flavored Cheerwine soda and Bojangles' famous fried chicken 'n biscuits. 
The birthplace of evangelist Billy Graham and grocery chain Harris Teeter, Queen City is also home to more than 700 churches and about 40 colleges and universities. 
Get to know a few of AU's 539 Charlotteans here.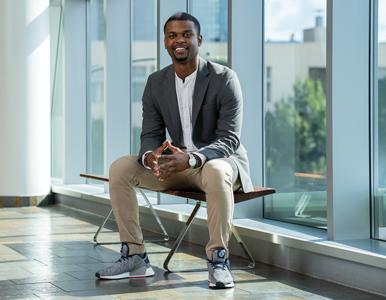 Herman Marigny IV, Kogod/BS '15, Visitor engagement and insight manager, Harvey B. Gantt Center for African-American Arts and Culture
Herman Marigny has an analytical mind—and a heart for art.
The finance major, who fostered a passion for art at AU, headed to Charlotte after graduation, where he worked for a year as an analyst at Wells Fargo's East Coast headquarters. Marigny made a comfortable salary, but he couldn't shake the feeling that something was missing.
One Wells Fargo Center—a gleaming, 42-story skyscraper that was the tallest building in North Carolina when it was erected in 1988—is just a block away from the Harvey B. Gantt Center for African-American Arts and Culture. Marigny purchased a membership and began to frequent the center, which was named for Charlotte's first African American mayor and Clemson University's first black student. 
"When I was at AU, I was grinding it out in Kogod," Marigny says. But after studying under performing arts professor Sybil Williams, a mentor to this day, the Katzen Arts Center became his escape. When he arrived in Charlotte, he found himself drawn to the Gantt. "I'm data driven and not very creative, but I wondered—was there some way to transition my skill set to the museum?"
In 2016 Marigny made the leap, leaving Wells Fargo for a job in guest services at the Gantt Center. The timing proved serendipitous. 
Nestled in the area formerly known as Brooklyn, the once thriving center of Charlotte's black community that was razed in the 1960s, the Gantt was already gearing up for its 10th anniversary in 2019. "There were lots of conversations about how to sustain ourselves for another 10 years," Marigny says. "People were asking, What lessons can we glean from [almost] a decade's worth of data?"
Today it's Marigny's job, as the museum's first visitor engagement and insight manager, to share those lessons. He analyzes survey data to determine what kind of programming interests visitors. "People love music and food," he says, "but they also want to explore issues like gentrification." He also tracks Google analytics and Groupon scores and monitors the ways in which guests engage with the museum on social media. 
The 46,500-square-foot center—which features permanent and traveling exhibits, performances, and educational programming—uses data to develop new offerings and continue the dialogue about black history and culture long after visitors leave. 
"The numbers tell a story," Marigny says. "I never could've imagined a role like this existed—but it's a perfect fit."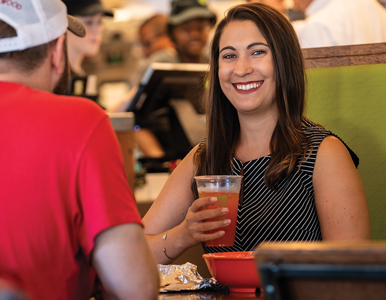 Kristen Wile, SOC-SPA/BA '10, Editor and founder, Unpretentious Palate
The food critic has been a media staple since the nineteenth century. The New York Times ran its first restaurant review in 1859, and in the decades that followed, dining writers have graced the pages of newspapers and magazines, launched television and radio shows, and flooded the Internet and social media. 
But Kristen Wile believes that as the medium evolved, something important has been lost in the message: integrity. With the launch of UnpretentiousPalate.com this summer, she offers readers a truly trustworthy take on the booming Charlotte culinary scene. 
"At heart, I'm a journalism nerd," says the former editor of Charlotte magazine. "I hope to prove that you can do good, ethical work and make a good living, too."
And she wants to do so in her adopted hometown. After working for NASCAR for two years, Wile landed at Charlotte magazine in 2014, where she struggled to find the resources to cover the rapidly expanding New Southern dining scene. With limited budgets, she sometimes paid for reviews out of her own pocket. And while her magazine couldn't offer the breadth of coverage the city's scene demanded, too many local food bloggers—who often cuddle up to the top chefs or enjoy too many free meals—fell short, in Wile's mind, in terms of honesty. 
She saw a problem—and an opportunity. So in September, she launched Unpretentious Palate with an unabashed tagline: Celebrate the good. Be honest about everything else. Wile, who eats out about four times a week, aims to create the most trusted brand in Charlotte dining, offering reviews, news, and more.
"It's a city that's got a chip on its shoulder, a scene that in some ways hasn't been recognized yet, [but] that's grown so much in just the past two years," she says. 
Wile loves Charlotte and many of its eateries (Dogwood Southern Table and Bar, The Asbury, and Bardo are among her favorites). But when it comes to her work, integrity will always trump friendship—and civic pride. Dissing a new restaurant isn't easy, especially when it's run by a chef you may know and like. 
But diners deserve honesty, and Wile intends to serve up precisely that.