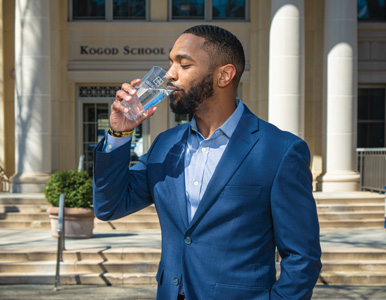 Hydronomy produced a torrent of momentum in 2021.
The startup's founders began talks to establish pilot projects with municipalities in New York State, won grant money from the Story Exchange, gained access to lab space and support from Newlab in Brooklyn Navy Yard, and filed a patent application for its signature product, which uses solar power to capture moisture in the air and transform it into clean drinking water.
A beautiful business idea from Korey Salter and cofounders Brittany Kendrick and Xavier Henderson grew from ugly beginnings. In 2018, Hydronomy's atmospheric water generator prototype took shape in the backyard of Kendrick's uncle. Composed entirely of store-bought parts, version 0.0 devoured space—a water tank sat 10 feet from solar panels—but pumped water. Updates made it more compact and improved water filtration, and a commercialized model built with custom parts should be ready soon.
Salter, not an engineer like his cofounders but a good-with-his-hands business professional, says that while the product has evolved, Hydronony's why—the human cost of water pollution crises in cities like Jackson, Mississippi, and Flint, Michigan—hasn't wavered.
"A lot of communities around the country are in violation of the EPA [enforced] Safe Drinking Water Act," Salter says. "I got into this because I want to affect people's lives and provide water—life's most essential need."
The Jacksonville native, whose company was accepted to the AU Center for Innovation incubator in 2021, sharpened his desire to affect change while working on campaigns for Representative Val Demings (D-FL) and Florida gubernatorial candidate Andrew Gillum. In those roles, Salter often worked with Black voters who "had lost faith in the political process, so I took it upon myself to make sure that my community was informed and able to use its voice."
Today, his campaign platform is to both sell clean water and educate communities on what they're drinking. Even more than his first customer, Salter is excited about whom that buyer will serve—for he believes there is tremendous might in an H2O molecule.