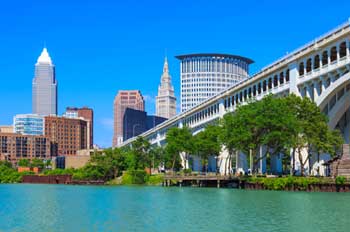 Once known as the "All-American City," Cleveland was a bustling transportation hub and one of the most prosperous American metropolises at the dawn of the twentieth century. Things took a downward turn in the 1960s, however, when the city was rocked by racial strife, economic hardship, and suburban flight.
Cleveland was down—but not out. Today Ohio's second-largest city is on the upswing and touting a new moniker: the "Comeback City."
Local leaders are investing in infrastructure, schools, the arts, and a revitalized downtown that boasts the Rock and Roll Hall of Fame, the Great Lakes Science Center, and a collection of sports venues. Medical institutions like the renowned Cleveland Clinic and University Hospitals, a foremost cancer treatment center, have made the city a magnet for health care professionals, scientists, and researchers.
And they aren't the only ones hot for Cleveland. According to a 2016 study, the city ranks among the top 10 in the country for population growth among college-educated millennials.
Home of "King" James and the 2016 NBA champion Cavaliers, the 2016 Republican National Convention, and the best kielbasa and pierogies this side of Warsaw, Cleveland is also the birthplace of Superman, who celebrates his 85th birthday this year.
Meet a few of AU's 579 Clevelanders here.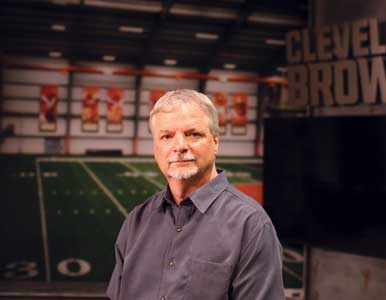 Pat McManamon, SOC/MA '84, ESPN NFL Nation reporter
Growing up in Ohio, Pat McManamon was a rabid Cleveland Browns fan. The key word being was.
"You lose that [loyalty] when you cover the team, because you have to be objective," says McManamon, who has been on the beat since 1998. He joined ESPN in 2013. "We are very focused and dedicated to news and accuracy. That's a good thing, especially in this day and age. We're a national outlet, so we're more interested in the big picture; we may focus on the quarterback as opposed to the backup left guard."
The editor of his high school newspaper, McManamon originally got into sports writing more for the writing than the sports. While a graduate student at AU, he landed a part-time job on the Washington Post's sports desk, and he's covered the NFL for a variety of outlets since 1993.
"To me it's not about sports; it's about journalism-and journalism matters," he says.
There's never a dull moment reporting on the league's most dysfunctional franchise, whose habitual benching of quarterbacks and sacking of coaches has made it a national laughingstock more than once.
"In some ways it's hard, because you never know what's going to happen, and it gets a little crazy," he says. "We've had a coach fired after one year, which was a shock; then a few weeks later the general manager and the team president were fired. The Johnny Manziel stuff was a day-to-day drama. In another sense-and people would joke with me about this-there's always something to write about."
That's because Browns fans, despite all the losing, can't get enough of their beloved team. It's a passion McManamon never forgets.
"They refuse to give up," he says. "No matter how bad it is, they come back the next year with the belief that it's going to change. Their intense belief is kind of an awe-inspiring thing."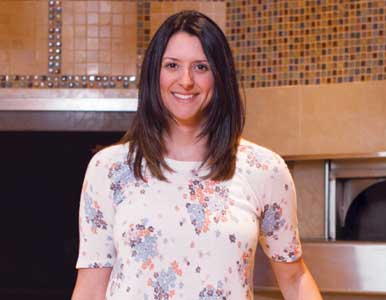 Carlie Danner, SIS/BA '02, human resources manager, Nestlé
After stints in the Big Apple and the nation's capital, Ohio native Carlie Danner discovered that she was more Midwestern than she thought.
In 2007 she returned to the Buckeye State to pursue a graduate degree and live closer to her family-and she's never looked back-or back East.
"I like to say that I loved Cleveland before it was cool," laughs Danner, who grew up 30 miles to the west in Lorain, a steel town near Lake Erie. "The city has so much to offer, from great restaurants and theater to sports and parks. It's city living without the city pace."
Danner earned an MBA in human resources from Baldwin Wallace University in nearby Berea, Ohio, and put her training to work at Nestlé in 2012. The Swiss behemoth is an umbrella for more than 2,000 brands and employs 328,000 people in 119 countries. It's Danner's job to help ensure that the 2,000 people who work in technical and production operations at Nestlé's Cleveland campus are engaged, productive, and safe.
"We want to make sure that we have the right people in the right part of the business. Cultivating talent is what I enjoy most about my job, but it's also the biggest challenge," she says. "We're always looking at the short- and long-term needs of both the company and our employees."
Nestlé products, which include baby formula, bottled water, cereal, coffee, and candy, can be found in 97 percent of American homes. The company posted $27 billion in US sales last year, and it's consistently named among the best places in the world to work.
"The company is very supportive of working families," says Danner, who took six months of maternity leave when her daughter, Addison, was born. "Work-life balance is very important."
Because you don't want to miss what's going on in Cleveland.