San Francisco is an American patchwork. From the eight hairpin turns of Lombard Street to the sunbathing sea lions at Fisherman's Wharf, the City by the Bay is an eclectic mix of cultures, cuisine, and topography. Where else can you ride a national historic landmark and see one of the seven wonders of the modern world in the same day? (Cable cars and the Golden Gate Bridge, respectively.)
After its 1776 founding, San Fran's first population surge came with the 1849 Gold Rush, and the city's first big businesses were—fittingly—banks. Today's San Francisco, reborn after a 1906 earthquake that destroyed three-quarters of the city, is still a financial capital.
Post–World War II, hippies, immigrants, and returning soldiers converged on Fog City, making it a hub for liberal activism, music, and creativity. Tech giants like Google, Apple, and Twitter have since branded California's fourth-most populous city as the epicenter of innovation.
What besides a love of sourdough bread and cool summers do San Franciscans share? The insider's knowledge of DC, gained while studying at AU. Get to know some of our 1,830 Bay Area transplants here.
Bryan Innes, CAS/BA '12, designer, Twitter
Bryan Innes missed his senior portfolio review to interview for a job at Twitter.
It was a gamble that paid off.
"There's a ton of energy here because people love what they're working on," he says.
Innes, who was hired by the social networking site in June 2012, helped redesign Twitter's real-time search experience and created an international alert system. But his current project is his favorite by far. As a member of the syndication team, Innes builds tools and products for Twitter content published on other websites.
"It doesn't always feel like I'm doing big things, until some external factor reminds me," he says. "When I go to a conference or read an article that's referencing a tool we've already been working with for the past few months, I realize we're truly on the cutting edge."
Innes's enthusiasm for Twitter-which welcomed its 500 millionth user in May 2015-extends to his adopted hometown.
"The nature around the city is insane. I wasn't an outdoorsy person when I moved here, but I've become this guy who does all of these things outside." From the nearby Redwoods to snowboarding in Lake Tahoe, Innes spends his weekends exploring Fog City and its surroundings.
Other favorite haunts include the Mission District (not far from Twitter's headquarters) and Golden Gate Park.
"It blows me away that I can walk down any street on any day, and there will be some sort of festival or activity."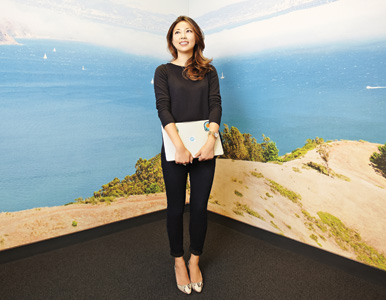 Grace Chung, SIS/BA '07, manager of corporate programs, Yahoo
As a woman in San Francisco's tech industry, Grace Chung is in good company at Yahoo.
"Having a female CEO isn't just incredible, it's celebrated," says Chung of Yahoo president and CEO Marissa Mayer. "We celebrate diversity in a way I've never experienced."
A year after delivering her son in 2013, Mayer made headlines when she extended Yahoo's parental leave policy to 16 weeks of paid leave for mothers (women comprise 37 percent of the company's workforce) and 8 weeks for fathers. Yahoo also gives new parents $500 to spend on child care, housecleaning, or, of course, diapers.
Chung first visited the City by the Bay as a Washington-based consultant in 2013. "I was mesmerized by all the innovation. DC felt very comfortable to me. But in San Francisco, I was challenged to think outside the box." A year later, Chung packed up her bags and headed west.
After setting her sights on a small startup, she was surprised to get a call from the Sunnyvale-based tech giant in January 2014.
With a background in tech consulting and social enterprise, Chung was tapped to lead Yahoo's Tech for Good social impact initiatives and support special projects. She and her team find ways for Yahoo to leverage its people, technology, and products for the greater good through partnerships with organizations like Girls Who Code, a nonprofit working to close the gender gap in the tech industry.
"The partnership focuses on making connections through Tumblr and Flickr APIs, so that young girls can learn to code with the products they use already," Chung says.
Founded in 2012, Girls Who Code has already provided instruction in robotics, web design, and app development to nearly 4,000 girls in 29 states. By 2020, the organization aims to reach 1 million young women.